Going to Austin's South by Southwest (SXSW) is one of those things that gets added to people's bucket list now and then. Although for most people, the things that stand out are the pop culture moments in film and music, I have long wanted to go and participate in the discussions about social media and finally last year I was able to go to SXSW for work. This year was even better though, I submitted an idea to speak and it was accepted!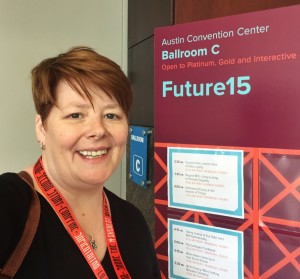 So what did I talk about? It is something that most of us have seen happen but may not have thought about what we would do if it happened to us. I've had it happen enough that I have thought about it a good bit.
What have we all seen happen…. A simple post on social media ends up drawing controversy as haters come out. Whether it has happened to you or not, you may want to stop and think about how you may want to deal with it. That topic is what got me to the microphone in Austin's South by Southwest Interactive conference.
I got on social media early and have to admit that positive thinking is much more my thing than negativity but I've learned first-hand some ways to deal with the trolls. Having shared those tips with a few blogger groups in the past, I have been surprised how few have paused to think about it before it strikes since some thinking ahead can really make managing the negativity earlier.
Here are some of the key points I shared at SXSW:
What brings haters out? Granted if you post something highly contentious (politics, religion, etc), you may know haters could find you but it can also be a personal post of something relatively benign. Frequently the common thread is it touches on something there can be a lot of passion around but it can also be timing that makes lightning strike. And there are just some folks who don't need prompting.
Get out in front of haters:  When you choose to use social media, understanding the public nature of it and the possibilities for controversy can be useful in shaping your presence. With that in mind, being proactive on a few key components can be helpful. Having a comment policy on your blog or Facebook page, can help establish the "rules" that can be referred to as controversy surfaces. You also can consider who you want to share information with, utilizing friends' lists on Facebook rather than broadcasting.
Be goal driven:  Everyone can get a bit of hate now & then, how you respond should depend on your GOALS, NOT your emotions.
#h8erprep #truth #sxsw pic.twitter.com/IGxyJGuwSq

— Jessi Odenbach (@JessiO) March 13, 2015
Tips on reacting to haters:  Although you don't necessarily want to waste time dealing with the trolls online, it is important to understand not everyone who lodges criticism your way is a troll.
Listen — With criticism that is honest, it is important to step back and listen to different perspectives.
Step away from the keyboard — You can also take time to respond rather than allowing the perceived need for immediacy drive you into an emotion-driven, fast-paced back and forth. Taking time to think through how to reply is ok. You can also talk it through with a trusted friend to help you gain perspective and clarity.
Use respect as a baseline — Using respect as a baseline for online interactions not only is the right thing to do, it helps build community that helps reinforce the community's guidelines.
Deciding when to move on – There are times when you can't find common ground, or agree to respectfully disagree. When that happens, you sometimes need to consider whether you need to simply disengage and move on.
Thinking about the possibility that you will have someone bring negativity into your social stream, may sound like a bit of a downer, but in all actuality, it is just a chance to look ahead and plan a bit (see tweets from the presentation). I was pumped to see a good crowd there because I really have found that planning makes it easier to keep yourself out of a potential downward spiral. Staying out of the trolls spiral lets you enjoy the positive sides of social media more effectively. And that's something that crosses a lot of online experiences!
And while I joked about haters getting the mic at my first time to speak at SXSW, in reality, it was a very positive experience…. a lot like the online communities I interact with daily. Trolls are few and far between, we just tend to give them either too much thought or not enough.