I drove back from Memphis the other day and had to stop at a berry farm…. was so excited that blackberries are coming in. I bought a bunch of them…. a couple of quarts thinking it was high time for blackberry cobbler and it really was! I had to get my grandmom's blackberry cobbler recipe too!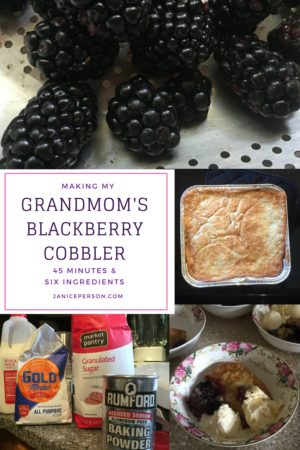 When I was a kid, my siblings and I would go to work with our mom in the summer now and then. Although it was sometimes just for a change of venue, we frequently went thinking about how many blackberries we could pick. And we'd have dreams of cobbler with dinner. Mom would make grandmom's easy blackberry cobbler — she's also called it a lazy pie at times.
Being single, I rarely cook desserts but knowing I have a nephew around to eat lots of it, I decided full steam ahead! Got the last few things at the grocery Saturday so Sunday I got to making a couple — one for our house and another for friends. Here's the recipe (according to mom & sisters).
Ingredients:
1 stick butter
1 cup flour
1 cup sugar
2/3 cup of milk
1 Tablespoon of baking powder
2 cups of blackberries (or peaches or whatever!)
Directions:
Melt a stick of butter in a brownie pan (9×9 or 8×8).
Mix flour, sugar, baking powder & milk).
Pour mixture on top of melted butter.
Pour in two cups of berries.
Cook at 350 degrees for 30 minutes.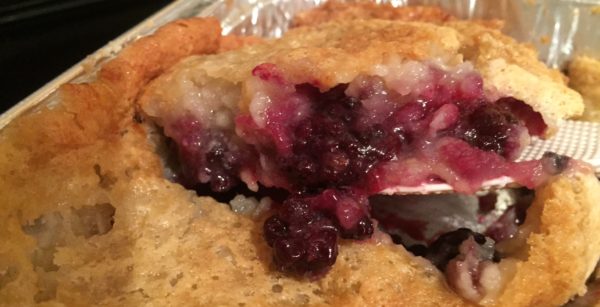 Blackberry Cobbler Recipe Video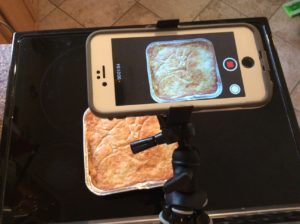 In May, one of the work trips I went on was the Food Wine Conference. One of the sessions I attended was "Moving Pictures: Video Workshop" sponsored by the Beef Checkoff. The team from Chez Us did a great job showing us how to take the fast-paced video tutorials that I see all the time in my Facebook feed. We made a yummy grilled steak salad and shot the video and we talked through editing.
I decided to finally flex those video skills I picked up before I forgot what they told me. Hope you like this! (And for friends who don't think I could have actually cooked this, my nephew was home at the time and you can see my rings in the video.)