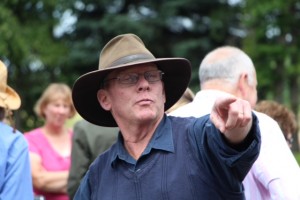 Last week I was in Oregon for work and one of the great things about my job is that sometimes it's so much fun I forget I'm working! I went on a farm tour with a bunch of folks. We went to Bushue Family Farm Market and Nursery, a family owned and operated nursery located in Boring, Oregon. Barry & Helen Bushue hosted the group. We were visiting the UPick strawberries, raspberries and flower operation for lunch and a chance to hear about the farm.
I'd have a really tough time deciding on my favorite part of the visit even if pressed…. Here are some of the highlights: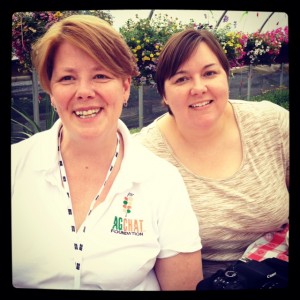 The lunch was incredible! I really enjoyed the Israeli cous cous salad and the hamburger…. well, it was something to write home about! And I got to enjoy it with my dear friend Cyndie (and we got Lee to snap a pic to prove it)
What kind of dessert could we have at a berry farm? The best strawberry shortcake I've EVER had. I mean wow. I won't soon match that!
We got to eat on picnic tables in one of the greenhouses since there was the potential for rain. Barry told us that some of the flowers in the greenhouse were being grown for a family wedding. What a great location!
After lunch, Barry told us about the farm — how it has continued family traditions and changed at the same time. He mentioned that the family has changed the crop mix based on what their customers are interested in, something that you can see as they change types of trees, flowers or berries they are growing.
The field visit is right up there with the lunch as stellar! He let us munch on raspberries and strawberries as we picked them! Wow were they so phenomenally tasty! I didn't think I could eat more than one or two after the lunch we had but that myth was busted as soon as I tasted the berries fresh from the plants! I wasn't alone either…. most of us walked out of the field with berry stains on both hands!
I'd met Barry before at the American Farm Bureau Federation's annual meeting. He's one of the farmer leaders of the grassroots group. But getting out to his farm is different. You can see how much his family prides themselves in offering high quality products and customer service with a personal touch. You get the ground's eye view of their passion for the land their family has farmed for years.
The Bushue's offer an on-farm experience that allows customers to spend time enjoying the farm, farm animals and some quality time with their families. It was a total win with our group for sure! They offer a variety of products throughout the year and I already wish I could go back. Here's what they have going according to their website:
During the spring, starting the first Saturday in May, we open our greenhouses for spring flowers, consisting of flowering baskets, premium annuals and vegetable starts. Beginning usually in mid-June, we offer U-pick strawberries, transitioning into U-pick raspberries as July comes around. In the late summer and early fall, we have U-pick tomatoes, cucumbers and a variety of other produce as well as flowers for drying. Finally, in October, we open our Pumpkin Patch, complete with hayrides, dirt-babies and lots of fun.
Because I got photo happy, I put several of the photos I took together with music in this video…. hope you enjoy and don't hold it against me if you get berry hungry…. it's all Barry's fault!
Related articles