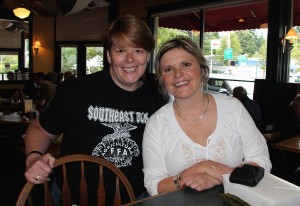 I thought some of you would enjoy seeing this post from Julie at Sleuth for Health talking about how we met up this weekend.  Her post is titled My Biotech Weekend and begins by recounting how I sent her an email some time ago.
A while back I received an email from Janice Person, the Monsanto social media gal whom many of you know.  She was coming to Portland in late June and wanted to know if we could meet up for lunch.  She admitted that it might be surprising for me to receive such an email from a Monsanto employee but would I consider meeting her?  She also said that she would totally understand if I was not comfortable.

At the time I received her email, I was coming around about GMOs, realizing that they were not dangerous like all the activist literature had said they were, but my feelings about Big Ag, Monsanto and the like, those views were more complicated to sort through.  Nonetheless I agreed to meet with her.
via My Biotech Weekend | SLEUTH 4 HEALTH.
Related articles