This week I heard quite a few people talk about their own personal health journeys at the 140 You Conference. It was empowering to hear what motivated various people, what challenges they had, etc. With that in mind, I thought I would share more of my personal health journey.
I have to think I am a pretty average American in a lot of ways. One of them, to me at least, seems to have been having had a warped idea of food and health for a while. Well I am not sure warped is the right word exactly, but I am not sure what else it would best let me explain where I was and where I am now.
My Past Food & Health Philosophy
I think that if someone would have asked me about my food philosophy 10 or 20 years ago, I would have had a very blank look on my face. Or I may have looked at them like they were nuts. I sort of understand the question now and can look back across time and see that my ideas have shifted along with many of my friends and family.
I'm not sure the shifts have been average but I have noticed others doing similar changes and it definitely seems to be much more common than it was to focus on food & health (anecdotal observations not data 😉 ). I think some of my food philosophies have been based on my age and/or income in part and others based on my goals or even what is happening around me.
Food & Exercise in My Twenties, Thirties
I think my college, grad school and early professional years were probably pretty typical. I ate what I could afford or what others had readily available. And I was always on the go so I got exercise without really thinking about it. Whether it was swimming races to prove a point, playing softball or flag football with friends or walking up and down city streets discovering new neighborhoods, I was always moving. And I grabbed whatever was available and didn't really have any health issues other than hay fever. Life was good.
As I worked more, my job responsibilities became more demanding of my time. More fluctuations in the hours worked as key projects came up and more travel was put on my schedule. I started making more money and enjoying food more.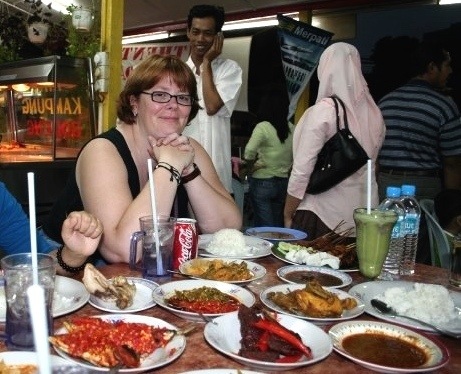 i was enjoying travel personally & professionally & stayed on the move. Every once and a while I would have bursts of "exercise," including planning for regular exercise at a gym or something but they were bursts more than routines. Granted some bursts would involve exercising several times a week for months on end but then i would get derailed I always thought I'd start a better routine of exercise but never seemed to get around to it.
In My 40s I Finally Wise Up
Over the last few years I have been thinking more and more about my health and fitness. Luckily, I didn't have a big scare that demanded me do that. It was smaller things. I realized I may not be able to do everything I want to do. I bet my even typing that surprises folks as it seems being single enables me to pursue a lot of things others can't.
The big moment for me was one I haven't shared with many people, but I may as well do that now. It didn't feel big at the time though it has stayed with me.
My Health Aha Moment
Many of you know I struggle with asthma. It has gotten worse as have my allergies with all the moving I have done. I don't know that it had slowed me down much really but when I heard about additional access to Tibet opening up, it seemed maybe I could visit a place I had only dreamed of going. I mean it was somewhere I was interested in but really thought of as off-limits for so long, almost like Shangri-la.
But as I watched a news show on TV, they were talking about a new train service and how the altitude impacts people…. And well, I thought for a second that I really couldn't go. Mind you, I am still not sure I would want to based on the politics of the area, but I want to be able to do it physically. I mean I am not talking about climbing up or riding on a donkey's back. I am talking about more comfortable travel with specific efforts to help my body adjust. However, my body needs to be capable of adjusting.
It's not like I am thinking I will go soon. It's a lifetime travel goal maybe. But I want the option. And the nagging wonder of whether I could or more importantly that maybe I couldn't…. Well, it continues to nag at me.
No Miracle Pill for Me
I have long been overweight and have never really thought about it getting in my way. I mean, I have continued to do all kinds of things that others only dream of doing. Let me be clear, I have always been happy and I have had a reasonable amount of self-esteem (sometimes too much). But more and more, I thought that maybe there were things in the long run that I would be prevented from doing or that cumulatively I may be keeping myself from enjoying retirement or whatever. That idea sucks! And I figured I had to be the one doing the hard work to change it.
Sure, there are various options to help people lose weight & regain a healthier profile. And while I understand why some other people make different choices, I knew I had never really worked on my weight. In fact, I kind of have to laugh because gaining weight was easy and I never had really tried to stabilize it, much less lose it!
I had to change my mindset and habits and I was sure that was going to be hard. I needed to really focus on what a healthy diet and lifestyle looked like. For the last 18 months I have been doing that and although I am not exactly where I want to be long-term, I have built the mindset, habits and patterns that have me consistently on my way. I also have found a great support team for my efforts!
Food First, Exercise Next for Me
Since everyone can determine their own path, I decided to start with getting healthier food habits in place. My move to St Louis became the stake in the ground for me to begin new habits.
I have written before about the food priorities I set: drinking lots of water & very little Coke (opposite of what I used to do), eating lots of fruits & veggies throughout the day, making myself eat breakfast that includes protein and keeping healthy snacks within easy reach.
I also spent some time getting my inner carboholic in check. That wasn't easy. I went a month without eating any bread or pasta or potatoes. None. Just breaking myself of the habit. I did have oatmeal fairly often for breakfast. When I reintroduced wheat & potatoes, I did it within limits and by focusing on whole grains. I realize I had gotten way out of perspective with the starches. And I will tell you the first order of fries I ordered were so scrumptious that they scared me! God have mercy how I love French fries!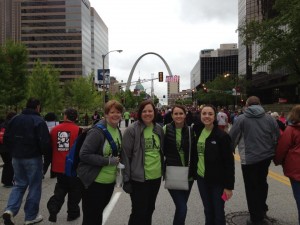 On the exercise, I have worked slowly developing a habit of walking (I have previously expressed love for my FitBit, well recently it broke but they are sending me a new one so I will be back on track there soon). When I am in St. Louis, I go to the gym three times a week and try to get I. Some home-based exercise too especially on the mat. I have gotten in the routine of visiting hotel gyms more often and doing floor work like planks there too. I have upped what I am doing though I am confident crossfit isn't for me. I also have friends who are interested in being active & that is a great motivator too.
For me sharing my process over time has really helped me stay on track as I get such incredible support when I share. I have been building muscle mass more than losing weight recently…. I would like to get back on the loss pattern but its more important to me that I am continuing to get healthier. Sure I occasionally get the chai latte when I should simply have more water, but I don't plan to let one or two spur-of-the-moment decisions derail the work of a year and a half. After all that 18 months has me back in clothes I wore decades ago. It has been a huge shift!
Photos of me a couple of years ago and one taken this week at the 140 conference show the change in the past 18 months. I'm not trying to get back to skinny mini from high school, just a healthier version of me so the happy me gets to be around longer and gets to do even more awesome stuff!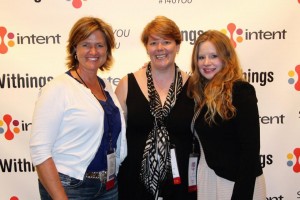 Your Health Journey
I hope that many of the folks reading this are far smarter than I am and have viewed food as a way to power your body as well as something to be enjoyed and that you have long worked out. I am not sure whether that is the norm but I do have friends who have long been there consistently. I think more may have had changing views on food and exercise over time though.
I would love to hear where you are, either here in the comments or more privately through the contact page if you prefer.