This spring has been a hard one for those of us who live in the middle of the country. We have had flooding rains that don't seem to stop, late freezes and the tornado season, while it started late has been especially harsh. With the tornado that ripped through Moore, Oklahoma recently it seemed more people outside of "tornado alley" have started paying attention. But Friday…. the Friday where big storms hit both Oklahoma and Missouri, I think that was the one that really took things to a new level.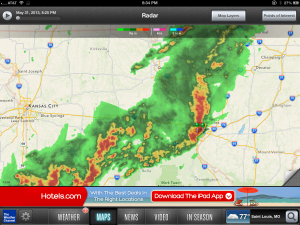 Friday night, May 31 I was on social media, trying to find out where dear friends were and hoping the ones I couldn't find were tucked away safely in a basement or bunker like lots of former Oklahomans.
My friends Shawna & Aladdin had a car accident on Thursday, so they particularly came to mind as I watched the news report about multiple tornadoes in and around Oklahoma City. I had finally found them — they had shelter and were telling me about the accident and  how closely they were watching the news when the sirens went off here and I decided I better get into the basement. It is something I have done half a dozen times or so since moving to St. Louis a little less than two years ago. We do this in the spring in varying amounts and we pay attention to sirens, weather radios, etc.
It is no fun sitting in the basement wondering if punishing weather will soon hit your house (and I have done it with my iPad in tow for years). And it concerns you deeply that while listening to the local TV weather person you can hear that a tornado has been spotted a zip code or two away…. in an area where you have friends living or where you frequent local restaurants. You feel a since of loss as soon as you hear a tornado is on the ground even if you don't know where it is and who is impacted. And that is a feeling far too many of us in the middle of the US know all too well.
So why & how do millions of people live in tornado alley?
Although we ask ourselves why we choose to live in places where such devastating weather is predicted on something of a regular basis, it always strikes me as strange to see & hear so many people say they could never live in this part of the world. It is a quick response driven by fear of weather and is pretty close to the same thing I heard when I told family members I would be leaving the south and moving to New York….. I would never live somewhere that cold, that crowded, that…..
People live in a variety of places for a variety of reasons. For most Americans, there was a time when our family immigrated to the US. Those family members tended to settle in various places. If those places offered the chance to make a living people tended to stay, if not, people moved further inland. In the early days of the country, lots of people stayed in places like New York and Boston but a lot felt the need to move further inland to find areas they could farm, or get some additional space to move about or whatever.
More recently people choose where to live a lot differently, but the reality is many of us have deep roots in the middle of the country. We know that tornadoes are something to fear or at least respect which is why I took cover in my basement and why my parents used to load us kids up in the bathtub when funnels got near the house.
People who live in hurricane areas tape windows and leave town. People who live along faults are generally prepared for earthquakes and know to get in the doorway or get outside. People who live in blizzard-prone areas know to stay in their car rather than walk for help. All of those places are perfectly reasonable places to live for people from there. For people not familiar with it, it can be scary as hell! I know, I faced my fears in December and went to Bismarck, North Dakota…. and yes, I flew through a blizzard to get there. I relied on friends to help me figure out what I should be doing.
What do people think makes your area "unlivable?"
Related articles