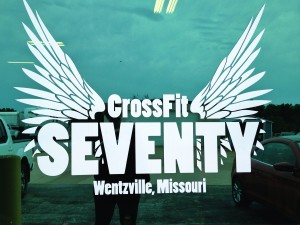 It feels like my New Year's resolution to get healthier was forever ago at times and at other times I feel like such a newbie at this getting in shape thing. Today is one of those days where I felt both at the same time! Today I went out to CrossFit Seventy in Wentzville, Missouri to work out. It was my first time to do much thinking about CrossFit, much less to actually try it. And I have to tell you it both made me question whether I could actually do it and made me proud of how far I've come. But I'm getting a bit ahead of myself so let me try to organize the thoughts I have for this post.
What is CrossFit?
There is absolutely no reason for me to try and define it on my own, so I'll go with the explanation that CrossFit 70 has on its website:
CrossFit is a program that delivers fitness that is, by design, broad, general, and inclusive. We create unique daily workouts that are fun and competitive. CrossFit is a unique workout program that allows you to be strong in everyday activities. CrossFit mixes strength, gymnastic, and cardio movements to help you attain real fitness in a fun way. Every workout can be scaled to your personal fitness level. Additionally, we choose to keep class sizes small so you know the trainer personally and build a strong community of fitness minded friends.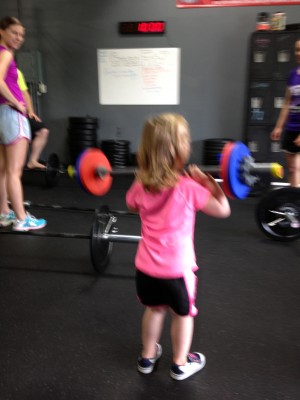 So, seeing that, here's what I want to add…. it is a really balanced way to wor out. There are a variety of exercises, movements, etc to do in the workout and they are done in such a way that whether you are brand new to the idea or if you are a regular at it, you get a really good workout. Nothing that will kill you. This point was really critical for me as I have some dear friends who work out so often who do CrossFit that I thought it may be too much but when I was asking about different ways to make working out fun, one suggested I give it a go. I was still a bit intimidated though I have to admit. Luckily seeing Courtney's daughter there I figured someone on my skill level may be able to do it. (PS — she was a great workout partner. 🙂 )
How Did I Come to Try CrossFit?
Well, as I mentioned, my friend Jeff suggested it would be a good way to up my exercise in a way that keeps you motivated. But since Jeff is a firefighter with enormous shoulders, I didn't immediately follow through with his suggestion. However, when one of my St Louis blogging friends — Courtney Norman who blogs as Journey of a Dreamer — said she was really into it and she and her husband were opening a CrossFit location — yes, they are pursuing a dream. I decided maybe I really should think about it. But when she said she was willing to host some of the St. Louis bloggers for an intro to the program, it seemed like a sign and I started trying to figure out how to make it work with my schedule.
I'm Not a Morning Person
Everyone who knows me well knows I'm not a morning person. the reality for me is that I really love Saturday mornings in the bed! But a Saturday morning workout sounded good too. The stressful night that was one of watching the weather for tornadoes both here in the St. Louis area and in Oklahoma City where I have so many friends meant I was more sluggish than normal even. I decided I had to go for it anyway and sent Courtney a message that I was running late but was on my way.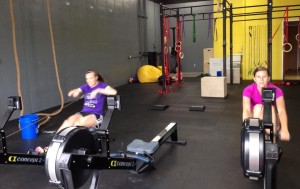 The Location
CrossFit 70 is in a really convenient location for many people in the western suburbs of St. Louis. It is north of Interstate 70 at the Wentzville Parkway just past the shopping center that houses Kohls & Best Buy. It is a small store front with a garage door that can stay open providing fresh air (which was good cause I sure got sweaty). The floor has some cushion to it so no need to pull mats around when you are knocking out those sit ups, etc. It has some bright colors mixed in and you could tell that everything in the place is new.
The Workout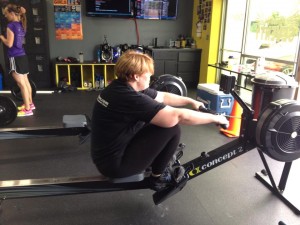 When I walked in the other bloggers — Kristen aka the ConcreteRunner and Rachel Powell of Style Everyday (that's them rowing) — had not only warmed up, but had finished the workout of the day (WOD) except the strength part. They were taking a short break as I warmed up. By the time I was ready to workout, they were lifting weights.
I have to tell you Courtney did a great job of both encouraging me and pushing me. She got started with the warm up and kept me moving for a bit. Then she walked me through the workout making sure I could do it as straight through as possible, because over time with crossfit you want to keep improving the time you do the WOD in. She was also able to see when I was struggling a bit and was encouraging me to do a few and take a brief rest or shake out as needed.
Today, the workout included rowing for 500 meters (that was pretty good, I've always liked rowing machines even if I'm not great at them I at least have long legs & arms which let me go for long strokes), 40 squats (seriously, I hate squats. probably need to do a lot more of them), 30 sit ups (that's more than I normally do), 20 push ups (that's about to what I've been doing), 10 pull ups/ring rows (yeah, I had seen someone doing ring rows at the gym the other day so I decided to try ring rows).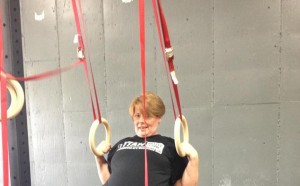 When I finished Courtney told me my time. It sure FELT a lot longer. Then we took a break and I watched Kristen & Rachel push jerk for a while. I tried it a bit with the PVC to just figure out the motions but have to admit my shoulders were tight as could be so I stretched out a while and watched.
The people who workout at CrossFit 70 track their personal time through a system so they can tell how they improve over time and there is also a system that shows the best times of the day for that WOD. I'm sure I was no where close so improving my personal time would be the way for me to go.
Something I Learned About Myself
Since I've been working on my health for the last year and a half, I periodically figure out I need to do something different. It was good to push myself to do it. I probably don't push myself as hard as I should at times…. really thinking I have to push myself more on my regular warm-ups and workouts. I've been working out three times a week since the first of the year and have been pushing myself a bit more recently but Courtney was doing a great job of getting me to push myself more (and yet it was still within reason). And I can find folks who will help me push myself too. I may check out crossfit some more too — Courtney gives us a top 10 things women should know about crossfit.
Contacting CrossFit 70
If you are interested in learning more about CrossFit Seventy, they have a great online presence (as you would expect since one of the ones who started it is a blogger). And they offer the opportunity to try it out with a free class. You can find them online at CrossFit70.com (they have their schedule online and ask for members to RSVP to keep class size small), on Twitter at @CrossFit70 and on Facebook as CrossFit 70 too. The gym is located at 1854 W Pearce Blvd. in Wentzville Missouri and phone number is (636)-352-4866.
Related articles