I know a lot of bloggers get freebies sent their way to write up reviews and all but since this is a weekend past-time, I seem to miss out on most of those things. I do however, end up now and then wanting to post about a product I've used and found helpful. So what is so good that I'd not only pay $100 bucks for it but give it some free PR? The one I'm prompted to write about tonight is something called a FitBit. I know, it is a goofy name, but stick with me for a few minutes.
The first of the year, I posted that I had been working on my weight. The first big area for me was eating better, I'm buying far more fresh fruit & vegetables than before and eating breakfast everyday. But I knew I needed to exercise more too. So I've been working on it but really had ups and downs on it, especially while traveling. And so I bought the "FitBit" in August and have to say it's helping me a lot!
Think of it like a pedometer on absolute steroids. I bought the one called the FitBit Ultra so let me tell you about it, you can read up on the other models if you are interested cause there are several of them with the one I got being the top of the line when I bought it in August.  So let me get to explaining why I'd take the time to write this up.
How FitBit Ultra Works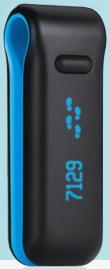 So…. I said it's like a pedometer on steroids so I bet you are assuming it keeps track of the number of steps I take a day. I've used pedometers several times before (my friends at the Memphis Convention & Visitors Bureau had some great ones that said "Walking in Memphis" on them). You're right, it tracks my steps. Here are other things that it does that I think are awesome:
Tracks flights of stairs I have climbed.
Shows activity level graphically.
Estimates calories burned.
It is designed for people like me who have a tendency to get busy and forget what's up. One of the things I like best is probably a no brainer for others but it tracks time and resets itself automatically at midnight. But what I really think is awesome is that the FitBit stores & uploads the data to my profile online. It's rechargeable and works based on bluetooth technnology. That is awesome because right now I'm nowhere near as active as I should be. I get that. But this lets me see that I am improving slowly and surely. And it lets me access it during the day and gives me a nudge that I can do a bit better. And I've been doing well with weight loss (slowly but surely) but I know it would be much easier if I were more active.
As a Data Nerd, I Love This
If you didn't know I love data, I do. Granted I have trouble with numbers, but if a computer can track them for me, then I can get along quite well! LOL! This one does it day-to-day and over time too. And it shows me where I am in comparison to goals. Check out what a typical screenshot is like — I snapped this Sunday afternoon as I worked on this post.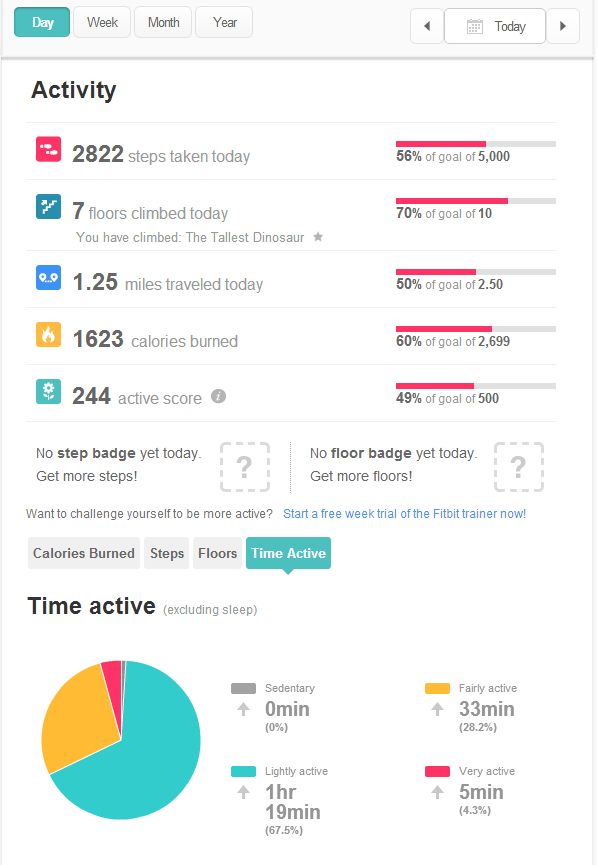 I've installed the app on my iPhone too and today when I got home from work & a quick errand, I got one of these (the bluetooth updating is so easy!). Yesterday I got a reminder that I needed to do some more in order to meet my goal so I rode the stationary bike for a while (which I've been trying to do more anyway!)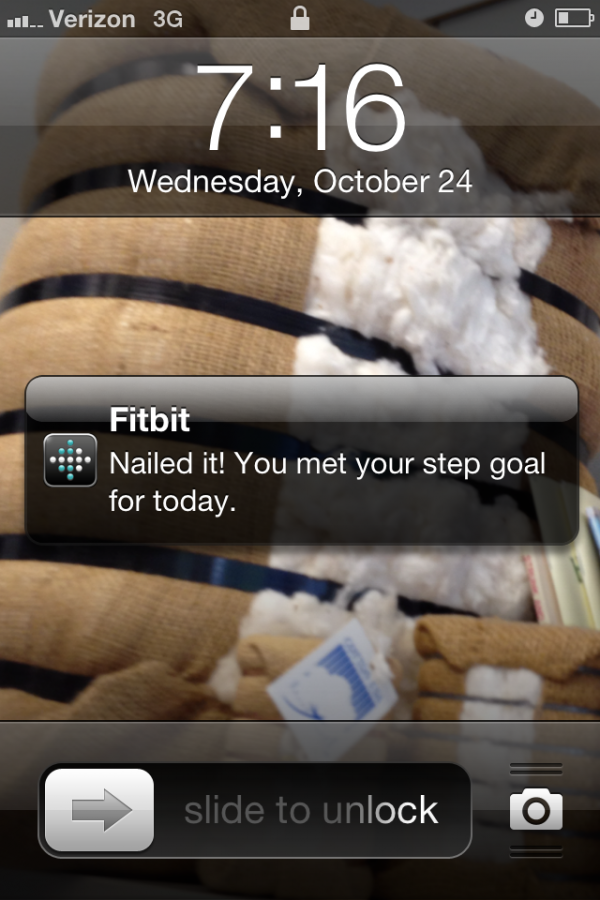 Another FitBit Purchase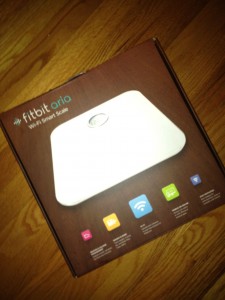 Since the FitBit Ultra has been working out so well and another thing I need to figure out long-term is keeping an eye on my weight. For the past year, I've been tracking it at WeightWatchers meetings but that's probably going to stop eventually and I'll still need an eye on it. I had seen the FitBit Aria when I bought the other one and kept that in the back of my mind as I was deciding whether or not it really seemed to deliver. Since the FitBit Ultra worked really well, I decided to go ahead and get the Aria.
It's a bathroom scale on steroids I guess! LOL! Here's what it does:
Collects weight, body fat percentage and body mass index (BMI).
Updates wirelessly to the tracking system.
Graphs it out and lets you see it.
Will recognize up to 8 people.
Let's you decide who you share what info with or whether it is all kept confidential.
For someone like me who doesn't do a good job of tracking things, its great to know I can step on the scale regularly and at the same time have it update the database so I can look at the cumulative impact of my effort, which is really important since I'm trying to lose weight in a healthy, sustainable way.
You may also want to check out this post from Cris Goode as she's be aiming for 5000 Steps at As Goode as It Gets. I'll be lifting my goal when I get that one down for a while. She & her husband have been doing a great challenge and tracking their progress. I'm impressed with her writing it up so routinely, I've been lazy about the blogging side but am far more motivated to lose the weight than write about it. 🙂
Related articles