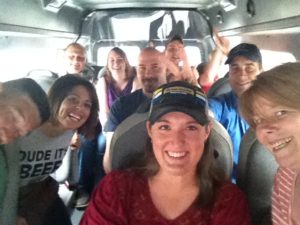 My dear friend Carrie Mess posted the new song from Cody Canada & The Departed and encouraged some of us to think about doing a blog post. Gotta admit, as much as I love Carrie, I was too tired to think about writing a blog post. The name of the song "Worth the Fight" was something I was somewhat ambivalent about I guess.
Then I listened to the song. Yes, as Carrie probably expected, I was hooked. Since you really should give it a listen too, I've embedded the file right in to the post. The beat is great, real drive to it, but listen to the words too. Okay, listen to the song… don't just skip down to the rest of my post. You can at least do both at the same time. LOL!

When I listened to it, my mind was on something I have been working through. I had just gotten home from the grocery store. Yeah, I know, its glamorous. I had just put all my fruits and vegetables in the refrigerator. It something I haven't done too well in the past month or so. I've been blowing and going. When I'm in town, it's just a couple of days. Doing "big shopping" seemed to just be unnecessary. I really hate how much food I throw away because it spoils while I'm on the road.
Anyway, I digress.
The reason the song resonated, was I haven't made the kind of progress in my weight loss that I've wanted the last couple of months. I have to tell you, I am certain it is because I haven't done my part. I haven't focused on what I'm eating like I was but more importantly, like the song says, I've gotta keep movin'. Doing something a bit different.
For me, that means loading up my cherry red convertible with lean pork chops, eggplant, berries and eggs as I get my head in the game again. We have to pick our battles and for me eating healthier and exercising more has to be one that I'm in to win. By keeping my awareness up, I was making the progress I wanted to make, when I let that focus take a back seat to other things (it's easy to say "well I'm traveling" or "I'll get back on track tomorrow") but I need to fight the urge to take the "easy way" out.
PS — Looking at The Departed's tour schedule, I see they will be in my former hometown of Memphis, playing at Newby's October 10 which is a bummer cause I can't make the middle of the week BUT, they will also be in St. Louis soon. Who's in for the October 21 show?
What does the song make you think about? What's worth the fight for you?
Posts friends have written on things they think are worth the fight: