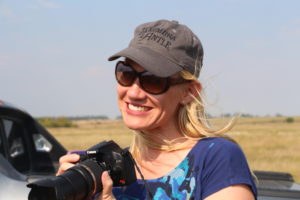 I love taking photos and with that comes the knowledge that some folks are going to dodge the camera. And I've had friends and family who just ignore me for the bulk of the time, which is fine. The person who draws the camera either tries to stay oblivious to it or enjoys hamming it up now and then. I recently spent 36 hours with a friend who excels in those two categories and as I went through photos after the trip, I couldn't help but giggle at some of the more fun-loving photos.
Yes, when we passed through a town with a catchy phrase about stretching, I demanded we stop for a photo op. Katie ran to stretch! Visiting her grandparents, she hammed it up with a childhood photo. With a crowd of friends over, Katie was sure to be the hostess with the mostess, she went the extra mile.
How do you describe this love of place & enthusiasm for living her life her way? Giggling is about all I could do though cause words fail me when I go to explain Katie Pinke's zest for life. I just know I love it. You'll see it here in the photos and you should check it out regularly on her blog The Pinke Post.
[slideshow post_ID=14253]