Last month, I wrote a post about my pending visit to the Iowa State Fair and this weekend I shared some of the sights and sounds of the fair, but the butter cow…. That is something that deserves a post of its on.
What is a butter cow?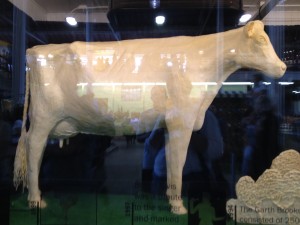 Simply put, the fair has a butter sculptor who sculpts a butter cow and a companion sculpture of some sort every year. The butter cow gets its shape from the wire base that butter is put on top of. It is life size too! Here's how the Iowa State Fair explains its make up:
The Butter Cow starts with a wood, metal, wire and steel mesh frame and about 600 lbs. of low moisture, pure cream Iowa butter. Once inside the 40-degree cooler, layers of butter are applied until a life-size butter cow emerges – measuring about 5-1/2-ft high and 8-ft long.

While a real dairy cow weighs more than 1,000 pounds, a 600-lb. butter cow would butter 19,200 slices of toast and take an average person two lifetimes to consume. Much of the butter is recycled and reused for up to 10 years.
A Centerpiece of the Fair
Several years ago, when I first heard about butter cows, it was through the enthusiasm of a friend — Mike Haley who later spurred the great butter-lard debate of 2010 about cookies — who couldn't wait it see that year's at the Ohio State Fair. I still remember asking him a million questions. Eventually he sent me a photo of the butter cow and I seem to remember a football player sculpture too. Thanks to Google, I can show you that sculpture from 2009 — it was the cow, farmer and a vet!
@jplovescotton only butter Cow I know of @ohiostate Fair http://twitpic.com/bxi7f @lisabeth515 Has one from PA farm show http://bit.ly/Oywkw

— Mike Haley (@farmerhaley) July 29, 2009
The line to see the butter cow was incredibly long! I waited for probably 30 minutes. Hard to believe all of that just to see butter, but I wanted to take in the event fully. No skipping around the line to peer over other people. And once I got up to the first pane of the window, I stopped dead in my tracks to take it all in!
It's More than Just Cows!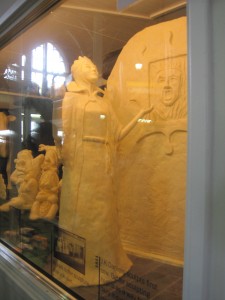 The sculptor doesn't just do cows for the Iowa State Fair. In fact, there is a companion sculpture each year. This year I did everything in my power to stay unaware of what the companion piece was until I could see it with my own two eyes! And it was truly something! The line first came to the window pane where I saw the Evil Queen holding the poisoned apple. I took note of so many details as a carousel slowly turned, replacing the queen with Snow White.
We inched along and watched as Snow White and the Seven Dwarfs came into view. You have to see it to believe it.
Over the years, the companion sculptures have been pop culture icons and others have been historical figures. Many of them relate in some way to Iowa and that was the case in 1996 when the companion piece first showed up as Grant Wood's famous "American Gothic" was sculpted to honor Iowa's Sesquicentennial. Next year it honored one of my hometown's most notables, Elvis Presley. Since there has been a long list that's posted on the Iowa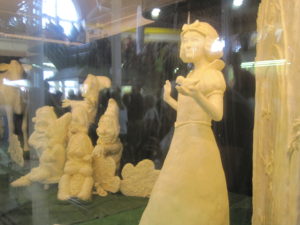 1998 An American eagle
1999 Her own version of Leonardo DaVinci's "The Last Supper"
2000 Christian Peterson sculpting "The Gentle Doctor" statue (Petersen was Duffy's mentor and teacher.)
2001 John Wayne
2002 Peanuts Gang
2003 Harley-Davidson motorcycle (in honor of the company's 100th anniversary)
2004 Birthday cake in honor of the Fair's Sesquicentennial and an Iowa barn
2005 Tiger Woods
2006 "Mr. State Fair" Bill Riley (in honor of his 60th Fair) and Superman (Norwalk, Iowa, native Brandon Routh)
2007 Harry Potter
2008 Olympic gymnast Shawn Johnson and a tribute to four Iowans who changed the face of the world's agriculture: Etta May Budd, George Washington Carver, Henry Wallace and Norman Borlaug
2009 Tribute to the 40th anniversary of Neil Armstrong's walk on the moon
2010 50th anniversary of Dr. Seuss' Green Eggs and Ham
2011 Replica of 1911 butter cow sculptures, including a calf, young boy and chicken. A sculpture of a young girl with a butterfly was added as a tribute to Norma "Duffy" Lyon.
Butter Cow History in Iowa
For some of the other history you may need to know, the Iowa State Fair has had a butter cow display since 1911. Yes, that's a hundred years of butter cows and somehow I had missed them until the second century was underway! The Iowa State Fair website gives a bit more background:
In 1911 J.K. Daniels sculpted the Fair's first butter cow and was succeeded by  J.E. Wallace of Florida. In 1957 Earl Frank Dutt of Illinois took over the sculpting duties. Norma "Duffy" Lyon of Toledo, Iowa, began sculpting in 1960, becoming the fourth person and first woman to sculpt the Fair's butter beauties. Lyon passed away in June of 2011.

In 2006, after 15 years of being Duffy's apprentice, Sarah Pratt of West Des Moines became the Fair's fifth butter sculptor. In addition to her first Butter Cow, Pratt also crafted Superman of "Superman Returns" (Norwalk, Iowa, native Brandon Routh, who starred as the man of steel) and "Mr. State Fair" Bill Riley (in honor of his 60th Fair).
The Continuing Mystique of the Butter Cow
With something that has such a long, rich history, it is a little bit surprising to me that people still are mesmerized by hundreds of pounds of butter sculpted to look like a cow. But its cool that the sculpture relates to the very source of butter!
The souvenir I bought at the show was actually connected to the butter cow in that it was a toiletry bag made from the a previous butter cow banner! And this year, the Ohio State Fair had their butter cow take over Twitter! And Hollywood has produced a movie called "Butter" that will be in theaters in October and released on DVD & for download early next year. Just watching the trailer makes me want to watch it and I've given serious thought to downloading the rental version or checking to see if its available on demand!
Here's the synopsis of the movie from IMDb:
A tale of competition at its most cut-throat, BUTTER surveys the raw ambition of Laura Pickler (Jennifer Garner), the wife of Bob Pickler (Ty Burrell), Iowa's long-reigning champion butter carver. For 15 years, Laura has relished her high-profile role as the beautiful, loyal helpmate to her affable, artistically gifted husband. But when Bob is pressured to retire and allow someone else a chance at glory, an indignant Laura decides to enter the competition herself. She is first in line on sign-up day, only to see her odds of victory fall below 100% with the arrival of an unlikely yet formidable contender: 10-year-old Destiny (Yara Shahidi), the African-American foster child of local couple Julie and Ethan (Alicia Silverstone and Rob Corddry). And that's not all. Bob's would-be mistress, bad-girl stripper Brooke (Olivia Wilde) also declares her candidacy, as does his #1 fan, Carol-Ann (Kristen Schaal). Facing three opponents, mocked by her stepdaughter Kaitlen (Ashley Greene) and furious with her husband, Laura resolves to do whatever it takes to win. And if that means resorting to sabotage – and recruiting her dim-witted former boyfriend Boyd (Hugh Jackman) as a co-conspirator – then so be it.
Have you ever seen a butter cow? If not, have you even heard of them? LOL
[slideshow post_ID=14176]
Related articles