I can remember friends saying they were carb-loading for a big race. They wanted that energy that can sustain you for a long run or whatever. Pasta, cereal, etc were the way to go. Compare that to the foods we were generally eating at the time.
Breakfast was cereal at times, eggs and bacon others, maybe toast, a grapefruit or yogurt, etc. Carbs for the day, protein for muscle, dairy for calcium and possibility of fruit.
I am not sure when it happened but a bunch of folks including me started choosing other things. We weren't thinking it through the right way.
We would wake up and eat some cereal or toast or maybe one of those enormous muffins and we thought we had eaten breakfast. Some of us even think Hostess Donettes constitute breakfast. And yes, people like this are still out there. I know. I am pretty sure that when I started this blog post a week or so ago that I was sitting on the aisle while one was at the window.
For lunch, we tended to eat more carbs – sandwiches on big rolls, pan pizza, etc. Dinner became similar. But we also may have had big slabs of meat. And we may eat a vegetable or two if we had options we liked but I've seen folks eat multiple starches and no veggies (yes, there have been times when that could describe my plate too.)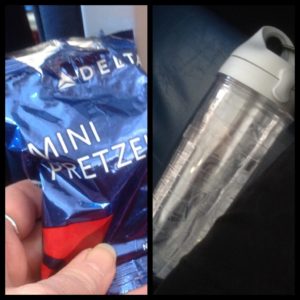 I have to say, convenience is a major shift prompter in these choices. We have found we can pick up things on the go rather than plan ahead. We can be spontaneous and live in the minute.
Think about how we travel. The culprit just let me open a bag of pretzels that the flight attendant handed me. I started nibbling without giving it a thought. And I have been doing better at thinking through all these things for a year. But taking the easy to eat snack, that silences the stomach growl is easy. And yes, I can feel that going to my hips. 🙁
Eating differently, eating in a healthier way requires you to be mindful of what you eat. Mindfulness.
For some reason I am reminded of so many things I have read by his Holiness the Dalai Lama and Thich Nhat Hahn. And I can't help but think that most of the people I know who closely follow the teachings of those Eastern philosophies incorporate mindfulness better than most Americans.
The answer to eating better for us is not, in my humble opinion, for others to tell us what to do or regulate or choices (remember my post on the BS soda limits in NY). It is for all of us to remind ourselves this is the only body we have. Whether you believe in reincarnation or not, it should be in your best interest to take care of yourself.
Our bad habits don't change overnight. For me, it has been a longer road than I could have imagined. But I have realized I am running an incredible marathon but was eating for sprint running. The benefits keep mounting up for me as I am happier and healthier almost everyday.
For those folks who are interested, I enjoy talking through what food habits I have changed and what benefits I get from it. And how I'm doing more exercise, moving more makes a difference.
For my dear family and friends, I appreciate the nudging a few folks gave me as seeing the benefits of their changes really motivated me to make my own. We are sharing our stories and motivation regularly and we are helping nieces and nephews see how to make better choices. The way they are going, marathons will be a hell of a lot longer than anything previous generations have run. Actually, they will probably be decathlon stars!
The way we are getting there is education and encouraging mindfulness. I can remember a friend offering a pre-school nephew some candy once, he said no thanks, we brought some healthy snacks. And he looked at me and said something about how we had already had a treat that day. Even at that age, he got it. I can also remember him suggesting my sister buy healthy foods she had no idea where the idea came from, seems he learns from lots of folks.
To me this easiest way to change this is start teaching kids healthy habits as early as possible. Funding early development programs and good health education and physical education throughout schools along with providing healthy lunches would start changing the way we look at food.
Oh and in case you wonder, the pretzels got washed down with ice water….. I was ready for the race through the airport when I landed. To make up for it, instead of catching the light rail from one concourse to the next, I hoofed it. See…. at least I became mindful of my choices even if it was a little later than ideal.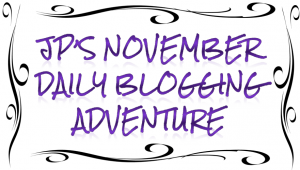 Do you think about the food choice you are making? Are you mindful of the impact those choices have?
To see other posts in the series of 30 days of daily blogging, just click on this image wherever you happen to come across it. There will be a little of this and a little of that in the series, just like there is in my blog at any time! You can also see a list of several other bloggers doing the 30 day challenge on this post by Holly Spangler
———————
PS – I am back on another early morning flight and reminded what a difference money makes… These are my breakfast options in first class (thanks to a free mileage-based upgrade): yogurt, Chex cereal, a bowl of fresh fruit, a carton of milk (2%) and a muffin top. Seems a lot easier to make a healthy choice today.
Related articles