This was in my Google+ stream this morning as I flipped around social media.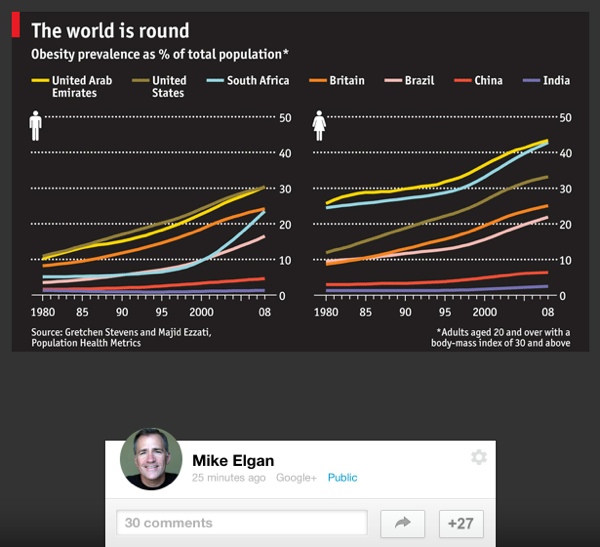 I looked at the post, especially Mike Elgan's question "What can be done about the obesity crisis?" and the photo and got to thinking. I have to say some of the comments…. I could see some have thought about it before and others had a quip or two to say, but few of the comments seemed to show people really trying to think about mobilizing action.
To me, to address the crisis, and it will be an enormous drain on our health care system AND You see it continues to grow so I think crisis is a good word, requires lots of ideas and they should be different. No one idea will get us through a crisis, we need several.
Here are the ideas I came up with quickly:
For me, I think the answer is by far getting people to think… Think about their actions and the impact they have because diet and exercise will not be controlled by legislation IMHO.

In my family recently, we have started a real health kick. Several of us have already lost 35 lbs or more we never should have had. We didn't do it by denying ourselves everything but did it by thinking each decision has an impact and trying to make better decisions.

In the process we have worked with kids in several households (nieces and nephews) to think about choices.

Why don't we have government sponsored programs like weightwatchers put in place for the next 10 years? People who want to try it, just start going. Then we also have an outreach core that goes out and teaches about how to cook really good tasting food that doesn't have so many fat grams, etc. maybe through a system of food & garden centers built to get to the places that most need to see how different things can be done. (Think of it as eat for America like teach for America.)

No taxes on raw fruits and vegetables was suggested, I think that fits in well. Also just giving those out in schools and these so called food centers that teach people how to prepare them and why.
After I posted it, I remembered an article I had seen yesterday in the USA Today, it was about fitness parks. Here's an excerpt:
Non-profit group Trust for Public Land created a Fitness Zone program that funds outdoor health playgrounds.

No costly membership. Open 24/7. Doesn't take up any space in your home. And it's good for you.

Free outdoor gyms, the latest weapon in fighting the nation's obesity epidemic, are sprouting up in city parks across the country. Clusters of traditional fitness equipment from elliptical machines to leg press and sit-up benches are being installed in city parks, often in poorer neighborhoods that may not have access to healthful options.

Leading the effort is the Trust for Public Land, a non-profit land conservation group that created its Fitness Zones program about three years ago to help cities fund outdoor health playgrounds.

Accessible to anyone walking by, 80 fitness zones are either being built or in the process, says Adrian Benepe, senior vice president and director of city park development for the trust.

"It went gangbusters," he says. "Essentially, it's like an outdoor gym with new varieties of exercise equipment built to withstand the rigor of weather vandalism."  via 'Fitness parks' catch on in cities
What do you think can be done about the obesity crisis?
.Feel free to add them here in the comments or on Mike's post if you are on Google+.
Related articles