The St. Louis Bloggers Group (#STLBloggers) had a Sunday meetup this week and the great foks at Nadoz Cafe and Vino Nadoz Wine Bar hosted us in great style! (Note the pronunciation is like the final syllables of Coronado's since their other restaurant is in Hotel Coronado.) Thanks to Lindsay Williams Itzkowitz from Itz Linz for getting the event all set up — it was a great chance to get to know another local business and to visit with other bloggers too!
Getting My Lunch at Nadoz
The meetup was scheduled for 3 p.m. to make sure we were able to visit with some of the team without them worried about the lunch or dinner rush. For most folks that would have signaled to eat lunch first, but I tend to run late on weekends and by the time I realized I needed to eat, it was so close I decided to grab a sandwich as I walked in.
I decided that since it was a bakery, I really needed to order something in case all the snacks were high in carbs. I have gotten pretty good at picking out foods I like the flavors of and that give me good health benefits. I looked at the menu before I went and was glad to see several power foods — a combination of chicken, spinach and artichokes. It was really good!
As the owners of the restaurants (Steven & Kathy Becker) began telling us about the place and the food. The enthusiasm for what they are doing was clear. And it hinges on fresh foods and healthy options. Nadoz Cafe is a more casual place, the feeling is a little like a bread company, but it has a local feeling that sets it apart. They also offer mimosas and other drinks so that definitely is a distinguishing factor. Vino Nadoz next door is chef-driven and offers a more upscale menu. I knew immediately I'd be coming back!
Great Fresh Food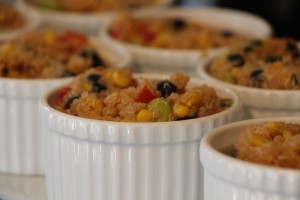 Chef Chris DiMercurio of Vino Nadoz (@NinjaChef1314) joined us and talked about how focused they are on fresh food. Although lots of restaurants rely on prepared foods, Vino Nadoz is keeping itself to a different standard. Chris said they are making everything from fresh ingredients – they even make their own ketchup!
We were treated to a combination of incredible fresh foods. My favorite was probably the vegetarian quinoa (shown at left & a great powerfood that is offered as a side with sandwiches, etc in Nadoz).
And I really enjoyed the fresh juices they made to order at the juice bar. I ordered the "Tropical Beet" juice which was a combination of beets, pineapple & apples. The nutritional value on these has to be awesome and the flavor was pretty rocking too! There are only a few places in St. Louis where you can get fresh juice of this caliber — I will definitely be back.
The Beckers put out a great selection of foods for us to try — chicken salad sandwiches that included cranberries & almonds, sparkling drinks, fresh fruit, miniature desserts and more. Just take a look!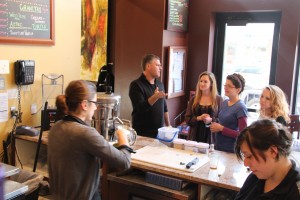 It was funny as we watched the team make a few different juices (Robyn Wright does a great review in her post on the event) we had a bit of a crowd around the juicer, talking about the different fruits and veggies, how the tastes combined, what the benefits were to including the peelings and more. As all of this went on, a customer came up and we parted with me apologizing for being in the way. The lady was so nice and said no worry, she comes in everyday to get a juice. Yep, a dedicated customer!
On the other hand, talking about the food at Vino Nadoz, I got the distinct impression that flavors were a focal point for them. And as we talked about one of the dishes, I probably began to drool. Chris asked if I liked it and I said of course, but I can't have it very often. He laughed saying that with the fat in the dish nobody should have that really often! And then he said that would wreck a person's cholesterol! So fresh fruit juice daily but fat-laden incredibly tasty dishes not daily. LOL! While that may not be the healthiest, there is a real interest in healthy components. And Chris said the staff gladly works with special dietary needs or allergies.
Stressing Farm Fresh
Chris talked about how he likes to source food for Vino Nadoz locally where he can talk to the farmers, get to know what they are doing and count on the quality of the crops. For him, local is a goal of within 50 miles although he occasionally sources us to 75 miles away for products.
I should have been taking notes as he talked about the various cheeses he loves (although not having taken notes I have an even better excuse to go back and eat at Vino Nadoz!) The cheddar he talked about was one thing but when I mentioned visiting a creamery in Oregon that specialized in bleu cheeses… Chris really came to life. Next thing I knew he had the perfect bleu cheese in front of me & was talking about how well it paired with beef! And he knows where it is produced.
We talked a bit more about the local food connection and one of the other bloggers asked if Vino Nadoz sources organic food. Chris' answers impressed me because he demonstrated having taken the time to talk to farmers and to understand what was his primary critieria and that is freshness. He said that is the overriding factor for them. Chris also took time to explain how he talks with farmers about the way things are produced and he finds a lot of people have misperceptions about them. He said he's very comfortable buying from conventional and organic farmers, and has seen conventional farmers very much focused on the environment. You know that stands out for me…. he's taking the time to learn things first-hand and he's helping bust the stereotype that makes people think only organic farmers care for the environment.
Another Standout? Happy Employees!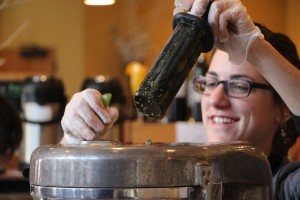 One of the reasons I really enjoy going to various restaurants & businesses is the service. And I find service is a lot better when people enjoy their jobs. From what I could tell, that was definitely the case at Nadoz and Vino Nadoz. From the minute I walked in, I noticed that the employees seemed motivated to deliver good service — the team behind the counter at Nadoz all worked together really well, moving seamlessly between taking orders, making juices, etc. And check out the smiles (and she had no idea I was taking her photo on this one) as they go about their work.
Finding Nadoz & Vino Nadoz
In Richmond Heights at "The Boulevard" which is just across the street from the Galleria. #12 The Boulevard St. Louis 314.726.3100
Nadoz Cafe is a family friendly place, Vino Nadoz is more adult-oriented as it is a wine bar 
The Hotel Coronado location offers catering service, and Vino Nadoz can be used for private group functions.
Prices were really reasonable at both restaurants.
Free wifi is available for customers.
I'm looking forward to spring… there is patio seating!
Alcohol and wine available.
Nadoz opens at 7 am to serve breakfast
Where to find them online:
Disclosure: The owners of Nadoz were nice enough to provide a number of free samples while we were there. This post is entirely my opinions and my experience — I love writing about good food and people. 
Additional photos I liked from the event: