I'm pretty pumped I have now completed two months of the 365 photo challenge. For me, the commitment to take a photo everyday that I'm willing to share is really a good exercise in finding ways to make time for something that's creative. And I find myself thinking about it at various points of the day. You can see the other 365 project posts here on the blog or you can connect through my account at 365project.org/JPlovesCOTTON or in this album on Google +.
Rarely Seen Beauty — 53 / 365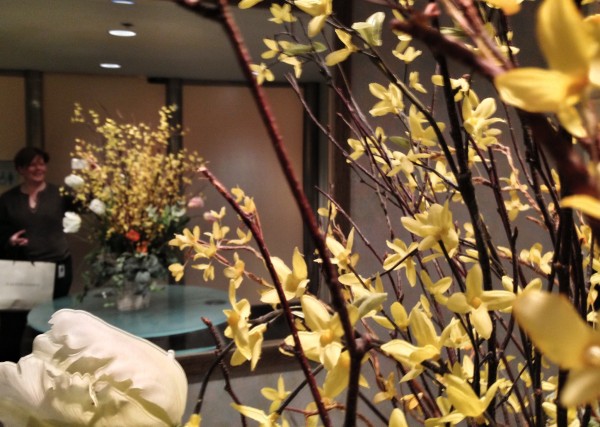 Not the typical floral arrangement hidden in a corner, yet again, I wasn't at your typical mall. This is hidden in the entry way to the women's bathroom. I had fun trying to get a shot where my iPhone sort of blended into the white tulips.
It's also a bit of a selfie. Shows that I had a little success at the mall in the shopping department. That seems to be the way things work — I went to the mall for happy hour with friends & decided to go to Banana Republic. I found a few things (and some were actually on sale! 🙂
Ready to Shovel — 54 / 365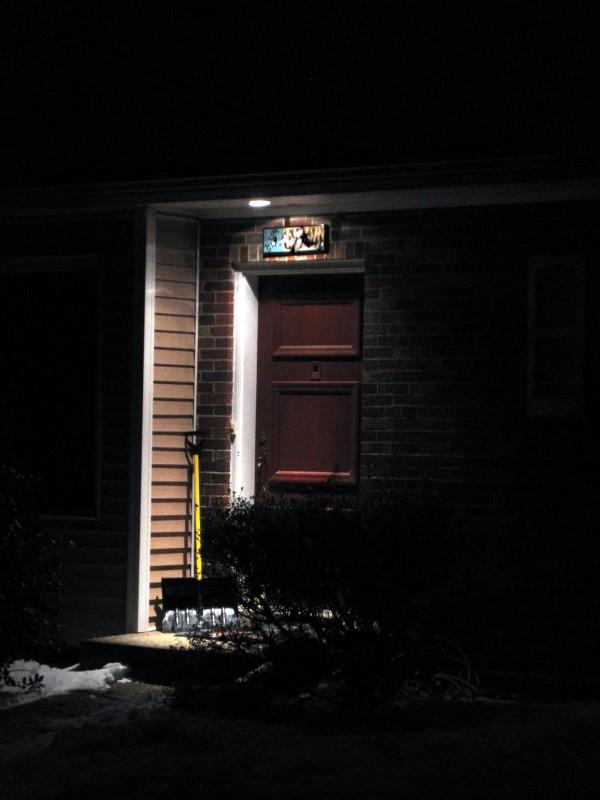 The last few nights this shovel leaning on a neighbor's porch has demanded my attention as I arrived home. For some reason that yellow handle has gotten to me. Decided I'd seal it in my memory with a digital photo tonight.
Focused on the Juice — 55 / 365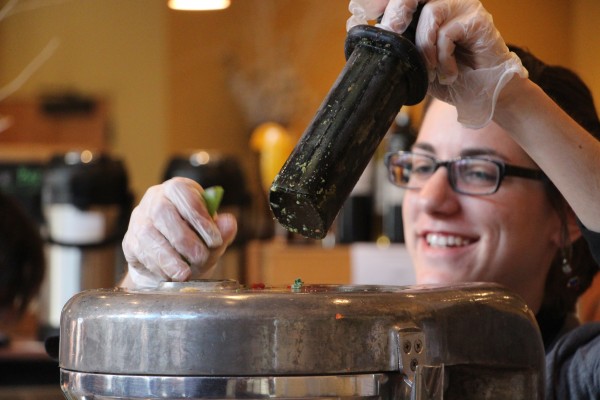 Today a group of St Louis bloggers met at a local cafe for a blogger event. A great time was had by all and I was certain I would use one of the photos of my juice being made from pineapples, beets and apples. The colors and textures were amazing. And yet, when I got home and was looking at the photos, I kept coming back to this one.
This photo is far from perfect. The depth of field should have been set to have both the juicer & employee in focus. I was taking several of the juicer and various fruits and vegetables going in and in most the face of the girl was blocked. In this one, you see such joy in doing her job well and of talking to customers about it. I decided I had to share even if I had flubbed it a bit.
What's fun though is both she and I were totally focused on the juice!
The blog post I wrote about the visit to Nadoz Cafe and Vino Nadoz can be found here.
Nightfall & the shine of melting snow — 56 / 365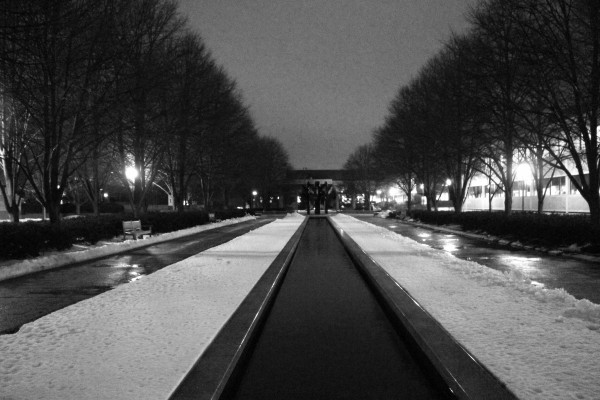 Tonight as I left the office, the peacefulness of the empty campus with snow melting all over leading to lots of shine alongside the snow that was left, drew my eye. I decided to do this one in black and white to let the snow hold its own with the others.
Not giving up! — 57 / 365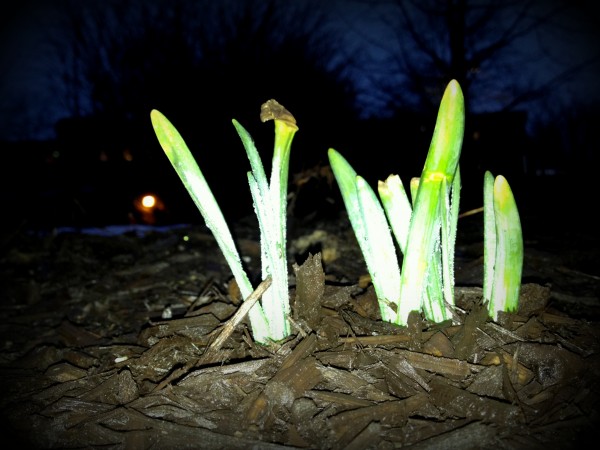 Today I couldn't help but spend a little time shooting these sprouts trying to make spring start. Last month I took a shot of the first sprouts that came up http://365project.org/jplovescotton/365/2013-01-30 . The tough winter weather has beaten the first sprouts to try. Today, while much of our region is getting snow, so far we've stayed warm enough that it is rain…. Keeping my fingers crossed that spring rains and these bulbs are here to stay!
Flat Stanley Visits — 58 / 365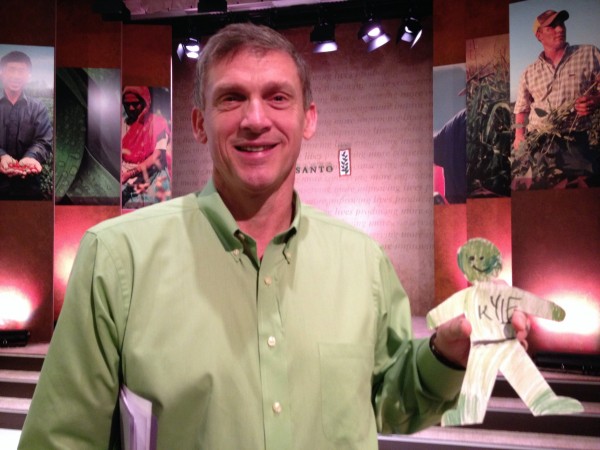 I shot this photo with my iPhone and edited in snapseed. Really like that you can use snapseed to enhance brightness on a point or two rather than being limited to the full photo. Now, here's the story of the photo….
A few months ago I finally met my friend Jeff's little boy Kyle. A kindergartner on a ranch in California, Kyle is a mix of cowboy work ethic and boundless energy & inquisitiveness. Well, Kyle hasn't had a chance to visit me yet, but he sent Flat Stanley on a scouting mission! The photo of the day is one of the ones I'm sending back for Kyle and his class to learn about what we are doing during his visit with me. (If you aren't familiar with Flat Stanley, I have also blogged about him as I helped my nephew's travel 2 years ago.)
Anyway, the first thing Flat Stanley & I did was go to a meeting at my office. We were talking about Monsanto's efforts to improve crop yields, conserve vital resources like water and improve the lives of our farmer customers. Many of those efforts are shared with the farmers & ranchers who use our products like Kyle's dad so I think Flat Stanley's report back will be a positive one!
Baby It's Cold Outside — 59 / 365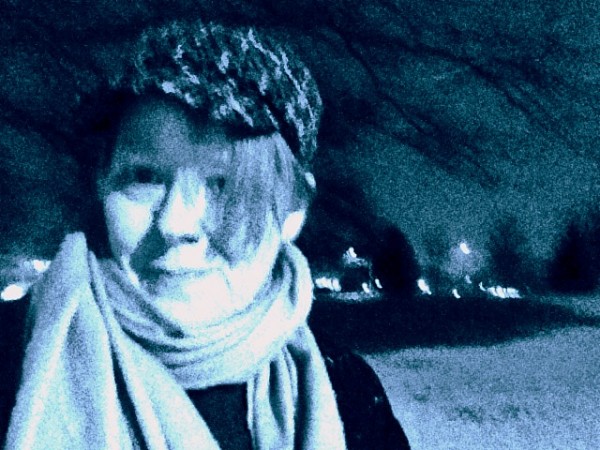 Wasn't sure what to do today til I was walking back to the car…. with the cold weather, snow hitting me in the face, I decided to try a selfie.
I played around with a few filters in snapseed (grunge & drama) and then added the blue tint in Picasa.
I may not like the cold, but I do know how to bundle up for it! LOL!
February 2013 — My Second Month of Daily Photos
You can see the other 365 project posts here on the blog to get more information about a photo in the above video if you'd like (all the posts here have a 365 project tag on them). You can also see them through my account at 365project.org/JPlovesCOTTON or in this album on Google +.
Related articles