I have had a great fourth week doing my 365 project and it was another week of being home! This week, all the photos were taken in St. Louis so it gives a bit of insight into my new hometown and some of the things I have going on here.  And this is so fun that I decided to put together the first month's worth with music into a short video! So first this week's photos.
January 18 — The Sheldon 25 / 365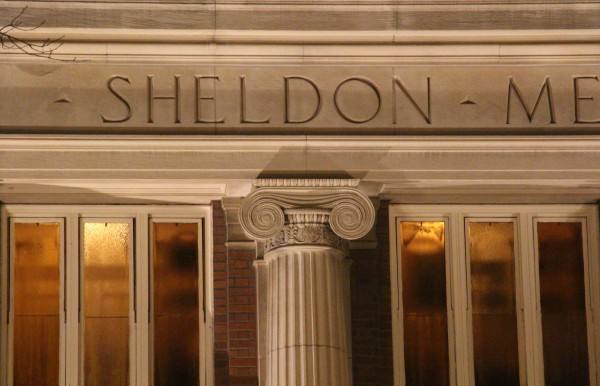 Tonight I went to "
The Sheldon
" to see a concert —
Punch Brothers
. I hadn't ever been to the venue and know most don't let you take in cameras so I waited until after the show was over to get my camera out.The Sheldon is 100 years old and has a lot of incredible touches — the acoustics inside left me awestruck and left the audience silent as mandolin player Chris Thile played a classical number unplugged. I really wanted to solidify my memory of The Sheldon so I went for this closely cropped photo of the name on the building with a detail of a column holding it up and the colored windows.
January 26 — Remembering The Man, Stan Musial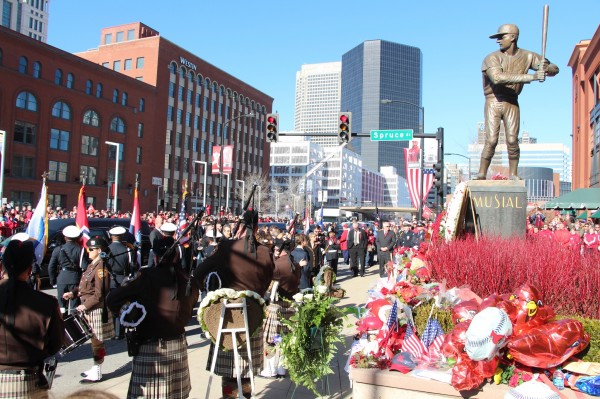 I just have to admit, I assumed a photo of the Stan Musial stadium at
Busch Stadium
would be a part of my 365 project. I just assumed it would be one of the many shots I am likely to take as I head to the park for a game. However, today as I listened to Bob Costas deliver a moving eulogy I decided I needed to get this today. I needed to honor what a great man Musial was.I wrote up a few more of
my thoughts of Stan "the Man"
and paired them with some of the photos I snapped today for the blog. I wish we had many more people who are "celebrities" who also are incredible people.
January 27 — Rainy Sunday Doing Chores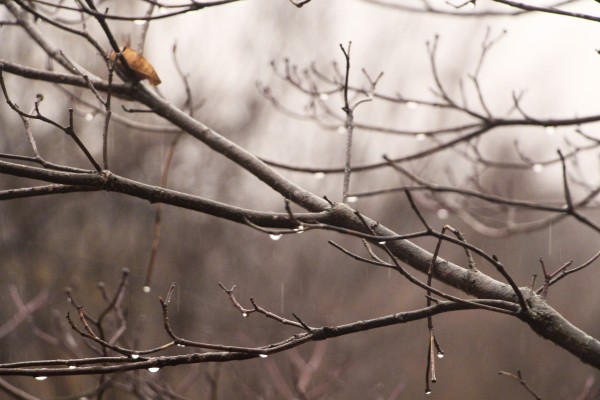 I've spent most of the day just checking things off the to do list that has been building up. As I was cleaning up the kitchen, I glanced out the window and next thing I knew, chores came to a grinding halt as I tried to capture the branches as raindrops drip off and one leaf trapped in space.
It's a softer photo than I have been taking this month and I liked playing with it. Took several really different shots but settled on one of the first I snapped. May just have to do some more to get better. 🙂
January 28 — Errands Done, Things Put Away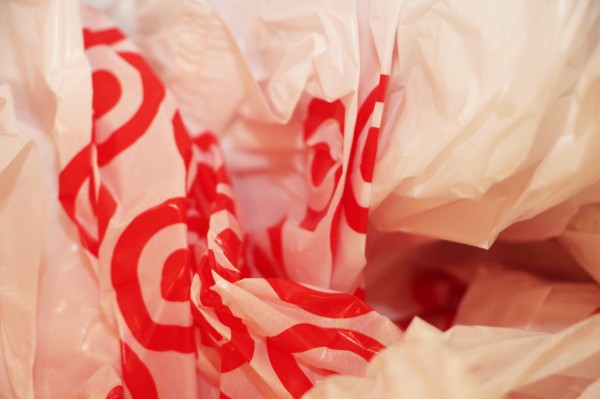 Not sure why I decided to take photos of the wad of bags I emptied after running errands…. There certainly are prettier things to snap, but something about the bright red circles and the creases grabbed my eye. Guess the logo designers should be happy!  (I love that one of my Google+ connections saw the logos form a smiley face!)
January 29 — Wet Leaves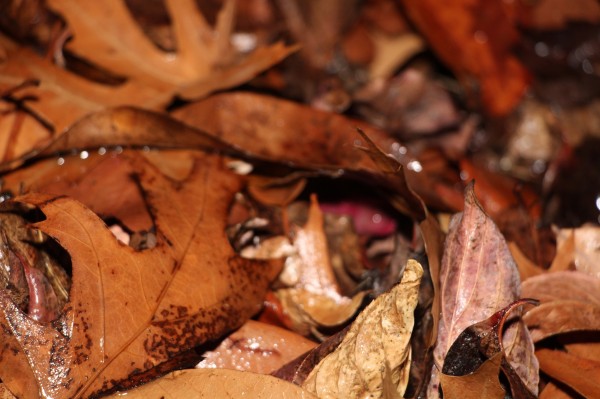 We have a "squall line" coming through the middle of the U.S. tonight and while I saw some things I wanted to shoot as I left the office, I didn't have my tripod & knew I couldn't get the clarity I wanted. Instead, I came home and checked all the drain areas around the house and decided with all the great leaves that had collected in my driveway, a photo was in order.I have been trying to do more tweaking / processing on shots but with the great tones I captured here, I didn't want to screw anything up so this is straight from the camera. I shot it zoomed in with the flash straight on with a diffuser.
January 30 — This Will Not Turn Out Well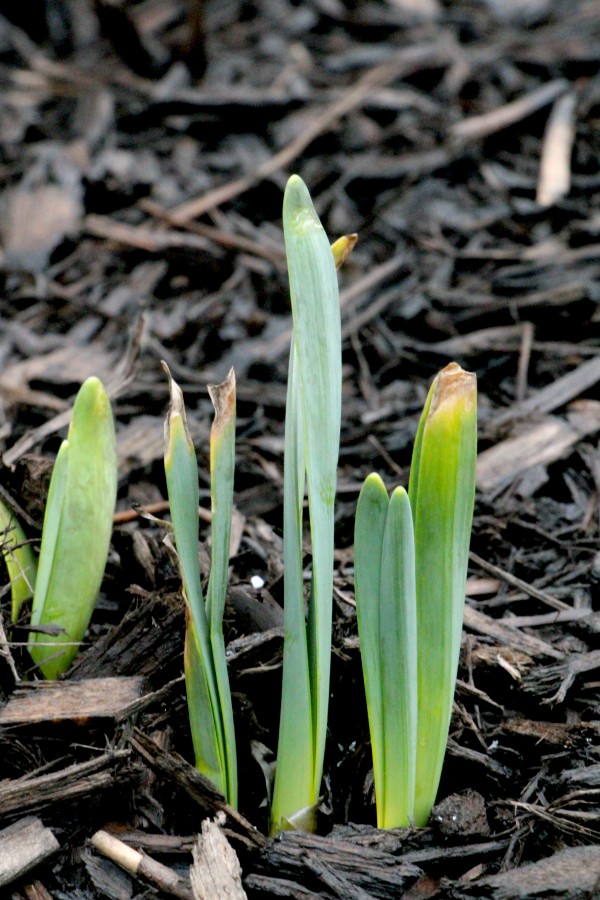 We have had a couple of days of spring like weather with 70 degree temperatures (21 C) and bulbs are confused and shooting up. When that "squall line" came through, temps started dropping and no doubt the flowers are suffering. I snapped these today — had to punch up the light with a flash. This evening the forecast is for snow flurries! So we will see what tomorrow brings.
January 31 — Candy Cane Lights My Way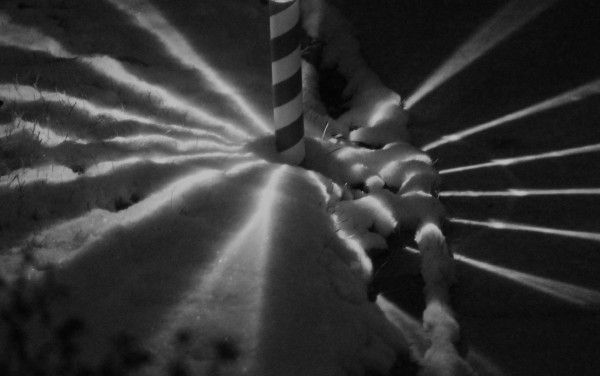 The way the solar path lights looked on snow and the path tonight grabbed my eye. I like the difference in how defined the light is on the concrete and how it varies across the snow and grass.Although I took a lot of photos which included the light that is being shown on the ground, I decided I liked this cropped one more as the focus is clearly on the way the light hits instead of the light on top of the stake.
January 2013 — 31 Days of Photos
You can see the other 365 project posts here on the blog to get more information about a photo in the above video if you'd like (all the posts here have a 365 project tag on them). by looking at the posts that that tag. You can also see them through my account at 365project.org/JPlovesCOTTON or in this album on Google +.
Related articles