I meant to pop another post or two up here a week or two ago about the American Farm Bureau Federation's annual meeting in Nashville. See I got busy writing about the things that were happening there and things I learned.
I forgot to share with you all the post I wrote about the speech Secretary of Agriculture Tom Vilsack delivered to AFBF. The post I wondered if I should add, was about the panel I was there giving. I wasn't sure that I really had something concrete I wanted to put here though. I mean, I prepared for the panel discussion sure, but so much of the panel was the dynamic between the panel that writing something seemed hollow since I was too busy being in the moment to take notes! But I thought maybe the panel had some good points.
Social Agriculture
The panel's focus was social agriculture — marrying social media with agriculture is something that is being done more frequently. What are farmers & ranchers doing online? How are farmers putting themselves on the line on Twitter, Facebook, blogging, Instagram and other services.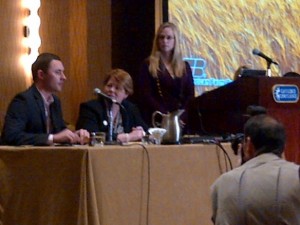 There are several things about the panel posted in various places. My dear friend Chris Chinn wrote a post about the panel and was nice enough to put a photo of Ryan, Melissa and I in it. The Farm Bureau team put together a press release about the panel encouraging farmers and ranchers to use social media. Although I like the content for the most part, I had to just shake my head about the title. I wasn't too comfortable referring to myself as a rockstar (something friends like Wille Vogt thrived on! LOL! And I got more than a grin or two at the office over it too!) Then, Chuck Zimmerman of AgWired posted an interview with me talking about the social media panel. Chuck did a great job and I even was able to listen to the interview without my skin crawling too much.
But, when Ryan Goodman came across the video of our panel at the 2013 American Farm Bureau Federation annual meeting in Nashville, TN; I decided I really could post something here. It seemed the final straw that meant I should get back to the topic. I could post that video and you can let me know what you think.
Panel Discusses Social Media & the Farm
The moderator for the panel was Melissa Burniston who works for Tennessee Farm Bureau Federation on the communications team. You can check out TFBF Facebook page and the TFBF Twitter account. She did a good job of keeping all four of us sharing information throughout the hour. The panelists were:
Now… to that video. And PLEASE tell me your thoughts. What questions do you still have? What points do you think we missed on the panel? What do you think others should know? Whether you are a farmer or someone who works a 9 to 5, a student or whatever….. what would you like to know about social agriculture?
Related articles