I've written about how much I love baseball before. Heck, I found a way to get to go see my beloved Yankees in spring training which lead to a post about how spring training and farming has things in common. I've celebrated World Series wins in multiple states. And though I haven't made it to a St. Louis Cardinals appearance in the World Series, I expect to though. I've had two baseball seasons since living in St. Louis and one ended with the team winning the series, and the other ended with them being within a whiff of a series.
St. Louis Loves Baseball
St. Louis is an incredible baseball city. Everyone here loves the sport. They love sharing the thrill of the game whether it's on the little league field or at Busch Stadium. Everyone loves baseball. And everyone goes to games during the year. More so than any place I've ever been.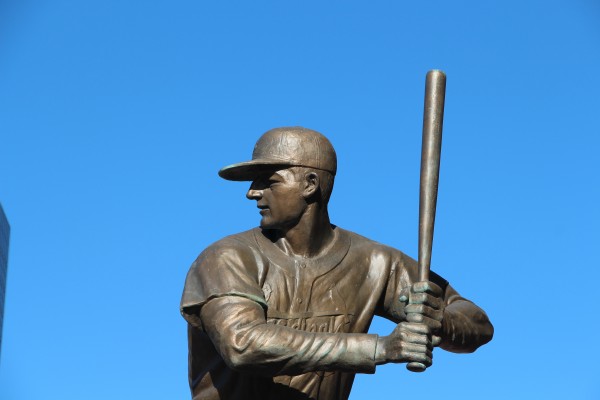 It wasn't til after I had lived here a while that I realized Stan "the man" Musial was a big part of that. I had no idea how great of a ball player he was. The Baseball Haven blog recounted those stats that showed just how great Musial was this week:
7 NL Batting Titles
.331 career batting average, 30th all-time
.417 on-base percentage, 22nd all-time
.559 slugging percentage, 19th all-time
.976 OPS, 13th all-time
3,026 games played, 6th all-time
1,949 runs scored, 9th all-time
3,630 hits, 4th all-time
725 doubles, 2nd all-time
177 triples, 19th all-time
475 home runs, 28th all-time
1,951 RBI, 6th all-time
2,253 singles, 18th all-time
1,599 walks, 13th all-time
1,377 extra-base hits, 3rd all-time

Musial wasn't the career leader in home runs, he doesn't have the most MVP awards, and he isn't recognized in the same breath as Babe Ruth, Hank Aaron, and Ted Williams as the greatest hitters of all-time, at least not by many. In fact, my wife, who has become quite the baseball aficionado since succumbing to my strange fanaticism and obsession, didn't know who Musial was, even after watching Ken Burns' Baseball documentary.
via Stan Was The Man « The Baseball Haven.
I have thought it would be fun to go to a post-season game. I've considered getting tickets, even gotten so far as checking the ticket service. But nothing put me over the edge to go.
Much More than Baseball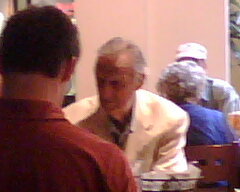 Before I moved up here, I had the chance to run into Musial one night while getting dinner at the Canyon Cafe. I wasn't sure who he was but I knew that it was someone famous. He mainly stayed focus on the family members he had dinner with. It  looked like they were glad to be out for the night and all of them nodded, smiled, chatted with the folks who recognized him. In a place like St. Louis, that was a lot of people!
I asked my friend who it was and he said "Stan the man" like I should immediately know what all of that meant.
He gave me some highlights of Musial's career but then he turned to talking about how Stan "The Man" really embodied St. Louis and it's love of baseball explaining that Musial certainly had lots of opportunities to go to "bigger ball clubs" that could write bigger checks, but he called St. Louis home and was loyal to the club. It is an idea that sports needs more of — not because athletes shouldn't be able to move to improve themselves, obviously I have moved too. But sports and other area of America really should find the things that matter to them and prioritize it.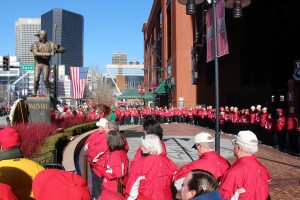 Since I moved to St. Louis though, I saw a special program on ESPN Classic. Not my normal channel, for sure, but I was traveling and reading the schedule. When I saw the show was about Musial, I decided to watch. Wow. What a guy. I actually went online looking for the video earlier. I think it was from the centuries series but I really don't know as I couldn't find it online. The video did a great job of helping me understand why people from St. Louis think so much of Musial.
Then today as I was doing chores around the house, I finally thought to switch on coverage of Musial's funeral. I had missed a lot but I saw Bob Costas delivering the eulogy so glad the video is available. At the point where Costas recounted how at the first all-star game after Major League Baseball was integrated, how a lot of players weren't sure what to do. And when a group of African-American players decided to play a game of cards, Musial simply said "deal me in."  I have to say, respect for a man who knows what is right so clearly and doesn't have to cause a big scene but simply says "deal me in" drove me to rapidly get myself together and in the car headed to Busch Stadium.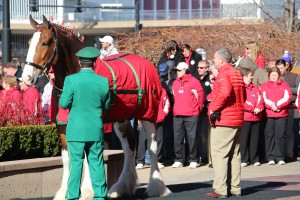 I haven't needed to attend a parade to celebrate the World Series, but I really wanted to celebrate a man who was so incredible. That's a powerful man and that certainly was more important than doing my laundry.
The crowd at the statue was mostly dedicated Cardinals fan. Many visited as we waited. Some got there around 11:30 am and since I didn't make it til closer to 1:30 p.m., some were taking a few minutes to sit down. But everyone was friendly. Everyone was nice. People moved out of the way as everyone wanted to get a few perfect photos to remember the day.
What I will remember most though is that after the bagpipes played "Amazing Grace" for the family, I began to hear "Take me out to the ballgame" softly coming from the many ushers and other staff members of the Cardinals organization. Many of them have likely known Stan's footprint as a ballplayer and a great guy for decades. And I knew then, I really did find the right home for me.
St. Louis is a city of great baseball and great people. What more could I ask for?
Hope you enjoy some of the photos I took. Here they are in a slide show.
Related articles