I got off track with all the holidays and travel but I am excited to finally get back to telling some of the stories from my Oregon and California Roadtrip!  I've got several story prompts already but I'd welcome more people checking out the compilation of vacation photos and asking questions.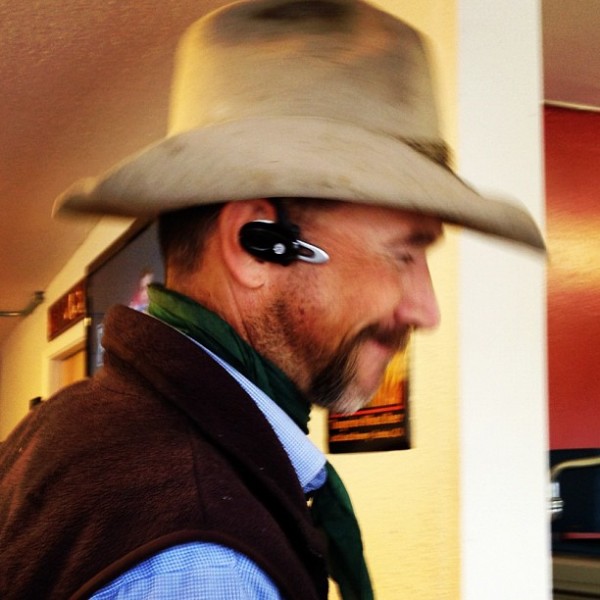 I love that Danielle Elliott of Extraordinary Mommy saw this photo and said "Then 46 – He looks like he has a great story." indeed that's my brother from another mother, Jeff Fowle who comes with lots of great stories! My question is where to start so I will just start with the photo.
I snapped this picture as Jeff and I got ready to eat lunch in his hometown. We were actually ordering lunch at Dottie's a small burger, ice cream and burrito joint in town. I was pumped to be there for sure!
He looks like the stereotypical rancher wearing his work cowboy hat, a vest and jeans. And he drives a big ol' pickup truck. But the Bluetooth earpiece is a signal that he's not an old school rancher. In fact, Jeff and I may have never met if he wasn't a new breed of farmers who are active on social media.
He's one of the farmers and ranchers I have met through Twitter. We have been friends for years now, meeting up in real life several times a year. And even though I have always wanted to visit Jeff's ranch, this was my first time to make the trip. It won't be the last.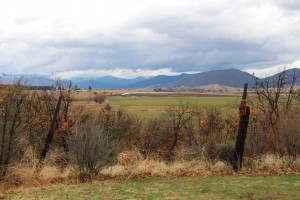 First Visit to Jeff's Ranch
As I drove south leaving Oregon and going into California, The mountain views were spectacular. Turning off Interstate 5 and heading west into the valley where the Fowle family has ranched for generations, I realized those rugged mountains periodically gave way for beautiful ranches. Sure, I'd seen Jeff's photos and had been thoroughly impressed with the scenery, but there is always a difference to see it for yourself. And pairing the images with the sounds, faces and more.
After a quick lunch, we went to the house and I got my footing around the place while Jeff went to get Kyle from school. I wandered around a bit taking some photos, then got my boots on so I could go check water with them when they got back. With such a beautiful environment, it was easy to see that for generations the family has been caring for the land with eyes both on producing food and protecting the land so Kyle and others can ranch for generations to come.
Kyle is Awesome
I've considered Kyle a friend as long as I've known Jeff. We've chatted on the phone and on Skype. I learned about various dinosaurs he has and all sorts of important things. I couldn't wait to meet him and had some great conversations as he realized I'd never been to his part of the world so he helped me learn some things as I went along. He even made sure Jeff included various places on our tour!
Checking Water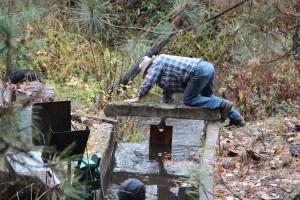 The Scott River Valley is a unique environment and water is a major part of the day-to-day concerns of farmers & ranchers there. Water is provided to farms on a permit basis and there have been more than a few political and legal battles over water there and Jeff has written a blog post on some of the on-going water issues.
We worked our way up the mountains nearby and checked for blockage on dams and flushed gates where needed, etc. Mainly I took photos and chatted with Kyle who was running off some of the energy he had pent up while he was in school.
Checking on Livestock
After we ran around checking water, it was time to check livestock. We went over to Jeff's parents first. Kyle has a couple calves he's been taking care of in the barn — one was a Hereford and the other an Angus. He really wanted me to see them!
He moved the Hereford calf through the barn so I could see it…. I have to admit the markings on them are always so interesting! Then we checked out some of the horses. Kyle also wanted to be sure I saw the sheep and chickens. Jeff was far more focused on the horses and cattle LOL!
As we headed back to Jeff's we caught up with a few folks on the road — first, Jeff's parents. I'd met his mom at a cattlewoman's meeting last spring but hadn't met his dad. Then we met another farmer in the area — an organic farmer who I also had connected with via social media. He was trying to track down a vehicle that had driven through some fence and caused some damage. Crazy that you could have something like that happen in an area I would consider so isolated.
Finally, back at the house, Erin was feeding horses with a niece who was visiting for the holiday. Kyle was pumped to see his cousin and the two of them set about checking in on the horses and getting caught up on what all was happening.
Hearing Jeff's Story
You can find Jeff on a variety of social media channels. His Twitter handle is @JeffFowle and his blog is CommonSense Agriculture. He and some other farmers also founded a blog called Just Farmers that is a digital sandbox for throwing around ideas.
Utah dairy farming friends Trent Bown and his wife Holly Christine visited the ranch a year or so ago. She did a great video where she got footage from the farm and had Jeff talk a bit about the farm and family. They posted Jeff's story and some others on the USFarmGuys website they have.
More Photos of My Day
[slideshow post_ID=16336]
Related articles