This weekend, I took a little time to catch up with friends while I was on the Plains. So I drove from Hutchinson, Kansas southward through the middle of nowhere of my college years. I have lots to share from this trip, but I want to focus on where I arrived for this post.
I stayed with my dear friend Shawna and her husband Aladdin Friday night and would be there til Sunday.
By the time I got up Saturday, Shawna had several things in the works in the kitchen. There were lamb chops braising, squash and peppers were being prepared for stuffing, a roast was on and talk of what the breakfast options were. What a greeting!
Breakfast turned into a Mediterranean omelet, some pita bread, and storytelling. It seems this is the Mediterranean way. I tore pita bread into pieces, picking up egg & mushrooms. Aladdin just watched and made comments about my knowing the food & how to eat like his part of the world.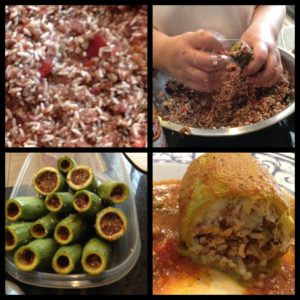 I remember it from trips to Turkey and Israel. And I had a Turkish cookbook years before I even had a Turkish friend! LOL! And Aladdin's home of northern Syria certainly has lots of similarities to southern Turkey! I think the joking way of telling stories is ingrained in people from that part of the world. (for anyone who is wondering, yes I am saying Onur is full of it. LOL!)
Lunch was some of the stuffing and a stuffed zucchini. DANG! I miss having a Turkish cook among my nearby friends! Just look at the photos and know now they don't do it justice!
Hours later as we had dinner…. Aladdin and I shared a stuffed red pepper and had some of the green beans and lamb chops. The lamb was incredible! Absolutely incredible. I should have asked for a to go bag cause remembering it now I wish I could partake!
It was a great time but sadly Sunday morning was a harsher reality. Sure there was a Mediterranean breakfast, but the TV was tuned to news from the Middle East. Syria, which has been trying to go the route of revolution as so many other countries in the region have, was center stage on the Arabic channels.
And just like that, Aladdin's family and the millions of others in Syria were top of mind for all of us. Since they are in the north, normalcy has been out of their reach for months or longer. Rebels are trying to overthrow the established government and the conflict has been taking innocent victims.
This morning's news is about the port in Damascus. The rebels are trying to take the government on in the capital. There will be far too many chances that everyday people will continue to get caught up in this. And all of this as we in the US mark Veteran's Day. I don't have answers and don't mean to suggest I have ideas on what should happen, but I do hope that families like Aladdin's find themselves safe and out of harm's way. I also hope that the battles, war, conflict, or whatever this is called, is brought to a resolution that benefits the people who are suffering and hiding in fear for their lives.
I also hope that a lot of you have a chance to taste the incredible foods from this part of the world. You won't be sorry!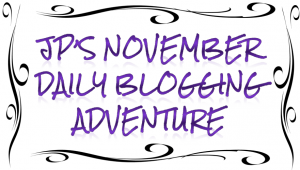 To see other posts in the series of 30 days of daily blogging, just click on this image wherever you happen to come across it. There will be a little of this and a little of that in the series, just like there is in my blog at any time! You can also see a list of several other bloggers doing the 30 day challenge on this post by Holly Spangler