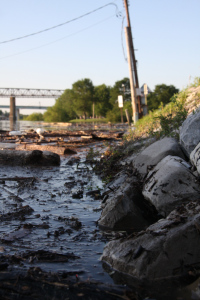 I may be overdoing it with the many pictures of downtown Memphis if today's blog post but the views of downtown were so captivating. And we actually had sun and I just couldn't bring myself to come inside — driving around with the top down and running around various parks and places to take photos was nice even if the subject matter is tough to see.
Not only did I go along some of the tourist places like Riverside Drive, the river boat docks and Mud Island, but I also went to a more industrial section on the river that's actually called President's Island. It's President's Island where barges come & go for refueling, for filling with grain to take to the port in New Orleans, etc. Friends and I toured a grain facility during an Ag Relations Council a couple of years ago and one had already asked about the area. That specific facility is still dry, but the water is coming fast and according to the latest forecasts, we will crest next week several feet higher than we are today so we will be watching.
[slideshow]
The river is up higher than I've ever seen it. And as someone who enjoys the river and shows people around our parks along the river routinely, it is stunning to see the way Memphis looks with such high water levels. Local reporters and the weather services all say that this will be looked back on for years to come as the great flood of 2011. The great flood of 1927 is the one that is generally pointed to in this area (there is a great photo gallery with photos of downtown Memphis and farm land in the region). That flood has been a major shaper for me in the past 15 years. I lived where the flood waters first broke through. And in fact, for several years, my office windows looked out on that levee. If I stretched just a little, I could see where the levee broke that yielded the Rising Tide popularized in the John Barry book during my Delta stint.
Life on the Levee
When you live along the levee, you are accustomed to some flooding. People in some areas live on the inside of the levee which means they almost expect to flood every couple of years. I can remember some friends packing up routinely. Placing their items up on tables hoping the water doesn't get too high. Some even continued living in their homes and took boats in and out! So I have to assume all of them have evacuated.
Living on the side of the levee which left you protected, didn't necessarily mean you didn't get water in fields or home. But we did appreciate the Corps of Engineers and the levee boards for staying on top of it as the river is central to economic viability of our regions and agricultural markets. That's what I've always thought the Corps of Engineers did. But in 1927 they were wrong, the levees didn't hold as they said they would and the crevasse let the raging waters take fields, homes, livestock, etc. I could stand atop the levee and look out and see where sand came in…. crops tended to burn up in the summer heat in those areas even 75 years later.
But I have to hope that we don't have the human losses again. The warning systems are in place and evacuations are talked about throughout the media and shelter cots placed in the region for Katrina are back in use. Tutorials on how to evacuate are inclusive of what type of papers you may need (mortgage, insurance, birth certificate/passport, etc) and how to shut off the utilities in your home.
I'm thankful my great-grandparents chose to live in Memphis and that I moved "home" a few years ago. We have the blessing of being "the bluff city" so we are up higher than many areas. I guess that just means we need to be sure we do our part to help our neighbors once this passes and water finally starts going down late next week.
Some of the other flooding posts I've seen in the last day or two include:
You may enjoy Wordless or Wordfilled Wednesday efforts on other blogs (maybe they won't be so wordy!).