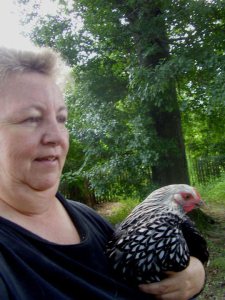 I got a phone call this morning that meant I needed to go straight to the blog. It was Jan Hoadley of Slow Money Farm and she wanted to see if I was okay and how others were. She took a while checking on others and I said I think we've heard from a lot but I was worried about her as I had a friend heading to Huntsville, AL with generators, gas, etc for family. After we talked for a while, I went and grabbed my recorder after I talked with her for a minute.
Let me tell you that as I talked to her, she was in great spirits, never wanted to say whether something was needed, etc. She was more concerned about the people around her, friends scattered around the country and then the animals she cares for. Jan and Paul were way down on her list cause she knows they are better off than some and said it reminds her how much you can do when you need to.
Jan talked through the full story with me on the recorder but I'm going to put some bulletpoints together so you will know what's going on if you can't listen to it.
They are without power and will be at least through the weekend. The same storm system that hit Tuscaloosa, Dora and Empire. (After I talked to her, I talked to my friend Marjory who was driving back from Huntsville from checking on her sister. The regional power plant was destroyed and it may be a long time until the power gets back.)
She didn't realize how wide the storm was until she started hearing bits and pieces since Paul went to work yesterday.
Jan had gone to the grocery the day the storm hit so they have lots of groceries on-hand.
They have a grill, cast iron pans and lots of wood.
They have feed for all the animals for the weekend but they may need to start looking at how they can get things if the power doesn't come back Monday.
The dogs were her best tornado warning system as the sirens never went off.
She wasn't sure where the closest touchdowns were but thinks the ones that came through Dora & Empire may be the storm that caused the most damage.
Its amazing how pitch black and peaceful a place can be — no traffic or anything. This is especially true since they understand getting gas is going to be the big problem.
They are able to get things done and its no problem things like gas, ice, generators would be useful.
She's filling buckets to be sure they can keep water.
She's been shooting a little video & taken photos cause she had extra batteries for those things!
Relying on tradition and old school things like being prepared.
When asked what she may be able to use, she sounds more optimistic than I would, but then again, she's not getting news and information. Gasoline, a generator, water, some heat lamps, rabbit and chicken feed, coolers, ice, etc. would be helpful. I'm trying to decide whether a few of us could coordinate getting some help to her. If you have a generator you could spare for a week or so, please let me know. Any other ideas are welcome.
As we were signing off, Jan mentioned Garth Brooks "Unanswered Prayers" so I'm putting that video here. Jan's point was that she had ordered more rabbits and that order was delayed. She was glad to know they wouldn't face the fate of a latter of bunnies and most of the chicks that had died due to the lack of heat lamps.
I told Jan I'd call later to share your comments here on the blog or on her Facebook page. I'm going to be staying in touch with her and will gladly read them to her since she doesn't have power!
[youtube=http://youtu.be/m5yzFywB2PY]