I don't know that anyone wants to give a lot of thought to organ donation, but yesterday morning as I ate breakfast, my mind turned quickly to the topic. I got a simple text from a friend at work asking me how long someone would be in the hospital and what sort of diet he was on. After traveling for several days at the seemingly speed of light, my mind couldn't even process what she was asking. I replied asking if she meant to send the note to me. When she asked "is this Janice?" and then said "I thought you'd know" I immediately opened Facebook and went to a friend's profile.
I had missed the fact that my dear friend Debbie Lyons-Blythe's son Tyler had been hospitalized. I had been following his health the last couple of weeks closely since Debbie & I went to BlogHer 14 together. The post was there saying they still weren't sure what it was that had Tyler in the hospital and doctors were working on it.
I sat there in shock. This was definitely bad. We had been talking for the past few weeks and Tyler had gone from a totally healthy farm kid (check out his senior photo shoot & rolling a cow!), to a kid who wasn't feeling good and then to a kid where something was clearly wrong that needed to be diagnosed. There was something happening with his liver but it was hard to figure out what was up.
In the hours that came, I saw pictures of the Blythes playing card games — Tyler in the hospital bed and siblings around with cards in their hands. I also saw the one that said it was determined Tyler needed a liver transplant. And I saw this photo of Eric, me, Duane and Tyler walking off the field at the Rams game (I cut out Debbie cause she & April were making faces! LOL). And I thought about how Tyler, like my nephew, was set to start college in the next couple of weeks.
Sending Prayers for His Liver Transplant
You may recognize this photo of the Blythe family. It's Debbie, Duane, their five kids — Megan, Trent, Allie, Eric & Tyler — and Roo the cow dog. The photo was on my blog when the kids nominated Debbie for farm mom of the year and the Blythes all like the photo so they use it on her blog Kids, Cows & Grass as well as Facebook. This photo is in a lot of our minds right now.
People are connected to various members of the Blythe family. Each of them has a heart of gold and personality that keeps smiles coming. The family feels the strength of prayers from all over — through phone calls, texts, Facebook messages and more. They are waiting …. Tyler is on the transplant list.
How You Can Help
Lots of people wish they could help Tyler. That's not something easily done. What we really need is for someone who has a tragedy happen to have been forward thinking. To have a liver donated means someone else needs to donate one (he needs a full liver, not a partial one) and that means that someone else has to have thought ahead and made the forward-looking decision to donate their organs when they die and to make sure their wishes are clearly understood.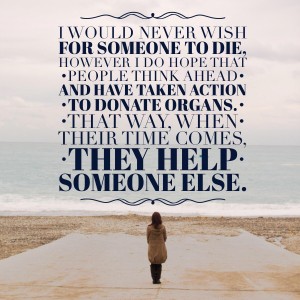 I can't imagine the donation coming from anyone we know because that means the tragic loss of a friend. I can't imagine sitting here wishing anyone would die but the hard reality is things happen. People going about their day-to-day and something changes in an instant — Tyler won't benefit from that but what I can hope is that some of those people thought ahead about how if they have to die, how nice it would be to help someone else who has other possibilities. If that's the case, Tyler will be the one to benefit from some stranger who thought ahead.
I've previously made my participation in organ donation clear. It is on my driver's license and I've talked about it with my mom and siblings now and then over the years. On the other hand, knowing someone like Tyler and the Blythes could be waiting whenever it is that I die….  The person needing the transplant could be the girl next door. I have to be clear that I want to help.
There is a national organ donation registry run by the US government's Health & Human Services. I went to the registry and entered my information and it said I had indeed previously registered. I went in to be sure I was comfortable with the types of  donations I had selected. And I made sure my family had that solidly in their mind… that I wanted to donate.
If you aren't sure whether you filled out that piece of your driver's license or whether you have let others know what you are thinking….  you can read through the information on organdonor.gov and then walk through the process to become an organ donor.
Your donation won't help the Blythes directly but I have to believe that they will find it a relief that families in the same spot in the future may get the silver lining in something bad happening to a stranger who thought ahead and took action.