This Sunday is Mother Day and all across America, kids are looking for that perfect way to say thanks to moms for all the work they do at home and away from the house. The America's Farmers Farm Mom of the Year program began in 2010 to honor some of the women who make agriculture so fantastic. The women who have been recognized the last two years have been incredible and this year's regional honorees once again demonstrate how much involvement women have on the farm, in the community and with their family. I don't see how you could go wrong in voting for any of these women because in recognizing any of them, we are able to highlight people who give beyond themselves in so many ways. You really should read the nominations for each of these women… they are awesome!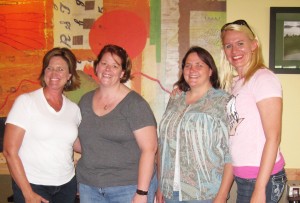 All of that said, I hope you don't mind my adding my two cents thanks to the five Blythe kids in Kansas. They nominated their mom, Debbie Lyons-Blythe @DebbieLB for the Farm Mom of the Year. I've known Debbie for a while and feel like that makes it okay for me to offer my personal opinion. (Disclaimer/reminder:  This is my personal blog and remind you it in no way represents the point of view of others.)
You may remember that Debbie was one of the faces that made my first 140 conference so special…. she drove down just to meet Val, Katie and I! And with kids going several directions, one of them had her truck and she was driving a car as I remember (she naturally looks for a pickup of course). We had a great time visiting over a cup of coffee, she posed perfectly with her cup of joe and then she turned around and drove back home in time for all the other things that needed to do!
You should read that nomination…. I am pretty sure Debbie is considering this an absolute win since her kids surprised her with the nomination that became a regional winner. I had a chance to meet Meghan (Debbie's oldest daughter) at the Cattle Industry Conference / National Cattlemen's Beef Association this spring. She's been working alongside her brothers & sister to get this honor for their mom. The Blythe kids posted a guest post to their mom's blog Life on a Kansas Cattle Ranch that reads in part:
I asked my four younger siblings and Dad to describe her. Over and over again I received the same answer…  unselfish. Mom is unselfish. All of her efforts are focused on giving to something bigger than herself. She shares her story in blogs for the agriculture industry. She wakes up early and works long hours for our cattle ranch. She serves the Kansas Angus Association and National Cattlemen's Beef Association in leadership positions for the advancement of the beef industry. She volunteers for our community, and she goes above and beyond for our family. Mom embodies the spirit of American agriculture, and demonstrates the beauty of sacrificial love through the giving of her talents, her time, and of herself.

Please visit http://www.americasfarmers.com/farmmom/vote.aspx  to cast your vote for our mom, Debbie Lyons-Blythe. Don't forget to complete the voting process by entering your name and email address! And please pass along mom's story and the information to your friends as voting closes May 12th.

Thank you for helping us out with this Mother's Day honor. We really appreciate your support!

Meghan, Allie, Trent, Tyler, and Eric 

via Life On a Kansas Cattle Ranch: We Need Your Help this Mother's Day!.
So please go on over to the voting page for America's Farmers Farm Mom of the Year, give the nominations a read and help celebrate a few of the women who make agriculture so great. And cast a vote while you're there, my vote is already in! And now…. I can get back to thinking through that Mother's Day gift for my mom…. I guess it's too late to get her on this list…. and since she doesn't have a farm…. hmmm… guess a copycat gift is out of the question. Back to the drawing board!
Related Posts: