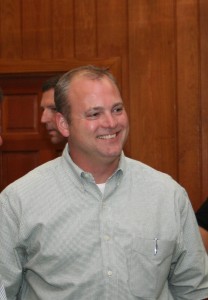 It is still a huge shock for me and even as I type, I wonder if some mistake has been made and by the time I go to hit publish, someone will have told me its all a mistake and I shouldn't worry. But I fear that its true. I fear we have lost one of the truly great people in agriculture much too early. I fear I've lost an incredible friend who could make me laugh hard with just a glance or who could challenge me to voluntarily give more when I thought I had reached my max. More importantly, my heart breaks as I think Jacquie has lost her dear husband and their kids lost an incredible dad.
So I write and think. I think of the person named Kevin Eblen I was lucky enough to call friend. And even though I'm not sure whether I will ultimately want to hit publish on this, thinking and writing help me process profound news. And the loss of a guy this incredible is certainly profound news.
When you consider the measure of a man, what really matters? I came up with several factors that really strike me when Kevin comes to mind.
Family
I'm sure if we were to ask Kevin what he was most proud of, he would point quickly to Jacquie, Joseph, Jesslyn, Anthony and Vinnie. No question his wife and kids came first and foremost. Although I got to know Kevin through work, we traveled together a bit and talked about the things that mattered to us. I remember finally meeting Jacquie after having heard stories about how incredible she was and she did not disappoint! He was right, she lights up a room. And he'd laugh about how she puts up with him but you could see no doubt in either of them, together was where they were meant to be.
And I remember lots of conversations in which he smiled big-time as he told me of the latest things Joe and Jess were up to. He loved that the kids were really smart and could ask questions that made him think hard. He knew that daddy's little girl had his heart & soul and he would melt at the mention. I followed anxiously as he and Jacquie spent time back and forth to Russia where they adopted Anthony and Vinnie. Kevin would draw vivid images for me of these two little guys and their surroundings, their growth and development as they made the transition to the U.S. becoming part of the family so quickly.
More recently, I remember Kevin telling me about how the move to China had been an amazing opportunity for all of the family to grow. How much they enjoyed time together there and the community they were part of. On trips home to the U.S., the stories of four wheeling on the farm and visiting friends and family became the topic of conversation alongside the many things happening around the office. Although lunches or meetings with Kevin were rare, they were always fun and I always got great stories.
Agriculture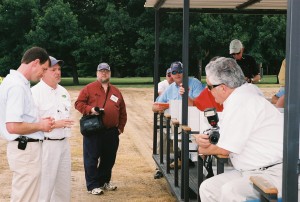 Kevin would frequently describe himself as a farm kid from Iowa. That he was. Early on, the love of agriculture was sparked and by the time he was in college, he became National FFA President. Over the weekend, friends from Kevin's FFA days had gotten in touch, some posting a photo of the board and others reaching out to Kevin's coworkers because they remembered his drive to improve agriculture, to energize it. That drive was recognized just a few years ago as his hometown of Creston added Kevin Eblen to the school's Hall of Fame. The article described his role in FFA saying:
He served as National FFA president in 1986-87 after serving the Iowa FFA Association as secretary and president the prior two years. At the time of his election, Eblen was only the fourth Iowan to be elected National FFA president, and only the 10th Iowan to serve as a National FFA officer. Eblen took a one-year leave of absence from Iowa State University, where he was majoring in public services and administration in agriculture, to travel throughout the nation, Puerto Rico and Virgin Islands representing the 430,000 FFA memberships. While he was involved in several activities in high school, including thespians, 4-H and sports, it was his work in FFA under advisor Galen Zumbach that was most valuable for his eventual career in agriculture business, Eblen said. "No doubt about it," he said. "Galen Zumbach was the individual who opened my eyes to a lot of things, as far as opportunities in the world and in agriculture. He pushed me hard, and looking back, it was a great thing to do. He and I became great friends. He saw something he believed in, and one thing led to another."
The Hall of Fame at his high school wasn't something Kevin expected. He told the paper at the time:
I am certainly honored by it. In reflecting on it, it seems the recognition ought to go to my parents and teachers I had in the community, rather than me. Nonetheless, I am excited about it and we plan on coming. My memories of Creston are fond. There was an unselfish attitude among the teachers, and Larry Osthus was among them. (Principal) Ron Levine and (superintendent) Paul Grumley were also supportive.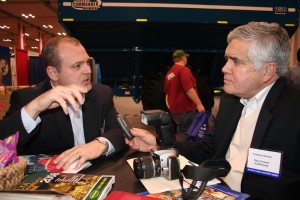 I had the chance to work really closely with Kevin as we navigated the merger of Delta and Pine Land Company into Monsanto. The way he focused on developing a thorough understanding of things before deciding the path forward was…. unexpected and definitely appreciated. Not only by the employees but by the farmers we were all serving.  I had the rich experience of working with Kevin throughout this process and although I wasn't working directly with him as much as he became vice president of public policy & sustainable yield, I found ways to be sure I could stay caught up, and even convinced him to go to the Ag Media Summit with me in 2009. As I played around looking for articles, I found an article & podcast from AgWired where Kevin explained:
What we're trying to to get the world and the public to see and know is that we have the capability to produce more food and conserve resources at the same time. So we went on record saying in the core crops that we focus on as a company which is corn, soybeans and cotton, that we can double the yields of these crops by 2030 with the starting year of 2000. And at the same time, through the use of technology we have and others' have, that we could conserve resources by one-third to produce each unit of corn, beans and cotton.
Listening to that interview its clear to me some of the things that drove him to move to work with our business in China and focus on things that could be done in that part of the world. And during his visits home, the enthusiasm with which he spoke of agriculture in China would leave me (and lots of others) captivated. And I was really looking forward to my next visit with him where I'd catch up on China and make sure he knew how I had connected with some extraordinary folks with the FFA in Iowa recently during my first Iowa State Fair and how I'd gotten him a cool FFA shirt that I planned to hand off last week.
Friends & Fun
As one of the many people touched by Kevin, I can tell you, he has had friends as far as the eye can see. Having worked in both Europe and Asia and having traveled the US extensively, I can say he was truly loved far and wide.  That's something that has been more than apparent in the days since he had a stroke and went to the hospital.
Working with Kevin was fun in and of itself and he made friends everywhere he went. And he absolutely shared the firm belief that work should be something that you relished doing. A place where the people you worked with should be awesome (and we chose well on that).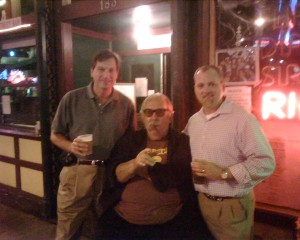 I have to admit to having really enjoyed the opportunity to show Kevin and others with work around my hometown of Memphis. We had the benefit of hanging out with the mayor of Beale Street. And while Kevin would pretend to be insulted that I once walked out of an opportunity to have lunch with him for preciously close to the court seats for my beloved Memphis Tigers, he'd admit I picked well. 🙂
We shared a love for great guitar music and hearing people play live was certainly a passion we shared. In a strange twist, I have Kevin to think for one of the great concert experiences of my life…. even though he was home in St. Louis with the family. He got me passes to the grand opening of BB King's Museum which included BB on stage with Keb Mo, Robert Cray, Bobby Blue Bland and Kenny Wayne Shepard. I sent him photos showing exactly how incredible the night was.
Somewhere along the line, we talked about Deep Purple. Kevin loved the blazin' guitar on "Smoke on the Water." It has been a ringtone on my phone for years in part because it made both of us laugh when it would ring — something he'd ask about when he'd call no matter how long it had been since the last time we talked.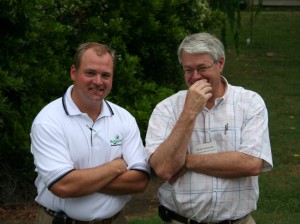 I have come across people who I knew in the PR world who asked if I knew Kevin. Several of them served on FFA leadership teams, etc with him. I had no idea about all of that til friends would tell me and of course, Kevin remembered them all. I still remember that Ag Media Summit in Texas as Scott Vernon and Kevin recognized each other from decades back. Talking about what was happening in agriculture now and motivating more youth to be involved with projects like I Love Farmers, you could see the sparks flying.
That same energy would come into play anywhere Kevin went. And sometimes it looked like mischief. Really fun, good natured mischief. 🙂
Faith & an Eye on the Future
In the last several days, faith has given a lot of strength to everyone as we held our breath waiting for good news on Kevin's condition and waited for Jacquie and the kids to arrive from China. As time passed, we followed his progress and setbacks in the updates from family & close friends. Scores of us clung to the thought that he would recover and we all appreciated knowing that Jacquie and other family members were able to spend real time with Kevin and that they were able to communicate so much. As Jacquie told friends of his passing, she captured his spirit so well saying:
Kevin passed away earlier today. We have been keeping him on life support so he can be a life for others through organ donation. We all know he is determined, a fighter, and smart in knowing how to work through difficulties. He did fight regardless of the pain and frustration,  Unfortunately, his initial injuries were too extensive. I thank God he hung in there so we could talk to him. This took great strength and love. He was a 'Giver' to the end.
Honoring Kevin's Memory
There are so many ideas of things that can be done to honor the memory of Kevin Eblen….. living life and really loving it are not done as frequently as one may think. That's a big comprehensive one that I think would leave Kevin with no regrets other than he would want more time. But some other, more specific things that I think are incredible to emulate:
Make an incredible home and share it with others! Kevin & Jacquie have four amazing kids they brought into their family through adoption. What a great gift to parents and kids!
Look at challenges in the world and make a conscious choice to be part of the solution rather than part of the problem.
Make plans, no matter how tough it is to think about, that allow you to keep giving after your death through organ donation.
Say a little prayer for the family and friends he left behind.
Updates
I'd like to find a way to capture some of the incredible stories friends have shared to make sure Jacquie and the kids can enjoy them for years to come! If you have stories about or photos of Kevin you would like to share with the family, please get them together and send them to a specially created email for the project [email protected]. You can send them as handwritten pieces scanned in or typed up — I'll work with things however you choose to send them.
A memorial fund has been arranged with Merrill Lynch to provide support for education of Eblen's four young children. Checks can be written to "Merrill Lynch"  specifying "Eblen Family Educational Fund" in the memo field.  Checks may be mailed to:
Merrill Lynch
Attn: Tina Weisenfeld
8235 Forsyth Blvd – 15th Floor
Clayton, MO 63105
Understanding there are lots of ways people may prefer to participate, individuals who prefer to gift stock into this fund or wire transfer funds, can contact Steve Bierschenk for stock or wire transfer information.
I hope you can tell by this post that Kevin was ten foot tall in all the ways that you measure a man…. There is a huge hole where he used to be.
Please note: This is a post for my personal blog and although it includes thoughts from my work, it is just a collection of my thoughts as a friend of Kevin's. I'm solely responsible for its content. My apologies if there is any conflict of interest…. it is not intended.