During my Dakota vacation, I had lots of unique experiences for a Memphis girl. The most unusual ones though were everyday life to some of the friends I was visiting. That was certainly the case on my last day in the Monango, ND area where Val & Mark Wagner live! On Monday night as we enjoyed dinner with the kids and Val's parents, she said that Mark had said they'd be working cows tomorrow and planned for me to join them.
"Working cows." It didn't give me a really clear picture of what was to come. So I said it sounded fine but would need more instruction on exactly what that would entail and what I'd need to do. But I was up for lending a hand, just wasn't sure how well I'd do but I'd try.
What do you do when "working cows?"
I asked Val to help make sure I got the big picture of working cows down, cause I felt sure that what we were doing was just one example. So here's the way she explains working cows:
On our farm, any time we have to bring the cows together in a group, we consider that "working cows"…otherwise the rest of the time they spend in the pasture, with little interaction from us, aside from checking that everything's OK.
So, the morning I was there, the calves were getting the necessary vaccinations. The next day, I was in South Dakota at a friend's place and they were working cows too, only they were weaning, but that's a post for another day! But both were "working cows."
First Things First
So the morning I helped work cows, several things happened. A couple of things happened before Val & I arrived.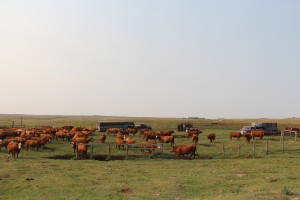 Rounding Up the Herd
Mark and his brother Bryan went to the pasture well ahead of us. They took four wheelers out and rounded up all the cows and calves, leading them toward the holding pen in one corner of the pasture. Since the pasture is 600 acres, and there were 87 cow calf pairs, I have to admit to thinking it would take a really long time to get the herd in the pen, but it seems the cows know the routine and the calves follow pretty closely.
Separating the Cows & Calves
Since all the calves needed to get their shots, they were put into a portable corral that led to the chute that lets one calf into the chute. This is a bit harder I'm guessing and it certainly seemed to make the cows vocalize their opinions on things. There can be a lot of mooing.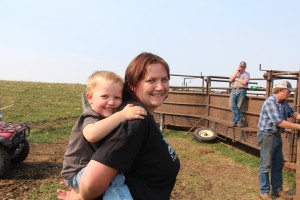 We Arrive on the Scene
Well, the first thing was us figuring out how we'd get George over to the chute! Seems all the mooing had him more nervous than me so he decided he wanted a ride. For me, I just let Val get the gate and headed on in. I have walked through a few holding pens and been pretty close to cows before, but I'm always reminded how darn big they are. And where they are usually just curious if its cows alone, I hadn't ever been around as calves were getting their shots and I sure hadn't lended a hand.
I Take Good Photos So….
To get my senses to me with all the mooing and all the new surroundings, I was taking it all in. With my eyes, my iPhone and my Canon all three. By watching for a few minutes & capturing photos, I got a feel for the landscape and process.
I watched as Mark got a small group of calves down near the chute (photo up top) & closed the gate behind them. (Yeah, Mark also likes to get on the phone even as he closes the gate! LOL!)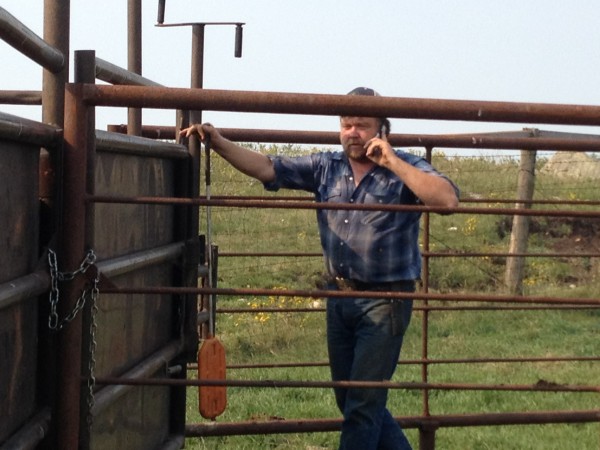 Mark's dad Fred was standing up on the side of the portable so he could help direct the calves the right way. I made the mistake of calling him Mr. Wagner…. When he looked at me like I was crazy, Val quickly pointed out I'm Southern and didn't know any better. I tried to get it right after that but something about calling a friend's parents by their first name when I meet them just is wrong!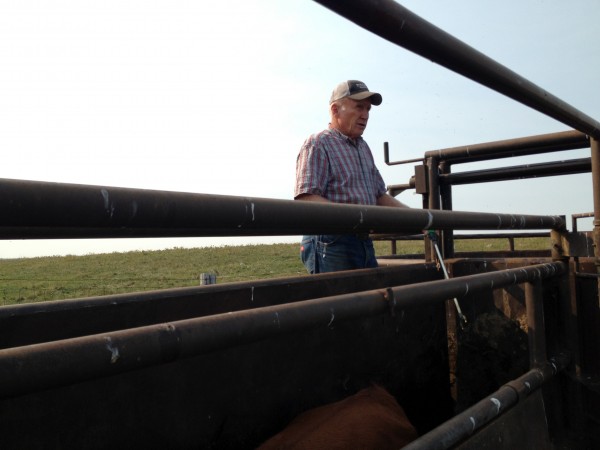 Fred would get one or two calves in one section of the chute & close a gate behind them. Later, I took a spot at the next gate and did my best keeping just one cow going through at a time.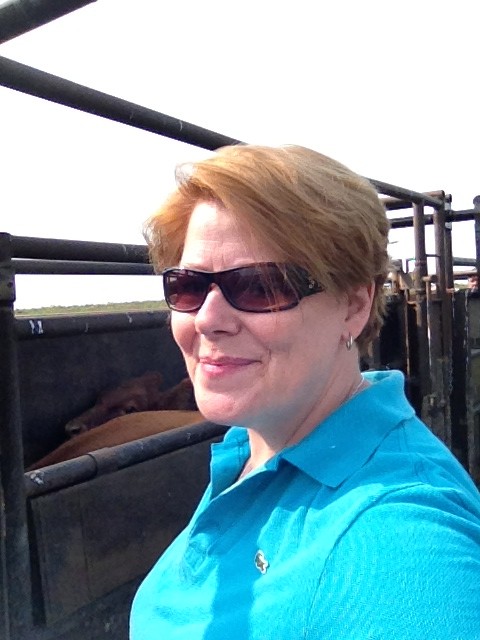 Next up with Val. She had a bar that she would put that went close to the calves back legs. and kept them secure from backing up and hurting themselves. I'm guessing the gate behind me and Val's position were more important to get right! In this photo you see she's waiting for the calf to come by, then she'll slide the bar in. sometimes she'd reach in and nudge the calf a bit.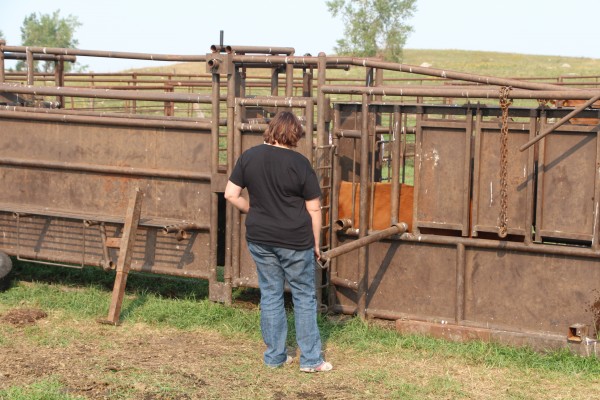 Then the calf would be positioned, head in the front of the chute. You can see Mark's brother Bryan going ahead with the vaccination there.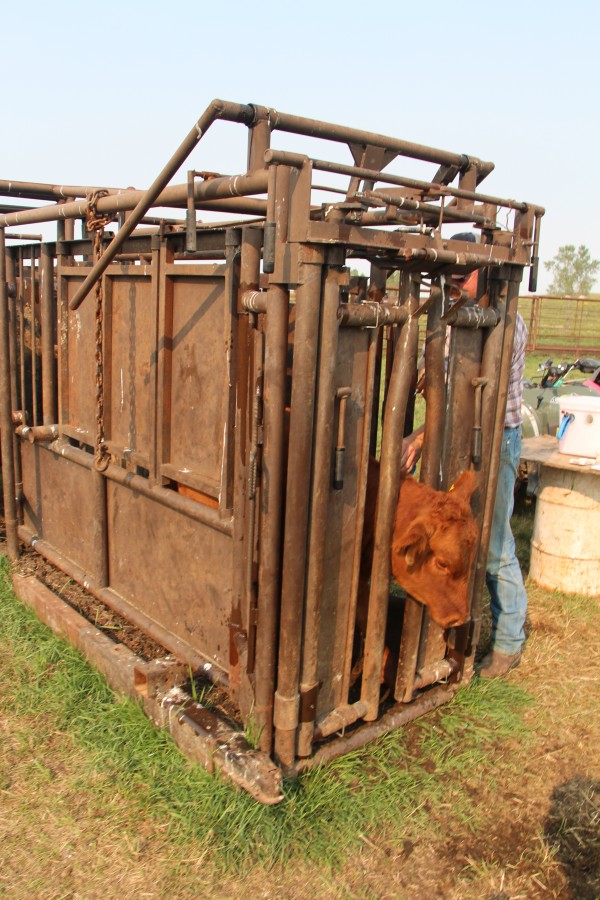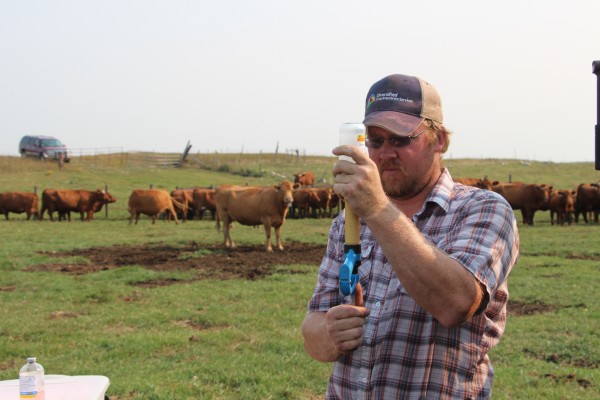 My Overall Impressions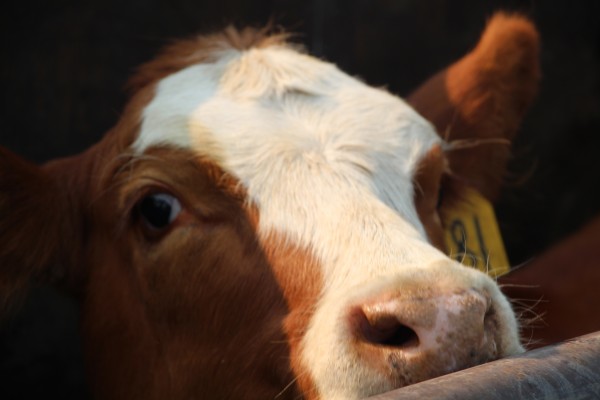 I have to admit that although I wasn't sure what in the world I'd be doing "working cows" for the first time, I tried to pay attention and get it right. It was a pretty simple job, but paying close attention to the calves location, their movements and the others out there seemed to be important. It was important that everyone be working as a team and although I'd take a few photos once I closed the gate, I otherwise tried to keep things on my spot moving smoothly so it went smoothly for the others.
There was an oops moment or two. The first time two calves made it past my gate I was a bit overly excited and was apologizing quickly. I guess that second calf was in a bigger hurry than the others had been and he wanted to make a run for it. I wasn't in tune with that and so I wasn't quick enough closing that gate. Then I worried one of them may get hurt cause I goofed up, but luckily Val and Bryan had it in hand. And everyone says it happens time to time and that's when Mark pointed out he's seen greener hands trying to help out.
Yes, that's a compliment that I wasn't quite the City Slicker that Billy Crystal, Daniel Stern and Bruno Kirby were, which was nice cause I bet Mark could go Jack Palance on me if I was too green!
It was a small bit of work but a lot of learning experience for me. There were just 87 calves to get shots. And as the numbers that had gotten their shots and they returned to the herd standing with their moms, the mooing quieted. I liked getting to really see all of this up close and personal and seeing how it works for myself. Now I'm wondering if I should do a few more farm experience vacations. There's lots more to do working cows.
[slideshow post_ID=14324]
Ideas for other farm experiences I should get?