This morning, I left home early, well before the sun came up. On my way to long-term parking at the airport, I noticed several people walking in the dim streetlights, I saw another get in a car that slowed to a stop briefly. Real people on their way to work in ways that meant being out in a light rain in the dark. I thought to myself how lucky I was to have had so many opportunities. The word privileged seems to fit despite my knowing I had to work when the opportunities materialized… I realize I get more opportunities than some and that some people have to work harder.
It was a poignant start to a long travel day and I soon brushed those heady thoughts away for trivial fun like the fact I chose to wear a college sweatshirt rather than something more business like or celebrating the fact that I had no seatmates in a row meant for three people.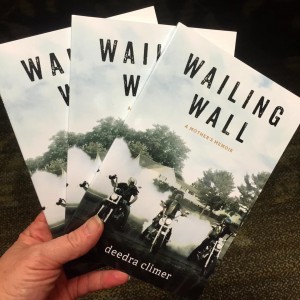 After I made my connection in DFW, I pulled a book out of my backpack that I had been waiting for more than a year. A book I knew would bring tears to my eyes and likely make me smile too. The book Wailing Wall: A Mother's Memoir isn't by some big name author and it isn't destined for the New York Times bestseller list, but it is something that I've seen coming together for more than 18 months… first as Facebook status updates, or longer-form notes as someone I knew in elementary school struggled with the reality that their world had been decimated in a flash.
I still remember learning that that schoolmate — Deedra Climer — who later lived across the street from my little sister, raising kids together, that … even 18 months later I have trouble finding the right words. That her beloved son, Josh, the one with the incredible smile, the big heart, always a friendly word… the guy who we spent hours on pool night with had died tragically at the age of 23.
In the wake of tragedy, none of us knew what to say or do but shed tears and say we can't imagine how hard it was. I remember Deedra needing to share her thoughts…. like if she didn't get them out of her head and heart, she may slide into some darkness. Like several others, I encouraged her to keep writing. And once it seemed that she was able to get out of bed more often, we suggested writing was a gift and that her story should be told to people who didn't know her, Josh and the rest of the family. She eventually pulled some of her thoughts together and set up a page on InkShares a crowd-funding site for authors and I was excited to be among the first to sign up. Today as I held the book, I felt a tiny part of the accomplishment knowing Deedra had done all the hard work.
Now that story is finally in a printed format, I have read it ahead of the official publication date thanks to my really early pre-order. As I wrote this, the flight attendant taking a brief break has the book and is pouring through the pages, reading it as voraciously as I did. As I left the plane, she promised to return the book to me once she had finished it…. she just didn't want to put it down.
Deedra's memoir winds together a part of the Southern experience that can only be told from the inside because it is clearly a statement of fact & insight, really not judgmental though you can tell judgment has always been around. Her story of an unmarried teenage mom carrying on traditions of the same. A woman who doesn't have the relationship models to emulate and falls victim to so many cycles and yet she finds a way, even if she questions whether it is faulty at times, to get life to a better place for her kids and her. She does find a way to get to a place where all of her family can breathe more deeply….. And that was the moment when the worst loss a person can experience happens.
Having the heart-wrenching honesty on the page, remembering the emotional and physical pain that has been far too frequent in a life, before such a horrifying loss, a loss so debilitating and continues to take away any sense of normalcy Deedra ever had… that normalcy that so many of us find annoying to withstand…. that stands in total contrast to the world most of us live in day-to-day. But Deedra is not alone. Other moms have lost their kids far too early, have questions about whether they can go on or even want to and who get surprised when a sudden burst of joy comes from the glimmer of a hummingbird.
As I left that flight, the fact that I have been very lucky and privileged in so many ways is more abundant than it has been in a while.
As you can tell, I REALLY think you all should buy a copy of this book and give it a read! You can buy it through the InkShares page for Wailing Wall and you can check out her website (http://deedraclimer.com) where she's posting other material and keeping a list of some of the events to mark the new book. I know friends and family will be lining up for the one in Memphis!
If you do choose to give it a read, please let me know! Would love to hear your thoughts.