Here I am, late again with my 365 project shots of the day for the past week! I hope you have had a great week and would love to know whether spring still exists somewhere… I am beginning to think its all an elaborate hoax!
Flower Like — 74 / 365

Seeing lots of spring from other photographers but not here. We have lots of things getting ready to bloom, but this is about as close to a flower as I could find outdoors. (Yes, I have resorted to buying cut flowers for inside to compensate!)
Emailed this last night for Friday but forgot to get the title & all done. Lord have mercy.
Spring Indoors — 75 / 365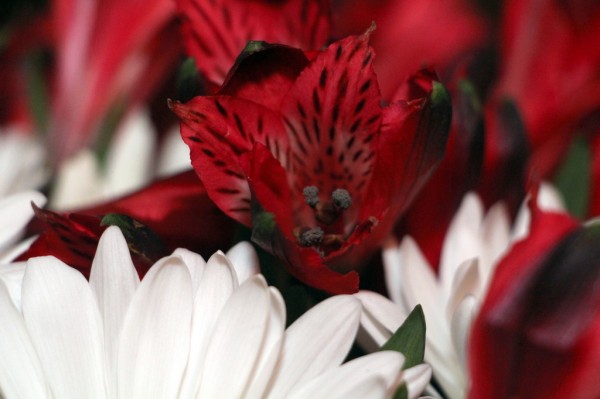 As I mentioned yesterday, I am spring hopeful! These are the flowers I have inside trying to convince me that the weather will eventually be warm for longer than one day!I like the contrast of the astomaria and daisies. The petals are so clear here…. really drew my eye in.
Cold, Wet Reality — 76 / 365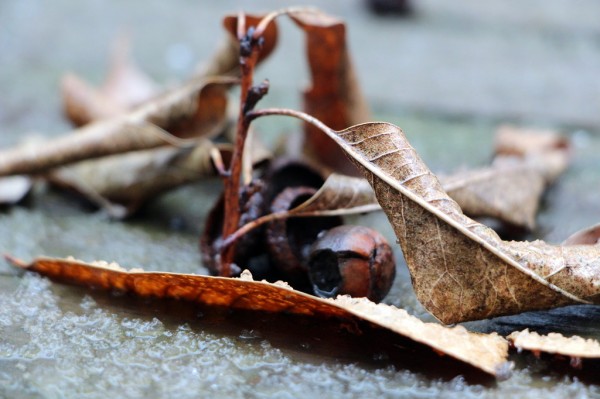 The potential for spring suffered a setback in St. Louis this weekend and I figured showing the wet snowy, icy mess that was coming down today would show that.
This is a shot from the deck… Hopefully in the next week or two I will be getting rid of the leaves and acorns and begin sitting outside to soak up nice weather!
Tomorrow or a fantasy? — 77 / 365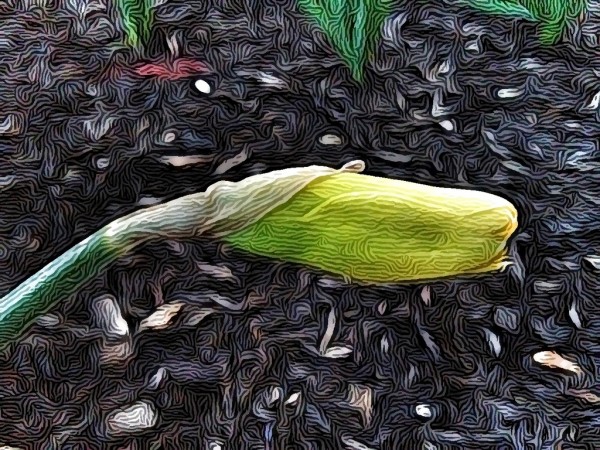 I keep thinking spring will come tomorrow. Seems more hopeful today seeing a few daffodils just about ready to open but at the same time, it is cold enough to feel spring is but a fantasy so I shocked me picture of the day enough to give it an almost Alice in Wonderland feel.  The photo was taken with my iPhone and edited with snap seed and shock my pic.
Celebrating Ag Day — 78 / 365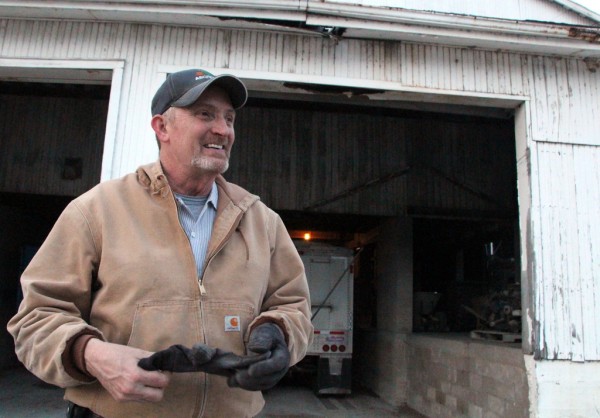 On the way, I met up with a customer who's farm shop I've visited before and I knew immediately, I'd rather have a photo of him for my project than just another sunset (though I really love some of the colors over the river!). He had been hauling his crop to the elevator and delivering seed to other farmers. The way he greeted a stranger with a smile and a willingness to shoot the breeze for a few minutes about how things are going as he prepares for planting…. that captures the essence of the day better than anything else possibly could!
Related articles