Last night as I watched the news I saw statements flying, today I hear more of it defending and attacking. I put my thoughts out there, not w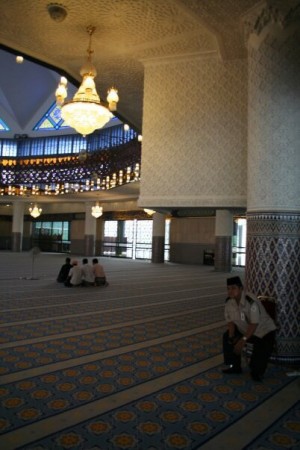 anting to be "in your face" but just sharing my perspective. I decided to share here since the rhetoric is getting more heated.
I just watched the news and am issuing my own statement.
I want my Muslim friends and strangers who may have a different faith than I grew up with to understand that the rhetoric about religion & immigration that is going on these days does not in anyway represent any of my thoughts or feelings. It may be good for folks who grew up similarly to me to know too I guess.
Throughout my adult life, I have been lucky enough to have many friends of different faiths welcome me into their homes and places of worship including beautiful mosques like this one in Kuala Lumpur during the religious observance of ramadan.
Perhaps having had those experiences, perhaps getting to know so many people with incredible hearts makes paying attention to people more than labels easier than it is for some other people.
My facebook feed shows something very different than the news just showed. Me and many like me in the U.S. are standing up for what we think is right. We will continue to work for an inclusive future. We will not let the fear of a few horrible people let us reject a whole crowd of people…. that can be said of several groups these days. I have to hope the silent majority of good people is beginning to find their voices.
And yes, I know that I have friends and family who will disagree with what I have said here and that's fine. Please respect me and my other family and friends enough to disagree respectfully just as I'm trying to be respectful in the way I speak my mind.