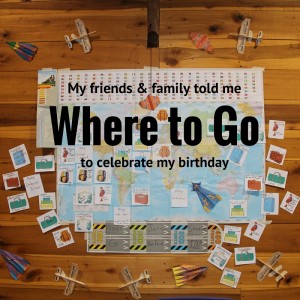 We've all heard of or seen dramatic scenes in TVs and movies where lots of the loved ones in someone's life get together for an intervention. Sometimes as they tell the intervenee they have a problem, folks end up telling each other where to go. That sounds pretty ugly.
Recently a bunch of my friends and family got together to tell me where to go, but they were nice enough to focus that on travel recommendations!
Travel Suggestions for the Next 50 Years
Since I had celebrated visiting all 50 U.S. States earlier in the week, they decided to make sure I had plenty of other travel ideas for the next 50 years! It was a great way to continue my birthday celebration over Thanksgiving weekend.
So where do the family & friends who have weighed in so far think I should go? Lots of places! They each wrote their ideas down individually and it seems a lot of them focus on the Americas, Europe and Asia.
North America
Hiking trails in North Carolina (Nikki)
Insomnia Cookies (with Julie & Randy)
Pioneer Village in Minden, Nebraska
Glen Ellen Secret Cottages in Sonoma, California (Chuk & Terri)
Crystal River, Florida to swin with the manatees (Jimmy)
World's Largest Ball of Twine in Cawker City, Kansas
Weeping Radish Farm Brewery in the Outer Banks of North Carolina (Jenniffer)
My brother's farm in Ohio
White Duck Taco in Asheville, NC (Corey)
Piper's school in Shelby County, Tennessee (Piper)
Down in the river (Conner)
Annual Pork Festival in Emporia, VA (Georgia & Brandon)
Crystal Bridges Museum in Bentonville, Arkansas & stay at the 21c hotel (Chuck & Mickey)
Central & South America
Galapagos Islands (Bib, Koby)
Machu Pichu (Cheryl)
Carnival in Brazil (Leslie)
Cape Horn, Chile (Matt, Koby)
Costa Rica (Laura)
Island of the Dolls in Xochimilco, Mexico (Debra)
Europe
Ireland & Scotland (mom, Laura)

Iona & Isle of Skye Scotland (Randy)

A Play in Switzerland (Eleanor)
Berlin (Ray)
Taize in France (Randy)
Salzburg & boat trip down the Danube (Randy)
The tulip fields of The Netherlands (Lee)
Sweden (Sussanne)
Asia
Hunghe Hani Rice Terraces in China (Lisa)
The place your favorite crop was first grown – Pakistan (Albert & Geeta)
India
China (Kazu)
Kyoto (Fumi)
Hike Mt. Fuji (Fumi & Kazu)
The Giant Panda Conservation Center in China (Alicia)
Other
Madagascar (Koby)
Easter Island (Debra)
Atlantis (Brinley)
Australia (Walker, Nancy)

Pet a Kangaroo while there (Cathy)

See the flying two-headed sparros of Tuvalu (Chuk)
What's Missing?
A lot of friends and family have told me where to go and the list is a great start! Now that we are able to step back and take a look at the full list, I think there are some pretty awesome ideas yet to get on my list!
And although I know some folks will want to post ideas in various places, I'm kind of hoping we can keep ideas here so I can have one place to refer back to in the future as I start getting to some of the places you suggest!