I don't remember my parents at the age of 50 exactly, but I do remember thinking 50 sounded really old for a long time. It no longer sounds that old and that has been shifting over the years but today I am turning 50. That almost feels like someone is pranking me!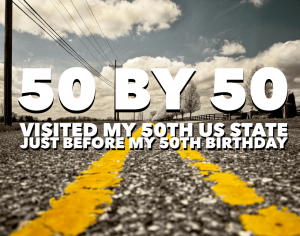 A milestone like the big 50 is something that you both want to keep under the radar and celebrate publicly. I decided to do a bit of both…. I've been talking about it with folks who are close to me and
Sure, a 50th birthday can cause one to pause a bit to reflect, but I have lots of awesome things to reflect upon. And my plan is to keep going! For that reason I decided to throw myself a celebration of sorts with a trip to the last of the states I hadn't visited. The goal of visiting all 50 states didn't come up til recently when I saw the symmetry in the idea…No worries, I will keep traveling… lots unseen in every one of these states, but check out some of the memories attached to the 50 states!
Alabama — Friends Lem & Josie in Montgomery, BB King in concert, Buttahatchie BBQ, the boll weevil monument in Enterprise, Mobile & LOTS more
Alaska — Great times when Corey worked there for a summer — Seward, Homer, Anchorage
Arizona — Lots of trips to Phoenix to see cotton farms in Eloy, Casa Grande, Maricopa & more.
Arkansas — As a young teen going to the Ozarks with church, lots of times since including multiple visits to Hot Springs & Little Rock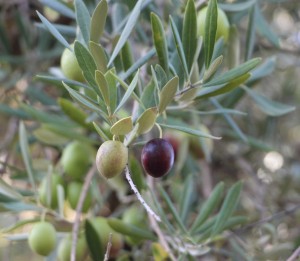 California — First time was to see the Doughertys for spring break in Orange County. Lots of memories here including part of the Oregon-California Roadtrip
Colorado — My first trip to Colorado was with my college friend Sheryl who was from Colorado Springs. While I remember some of the sights & great time with her family, I most remember trying to get back to college in her Camaro in a crazy snowstorm! Roads were closing right behind us.
Connecticut — Living in White Plains, NY for years, I frequently went to Connecticut. Beautiful place. Remember seeing Giancarlo Esposito do a play in Stamford…. He's still a favorite actor.
Delaware — Taking Amtrak from Penn Station to Wilmington was pretty routine for a while. Lots of visits to a client. Later I realized there was more to the state than business.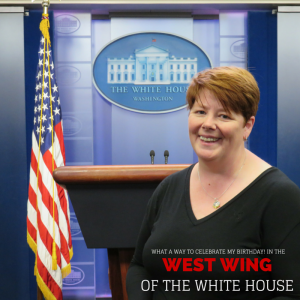 District of Columbia — Folks who read the blog often know I love our nation's capital — spent my birthday touring the White House last year and took mom up last spring for her first trek.
Florida — The big family vacation I remember was going to Florida the first time… visiting friends (& Disney) in Orlando & family in Miami. Later teenager trips to the beach became common as have work trips. Loved going to spring training too
Georgia — Atlanta seems to be ground zero for so many conferences these days but I loved being on the backroads talking to cotton and peanut farmers. And let's not forget Savannah…. Love Savannah.
Hawaii — Several years ago, I had the chance to go to Hawaii for work — one more proof point in the #ilovemyjob mantra. A friend and I went to the Big Island for fun too!
Idaho — I will admit this was a really brief visit earlier this year but definitely memorable. Went to Coeur d'Alene for dinner at a restaurant high above the lake, incredible view. And yes, I had potatoes.
Illinois — Chicago is probably the most notable but I've enjoyed visits to Belleville, Metropolis and lots of Illinois farms!
Indiana — Last time I went I got to see The Farmer's Life's home turf and Fair Oaks Farm, but that visit when I was in grad school & went for work but found time after dinner to visit with college friends Kelly & Bruce… that was a major moment for me back in the day.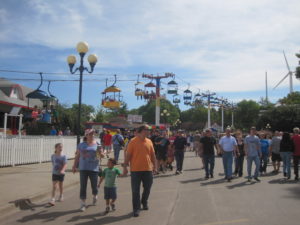 Iowa — First time I drove a big piece of farm equipment was in the Amana Colonies for a farm show… that Terra-Gator was awesome. Countless farm visits since and don't forget the Iowa State Fair.
Kansas — Guessing the Walnut Valley Bluegrass Festival in Winfield was the first cause for me to go to Kansas though I may have passed through before that. Still remember seeing Doc Watson play there.
Kentucky — Hmmmm…. Not sure what to list here but I know I can't fail to mention my first foray into understanding livestock at NAILE and then more recently, celebrating my dear friend Steve & Dan's wedding.
Louisiana — Maybe my visit to Mr. Ray's was the first time for me in Louisiana…. that was my first business trip. Of course, I have had lots of trips to other farms and New Orleans too!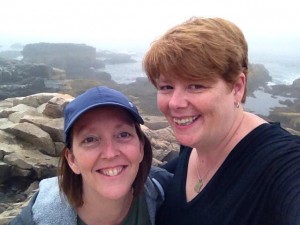 Maine — When I lived in NY, just getting to Maine was a big goal and believe me it was memorable to get there. But I think watching sunrise at Bar Harbor with my sister surpassed the early memory.
Maryland — Hmmmm…. really not sure on early trips but I can tell you most trips have included crab cakes! I remember being surprised by the Mason-Dixon Line as I moved to NY. Great combination of farmer & blogger friends in this state.
Massachusetts — My friend Barb from grad school and I took a long fall weekend to Boston and Salem once… still remember how extravagant that felt at the time.
Michigan — I helped friends get ready to make maple syrup, saw a robotic milker at a dairy farm have visited a cherry farm there. And a couple of times I've been able to visit Barb in Ann Arbor!
Minnesota — Willmar, Minnesota for big farm equipment was my introduction. Lots of farms since but I also have to say I've enjoyed getting to know Minneapolis – St. Paul.
Mississippi — Living in the Delta a dozen years definitely led to many memorable moments!
Missouri — I keep stacking up Missouri memories since I live in the Show Me State. My favorite decadent snack — choco poppo — is made in KC. My friend Chris showed me my first pig farm here too. Check out my St. Louis A to Z series if you plan to head this way sometime.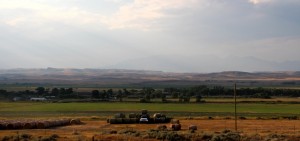 Montana — This was in the last handful and got checked off with the great American roadtrip a couple of years ago. Love big sky country (as long as it isn't winter).
Nebraska — Visiting the Hunnicutts, Johnsons and checking out the Nebraska state fair a few years ago are awesome memories.
Nevada — First trip to Nevada, I landed in Reno and headed straight to Lake Tahoe. That trip was memory filled thanks to cotton peeps.
New Hampshire — Same story as Maine with a notable exception…. we went to the New Hampshire State Fair and learned so much about maple syrup that I still haven't looked at pancakes & waffle the same!
New Jersey — Home to incredibly dear friends — Kelly & Steve from White Dog Brewery lived in Hoboken while I lived in NY and Barb's family calls it home. I spent lots of weekends in the state whether just hanging out, going to ball games or concerts, and of course shopping (tax-free clothes!)
New Mexico — One of my work trips was really getting close, when my host found out I hadn't been we headed over there for lunch… yummy yummy lunch.
New York — Home for four years. I miss it terribly and yet I love living in a part of the country where it seems easier to relax outside.
North Carolina — My sister Cheryl moved to NC when I was a teen so I have been on the frequent traveler list a long time. I spent one summer in college there as nanny…. love my nieces!
North Dakota — When I did the map of states I had visited and hadn't, a friend in North Dakota took it as her mission to change that. Once I headed that way, I ended up in NoDak three times in a few months time! The DakVac was filled with experiences like working cows and seeing an albino buffalo!
Ohio — Home for my brother and a bunch of friends, I first went there for work and now when work gets me there I tend to take play time too!
Oklahoma — Where I spent my college years…. a place of fries with gravy, dust storms, tornadoes, where I was introduced to Walmart and budgeting. It is dear to me because I met some of the greatest folks on Earth there.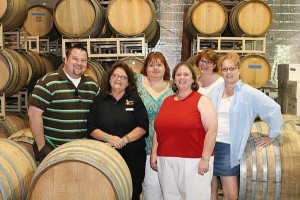 Oregon — I giggled thinking about my first visit to Oregon being for an ag editors meeting and how much fun some friends and I had doing a winery tour…. may have to write that up! Have been back quite a few times since.
Pennsylvania — When I moved to NY, I drove by myself. I was driving hard to just get there but Hershey's spoke to me. I could smell chocolate. I had to stop. I've been back several times too!
Rhode Island — I have to admit, I'm not too sure what I had done to check Rhode Island off the list but know I had been previously. But Cheryl and I watched the sun set at a lighthouse… whoa. Really awesome.
South Carolina — For several years I joined my sister's family on vacation at Edisto Beach. Its just south of Charleston which is one of my favorite cities and one I always accept invites for! She crab soup…. say no more.
South Dakota — Early in my career we did some training in South Dakota but more recently I helped wean calves with the Hadricks and I soaked up a lot of the state on my Montana roadtrip…. need to write up some more of that.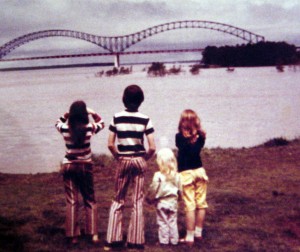 Tennessee — Home. All kinds of home.
Texas — College trips to Texas were always fun, especially when I found a way to visit my cousins too! And my beloved uncle made sure every visit to the Abilene area was stellar. Miss him.
Vermont — Some of the most amazing fall leaves ever.
Virginia — In 6th grade we took a bus trip to Virginia Beach & Williamsburg…. makes going back to Virginia Beach really seem different. Love the state and have visited lots of farms there too including Cavin Farms.
Washington — Just wrote about the 16th birthday trip I took Georgia on. Have been to Seattle and Spokane both but would like to see more of the state.
West Virginia — The mountains of West Virginia are really beautiful. Almost heaven some would say.
Wisconsin — Lots of trips to Wisconsin over the years. Early in my tenure with G&S, a client held a meeting in Kohler. From a runaway horse to being refused lunch to swells while we fished…. I wasn't sure I'd choose to go back there!
Wyoming — Such a ruggedly beautiful state. I really want a nice long return trip to the Grand Teton & Yellowstone.
Month of Memories
Well, this post alone could have given me a 50 day series! And it prompted lots of ideas that I am sure will be forthcoming. Hope you are enjoying the series of memory based stories… Now maybe you also understand why the series came to mind. Reflecting on a great life at the age of 50…. Life is indeed good!