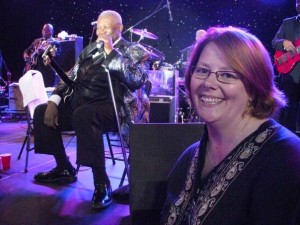 I don't share photos for throwback Thursday very often but for some reason, last week I pulled a long-time favorite photo of mine out. I thought of it because a couple of people have mentioned the new TV commercial where a girl buys a storage locker and tracks BB King down to sign it saying they could totally see me doing that! So I looked up this photo of me & BB and threw it out in the #TBT world of Instagram and Twitter.
That photo was snapped years ago on an incredible night in Indianola. It was one of many of BB's concerts I have seen…. perhaps the most amazing but let me start with how I came to the blues.
See, I have long been a fan of the blues. I'm not sure whether it is because I grew up in Memphis hearing so much music or whether it was somewhere in me anyway. As a high schooler, I was drawn to blues stages at music festivals and college saw that love grow. I had the chance to see John Lee Hooker, Stevie Ray Vaughn and lots of local performers.
By the time I had gotten out of grad school and moved to New York, I was saving up bucks to see BB King at the Harlem's historic Apollo Theater or Eric Clapton at Madison Square Garden. When I left NY, friends there gave me an interactive disc set that included BB's autobiography.
So nobody was surprised when I was catching BB in concert on at least an annual basis. His homecoming concerts in the park proved experiences to share with friends & family from around the country.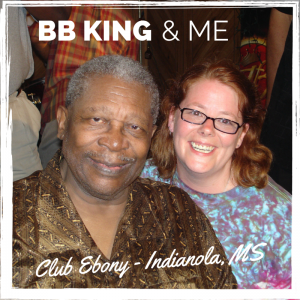 And going to the local juke joint afterward grabbed my heart & head both! It was the kind of experience that stays with you forever. What's interesting is there are lots of other similar experiences with great Delta Blues artists over the years — Willie Foster and Boogaloo Ames — that are unknown to most Americans but who killed it night after night.
The small venues like Club Ebony were unlike any others. There was no pretense, just incredible music and a sense of community that makes it so you could visit with him after the show if you were willing to wait til 2 am! And this will show that feeling while also reminding me how precious digital memory was back then LOL!
So when I shared the top photo and people asked about whether I had actually met him, I thought about the handful of times I was able to be with such an amazing artist. I remembered my nephew, even in kindergarten being annoyed that someone didn't know who BB was — my nephew had already seen him perform a couple of times and loved every minute of it.
I also remembered chatting with BB as he broke ground on the museum that would be housed in an old cotton gin in his hometown. His remembering picking cotton and taking it to the gin…. and his taking time to reflect on how hot it was that day and how badly local farmers were needing rain.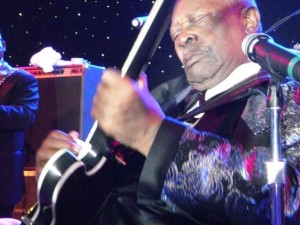 I remembered coming back to the Delta later. Having tickets to the museum's grand opening and going up front to snap what I felt was the perfect photos of him playing.
And I definitely remembered noticing a couple of empty seats at the front table and my asking if it was ok if I sat down for a while only to find out later I was sitting with BB's oldest son Willie and other members of the family. They were so gracious letting me sit there throughout the concert…. a concert that not only included his tearing up that guitar for a long time but later included some of the people who are also carrying the blues torch — Kenny Wayne Shepard, Keb Mo, Robert Cray and one of BB's peers…. Bobby "Blue" Bland.
Would love to relive that experience! Have you ever seen BB? Had a chance to meet a true American great? I know he's older and has been a bit under the weather recently, but dang, I love remembering how awesome his shows have been. Hope he knows I'm pulling for him!