I'm pretty lucky in that I get to travel and see some of the country's best sights. A few times in the past year, I've spent time in the Washington, DC metro area. I know I get a chance to go to the U.S. Capitol more than most and I've had the chance to see several things that may be on the wish lists of others. The spring trip to Washington DC with my mom was her first visit to DC.  And although I knew she wouldn't hike the entire mall with me, we wanted to be sure she was able to take in a lot during our short visit.
Priorities for My Mom in D.C.
I think every trip to D.C. needs to include some sightseeing but reality is that may just be taking in a glance of the White House after dinner. But sometimes I decide to add a day of personal travel on top of work. Of course, with a trip that is for fun, you want to make sure you think about how to prioritize sights, how best to get around and more.
Moving Around
My mom was geared up and ready to go for a trip to the nation's capitol. That said, I knew she wouldn't be putting in the 15k steps some of walk in the mall. We decided to be sure mom had the energy to enjoy the visit so we used a combination of transportation around DC, walking only a little bit.
This was the perfect trip to introduce my mom to Uber! With the service being strong in DC and cars picking you up wherever you are, I knew it would let her keep her energy for sightseeing. As you can tell from the photo, she loved it. Why? First and foremost, the drivers were friendly and the cars were clean. Add to that no jerky starts and stops at every stop light and she was sold!
Another day we chose to take the Old Town Trolley tour knowing it would get us in front of lots of the major sights. It was a good choice too.
Smithsonian Museum of Natural History
When you go to DC, the number of museums and the types of exhibits can be almost overwhelming. There are a lot of great museums with incredible stories being told. There are a lot of great choices, but one that has never let me down is the Smithsonian's Museum of Natural History. And as we read through the various exhibits at the various museums, mom gravitated to it too.
There was a big exhibit on oceans and the role they play in life on earth. It's a topic I have been interested in for a while and the exhibits and guides at the museum did a great job increasing our knowledge. Did you know that 1/4 of our oxygen comes from the oceans?
There was another exhibit about various natural minerals, etc. Have to admit mom and I were impressed with the Hope Diamond, but this sheet of copper found in Michigan is not only big enough to make 2.5 MILLION pennies but it kind of matched my hair! And you should have seen the dinosaurs and elephants that were threatening us with a charge!
White House at Night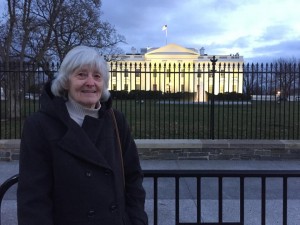 Having seen lots of TV news reports and movies, I knew seeing the White House would be a priority. There is something so majestic about it at night… so we got mom her first glances of the White House from Lafayette Park.
Although this view of the White House is fairly commonly seen in the media, the addition of more barricades and fencing certainly grabs your attention when you are there in person. I have to say the fences only detract a bit though…. it still grabs your imagination.
Seeing the Mall & Memorials
To see a lot of DC in a day without having to walk the entire mall, mom and I decided to take the Old Town Trolley Tours and that turned out to be a great choice. We were able to see things at least briefly and we ended up having some really good guides leading the tour most of the time we were riding.
Mom decided to see a few places like the Capitol from the trolley rather than get off, but there were a few places she wanted to see more closely.
We had a chance to see the Jefferson Memorial, which has such a striking presence overlooking the Tidal Basin. She also decided the Lincoln Memorial, the view of the reflecting pool and the memorials to the Vietnam and Korean memorials would be good to see on foot.

The weekend went quickly (featured great food including Hawk n Dove on the Hill and some Asian cuisine that thrilled us both) but the memories are going to stay forever as will the photos! Can't wait to take another trip with mom… she's a great travel partner.