Georgia was the first niece to turn 16, so she was the first to take her 16th birthday trip with me. It has been a long time ago…. both of us are a lot older!
At 16, able to choose where we go for a full week and what we do… that was a big responsibility. One that Georgia spent a lot of time researching for and reviewing things. She helped locate hotels, a special place for dinner, etc.
Our first hotel was in downtown Seattle. And since the reason Seattle was picked was in part due to the grunge music that was coming from the area, I find it ironic that after a long day of travel, we found our hotel and the Tower Records that was across the parking lot. We went over for a while but the long day of travel was getting to me and Georgia wanted to exercise her independence and just goof off at Tower for a while.
We wandered around the market and checked out the Space Needle, etc. even rode the ferry just to get a look at the city from the water. So much left impressions on us but I have to say the mystery dinner theater, where they made birthday girls & boys come up front to sing & motion "I'm a little teapot" may have been the grabbing moment early on.
Leaving the city, we drove toward Mr. Ranier and the great outdoors for a really different experience.
Georgia and I are both music folks so we agreed we'd alternate who picked tunes. I hadn't thought about the fact that meant I'd end up listening to Marilyn Manson and stuff I wasn't wild about! Luckily, she had pity on me!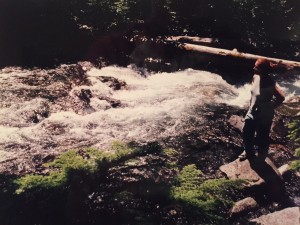 One of the adventures Georgia got into was while we were hiking at Mount Rainier, she wanted to get the view from the Nisqually River. She said she wanted to go out on the rocks to see. We were up an embankment that was at least 25 feet high and let's just say, Georgia isn't always sure-footed. I said ok but know now, I don't want to call your mom and tell her I lost you in the river cause I'm not coming down there! Everything was fine of course and I got an incredible photo of her.
We even went to the Hoh Rainforest and the beach at Moclips! It was as busy as that sounds!
Our final night in the area was spent in a Seattle suburb not too far from the airport. We decided to take a swim, etc. Georgia needed to go out to the car to get something she left behind and ended up locking the keys in it! It took a lot of thinking to decide how to get it out. The hotel staff tried to help but to no avail. Finally we were finding out how much a locksmith would cost…. luckily someone asked whether I could just get an extra set from the rental agency and they actually had a backup set at the airport! That saved a lot of money even though it took some time…. including Georgia sitting on watch duty.
I need to travel with this girl again… I just may not want to let her take the keys!