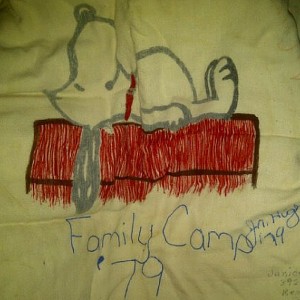 One of the clearest memories from childhood was having lots of things to do creatively. And while there were various handicrafts at different times, one that we frequently had on-going was painting on fabric.
It was something called Tri-Chem (I am shocked to find out the company appears to still be around!). We would work on it a little at a time. Starting with ironing a design onto something and then step-by-step, coloring things in.
I can remember that the paint pens would be arranged in a caddy that was stored in mom & dad's room. There were tins we would take, stretching the fabric over a ring til it was tight.
It took patience to get things done as we would have to let things dry before moving the ring. Some things, like this laundry bag I used to take to camp when I was a kid, got used heavily for a while, still others are hung on the Christmas Tree each year.
Thinking it may be fun to get some Tri-Chem going again. Could be fun!
National Blog Post Month
We are halfway through the series of posts about various memories…. did you ever do fabric art as a kid?