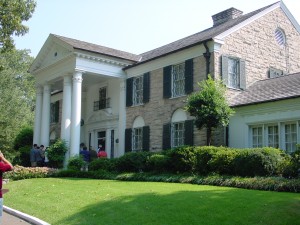 Growing up in Memphis, there are always Elvis stories going around. The stores and movie theaters he'd patronize, the fact that he gave some stranger a care, etc. My mom and uncle were at Humes High School at the same time Elvis was. And my favorite pizzeria had paintings of him all over.
I never really had an interest in seeing Graceland but given my job and the number of family and friends I've shown around my hotel, I've made lots of visits to Elvis' home.
It always seems to shock people that it is as small as it is. I guess in today's world of McMansions and cribs that have been pimped out, a home that is trapped in the 1970s just doesn't compete.
I know everyone hears about the jungle room and how absurd it is — that arm of the sofa in the shape of a dragon or something is really something. But the house is all sort of absurd to me! Check out the game room — the ceiling and walls are all covered with fabric.
And the formal living room and music room definitely have a certain air, but I think it is the monkey in the TV room that really freaks me out!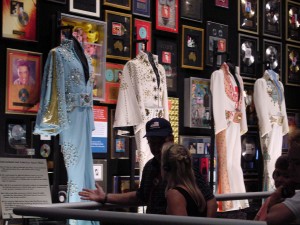 When you leave the main house, you start checking out the trophy room and the pool & all. This is where things got a little weird the time I went through Graceland with a group of folks from work and saw a few fans that had the trademark Elvis hair pomp and sideburns as well as the collar on this shirt that reached new heights. It was hard to restrain ourselves.
Since the displays in the trophy areas change out, sometimes on the tour I see my uncle's high school photo in the composite frame that included all of the members of Elvis' graduating class.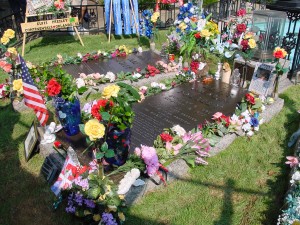 The last spot on the grounds is the graves of Elvis, his parents and brother.
I've toured the grounds quite a few times and I have also been known to take friends and family to Graceland and let them tour on their own — and many use headsets in their native language too.
I guess I have seen it all enough but knowing that it is a must see for others, I make that drive down Elvis Presley Boulevard, even if it is just to sit in a cafe while others tour.
Have you ever been to Graceland? Is there a similar "must see" tourist spot in your hometown that you can pass on visiting anymore?
More of My Memories
I've been enjoying pulling up places, people and things from the past this month for my series on memories but have to admit that I'll be relieved when I can return to an easier going posting schedule. Still, the process of doing this and the stories that have come to mind (only a small percentage of which I have written), has been a good one for me!