I have worked on several mergers over my career and have to say, the news I've been seeing my sister Leslie post as status updates has had me shaking my head for a while. But yesterday's adventure, was too much…. it pushed me to the blogging point which is sort of like the tipping point but the tipping makes you blog. And to be sure I didn't post out of emotion only, I slept on it and came back for a read. It appears the merger meltdown has spiraled out of control.
As we've discussed in several posts, Leslie teaches at a public school in Memphis. She's gone the extra mile to become national board certified.  And more recently, I pointed you to her Donor's Choose page where she is trying to fund a few projects that will help inspire her students to get into reading.
As I've mentioned before she teaches in Memphis. The schools there just underwent a big merger — the Memphis City Schools and Shelby County Schools are now the Shelby County Schools Unified District. Merging is tough work. You have to work out LOTS of details.
Having worked on that type of thing with companies, I know it's not easy. There are systemic questions when computers that do important things will need to come together and not talk to each other. There are differences in policies & procedures. There are people who wish no change was happening and others who want it to go the speed of light.
The things most companies and organizations want to do when merging is 1)  keep disruptions to the business at a minimum (in this case it would be keeping schools open and students in classes) and 2) keeping employees on-board (that would be teachers, bus drivers, etc.). Well, from afar, I've seen them totally screwing that second one up, they are at least making more people question staying on board than I'd think is smart.
In the past couple of weeks, it has been one thing after another:
Lack of clarity about all sorts of policies & procedures

Unexpected & unclear increases in insurance premiums

There was uncertainty about jobs all summer, then once people thought some of it was settled, some teachers who reported to work were let go the first week of school

Announced pay cuts that are fairly significant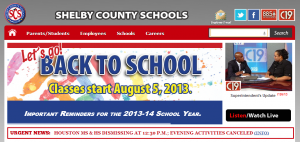 To say its been a stressful time for teachers would be an understatement. But today pushed the stress level one further. Have you guessed it? My sister posted about it but I went to the SCS website to find it. I saw a big post about a water main break interrupting school & some dated stuff. I saw the Twitter feed so I browsed it. Sandwiched between a water outage & a link telling teachers how to request grants, there was a link for a tumblr blog
https://twitter.com/SCSK12Unified/status/368408900976250880
The post on Tumblr says:
We understand there has been some concern this morning regarding the delivery and receipt of pay. Today is payday, and we expect all employees to be paid today. Please know that all direct deposits were issued by the district, and all paper checks have been mailed to employees who receive a paper check. We were informed this morning that a few banks had not yet posted their direct deposits. However, in most cases, the deposits were posted once the banks opened for business today, and we expect the remainder of direct deposits to post soon if they have not already posted.
via Shelby County Schools – Payroll Update.
That doesn't sound as bad as Leslie's day. She spent her day trying to teach and in the back of her mind all day was whether or not she was getting paid. The school system and bank systems don't seem to line up. She checked her bank account, the deposit was not there. Finally she went to the school board and there were more questions instead of answers. The thinking is she's not direct deposited anymore, after having been for years. It isn't certain that's what happened though and I'm sure hundreds, and more likely thousands of employees have the same problem. Payroll that was expected didn't go. And that starts dominoes for scheduled payments, late fees, etc. Hopefully it gets straightened out soon.
All of these things could have been worked through & communicated about BEFORE school started. Maybe it's just that city school teachers need to restate their interest in direct deposit. But how much better would it be to have talked to all those teachers about it in advance so there aren't so many questions and stress. Like my sister said, it's not like teaching is stressful enough. With all the mistakes that have hit
It seems that more and more places are having trouble funding schools. Having recently looked at my tax bill, I know I am paying a good bit for my local schools. I can't help but wonder whether some of these school systems would benefit from better management. Maybe if more of the schools were managed like my sister's classroom — she looks to fill funding gaps for her students. Maybe then the funding gaps wouldn't be so great and maybe then my sister wouldn't be wondering how she's going to stay up to date paying her bills.
Leslie and the other teachers don't want handouts. They want to be treated fairly. And they want more for their students. Don't forget, you can check out  her Donor's Choose page and even $5-10 dollars can show you support teachers having it a bit better. Feel free to browse for other teachers too!
Related articles