LIVE FEED NOW https://ustream.com/channel/140confagiowa
This week will be a big one! I will be at one of the 140 State of Now Conferences that is a mini conference, just a few hours long and this one — #140confAgIowa — is focused on agriculture and being held in Ames, Iowa. I've been to a few 140 conferences before — last fall was 140 Small Town, the spring included 140 Des Moines (podcast here too) and more recently 140 Conference New York. Each of those was an intense day or even a couple of days. With the mini conferences, the format is similar — fast-paced presentations of 10 minutes for each individual or 15-20 for a panel — but they are focused on an individual topic. This one features a full slate of speakers talking about agriculture and farming. Deb Brown has arranged this one and I'm expecting it to be incredible!

My Topic for Discussion
When I thought about what I'd talk about in a panel filled with agnerds, I decided to look broadly. I'm asking the question of whether agriculture as a whole is a niche within social media? The question follows up my presentation last year during 140 Small Town where I talked about building my niche — one of cotton — on Twitter. While I think that I have certainly built awareness in cotton with my efforts on social media — Twitter, Facebook and of course, this blog, I wonder if rather than thinking of a crop, production practice, etc as a niche, we are all in this together. Looking at the social media landscape, it's rare that an agricultural topic will trend given the vast number of people talking about the Olympics, politics or the latest celebrity who's made a breakthrough or goofed up. Since farmers are just 1.5% of the population, how can they use social media to broaden that reach from niche to have their voices heard?
Some of the Great Peeps at #140ConfAgIowa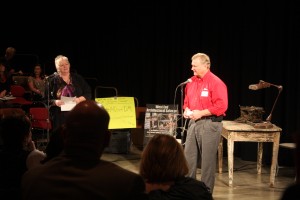 When Deb Brown sent me the schedule for the afternoon, I thought maybe I'd flip through the PDF file quickly (click here to view) and choose a few presentations I'd want to highlight and move ahead. Well, it wasn't that easy. I was highlighting too many presentations! Then I thought I'd break it out…. maybe highlight a few of the people I know (well like my friend Larry Sailer who inspired me to create a photo highlighting the difference in being born a city kid from his rearing on a pig farm and Heather Lillenthal who I've chatted with for years and who shares my passion for PR) and then a few I'm looking forward to meeting but…. both of those lists grew too long too!
2 – Abby White – @abbyjowhite, @bestfoodfacts – Best Food Facts – A Voice of Reason – Best Food Facts serves as a voice of reason in conversations about the food system. Learn how Best Food Facts develops posts and manages the site to keep readers coming back for more.
2:10 – Stacy Noe – @iowstateagei – ISU Ag Entrepreneurship Initiative – Ag Entrepreneurship – How we utilize social media to create awareness and promote program offerings within two distinctly different targets, undergraduate students and industry professionals.
2:20 – Val Plagge – @PlaggeVal – Making the time to blog – Making the time to start a blog – viewpoint of a beginner blogger. What do you need to think of in order to start your blog
2:30 – Katie Olthoff – @katieolthoff, – On The Banks of Squaw Creek – Connecting with Women Outside of Social Media – How to use blogging to build relationships and build trust with others active in social media.
2:40 – Michael Libbie – @RuralLifeRadio, @InsightADV – Insight Advertising – Planting ROI – Agriculture & Global Marketing: Growers from around the planet have been sharing ideas, concerns and building a solid network of well-informed agriculturists. So, what's the Return on Investment and why you should care.
2:50 – Katy Flint – @FlintKaty – CellTech Inc. – Mobile Tech for Ag – Smartphones, tablets, apps, and social media are not just for those sitting behind a desk, but are benefiting those who are feeding our world on a daily basis!
3:00 – Larry Sailer – @fblj – Farmer – Getting Off The Farm – Talking to people who want to know more about their food – and how the technology of now has made that easier.
3:10 – Heather Lilienthal – @IowaFarmWriter – Iowa Farm Bureau – Team Mentality – While football teams are gearing up for their fall seasons, farmers across the state are teaming up, too; using social media tools to connect, converse and clarify. And they're doing it in strategic and team-oriented ways. Find out how Team Farm Bureau is tackling misinformation and scoring with new audiences via social media.
3:20 – Janice Person – @jplovescotton – Monsanto – Is All of Agriculture A Social Media Niche? – Looking at the social media landscape, it's rare that an agricultural topic will trend given the vast number of people talking about the Olympics, politics or the latest celebrity who's made a breakthrough or goofed up. Since farmers are just 1.5% of the population, how can they use social media to broaden that reach from niche to have their voices heard?
3:30 – Darcy Maulsby – @DarcyMaulsby – Darcy Maulsby & Company – Speaking Ag – Everyone has a connection to Ag, if they eat. Social media helps us all to "speak Ag" – Darcy will show you the common ground.
3:40 – Jeff Caldwell – @jeffacaldwell – Meredith Inc. – State of Interactive on the Farm – Update on the state of interactive & mobile use by farmers (using some of our latest research) and some observations about ways farmers are putting these tools to work for their bottom lines, beyond simple communications.
3:50 – Laura Nguyen – @LauraN546 – Dupont Pioneer Seeds – Planting a Seed for Social – Pioneer is creating a shift in their organization by training folks how to use social media to give our growers more real-time information about agronomic observations, and how it takes time, the right climate, etc to enable a movement to happen – and how that directly parallels with the work State of Now and the Ag Chat Foundation folks are doing.
4:00 – April Hemmes – @AprilHemmes – Farmer – From a Farm In Iowa to the World – Traveling all over the world sharing the good news of farming – making our world smaller by using technology.
4:10 – Shannon Latham – @lathamseeds – Latham Hi-Tech Seeds – Using Social Media in Your Marketing Mix – Every sales and marketing person – every business owner for that matter – is aware of the marketing mix: traditional advertising, personal selling, public relations, direct selling, and promotions. But how many use social media as part of their mix?
4:20 – Emily Pritchard – @SocialLightUp – The Social Lights – Fred Hoiboar – Bring Home The Bacon Campaign
4:30 – Deb Brown – @debworks – Debworks – Living in an Ag World – Working social media in a rural environment, what we do different and why it's important
4:40 – Closing Panel – Questions and Answers – Speakers answer your questions
The Details – When? Where? How to get Tickets?
The details are all on the website for the event, but I know how much folks like having one stop shopping at times, so let me walk through them here too.
WHERE: Scheman Building, Iowa State Campus in Ames, Iowa (Wanna map? The kind folks at ISU set this link up to personalize Google maps to Scheman.)
WHEN: August 17 (that's THIS Friday so make plans now!) from 2 to 5 pm with cocktails to follow. Yes cocktails, which means you will get to chat with all those awesome people listed above!
COST: $10 Purchase tickets here
What are you waiting for? Buy those tickets!
Related Posts: