During Show Me the Blog St. Louis, I have to admit, I got a charge finding out that Midwest Dairy had sponsored two women who participated in a spring social media session to come to the event. The two family farmers from Minnesota — Janet Bremer of Bremer Farms and Becky Bode from Bode Dairy — started blogs this year and came to learn what they could as well as share some of their story & some great dairy recipes!
I convinced Janet to spend a few minutes with me on video talking about her farm and what she was picking up at the event. Here's the video and underneath is some of the information she talked through at the conference and in her post Proud Dairy Farmer in St. Louis- part 1.
Greetings from Minnesota! I am one of the 4,500 Dairy Farmers of Minnesota. I live on a true family farm. My in-laws, husband, daughter, son, and I all have active roles on our dairy farm, and three of us work off the farm as well. My daughter is an 8th grade English teacher, my son is employed by our local television station, and I am an Elementary School educator.

So why am I here? Why do I blog? Twenty years ago, while hosting a school group on our farm, after explaining what we do to care for our animals and our land, and describing a typical day on our farm that begins at 6AM and ends about 14 hours later, a 3rd grader asked, "What is your husband's REAL job?" That really got me to thinking how important it is for us, as farmers, to tell our story. Not only do we need to share the farm to food story with children, but adults as well. So I began speaking to organizations, classrooms, and began serving on County and State dairy boards. When Midwest Dairy invited me to their social media workshop last February, it seemed like the perfect next step, and the gentle nudge I needed to enter the world of blogging.

What is the goal of my blog? I want to educate, inform, and entertain my readers. Being an educator myself, I look at every moment as a teaching moment. Recently my husband and I spent a day at the Minnesota State Fair sharing our story in the "Moo Booth." We shared what we do each day on our farm to keep our cows happy and healthy. Folks shared concerns with us, and asked many questions. They were also pretty surprised to discover that our farm is only 20 minutes from downtown Minneapolis and right across the street from a golf course! We connected with many consumers that day and by including these discussions on my blog, I could reach an additional audience.

My second goal is to inform. I bring attention to issues that affect farmers, and that can affect you. A current discussion involved the drought. Yes, it can possibly affect our income, and yes, we are concerned about having enough to feed our animals, but it will also touch your lives when you grocery shop. Another of my recent posts brought up the question of producing enough food for our ever-growing population. The world's population is expected to triple from 1970 to 2050, yet the amount of farmland will stay about the same. I feel one of our jobs as farmers is to encourage consumers to find out where their food comes from. I like to give my readers something to think about.

If you know my family, the entertainment part is easy. I include family stories into most of my posts. I also bring Hannah Holstein, my stuffed cow, along on many of my adventures. She's with me today at Show Me the Blog. Wave, Hannah! When I'm out and about, people often ask about her, and it is a great way to introduce my blog and my reason for writing.

I am a proud Dairy Farmer, and I'll share my dairy story whenever and however I can. My blog, My Barnyard View, gives me the opportunity to reach a greater audience to educate, inform, and entertain.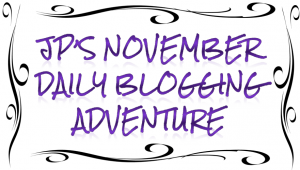 To see other posts in the series of 30 days of daily blogging, just click on this image wherever you happen to come across it. There will be a little of this and a little of that in the series, just like there is in my blog at any time! You can also see a list of several other bloggers doing the 30 day challenge on this post by Holly Spangler