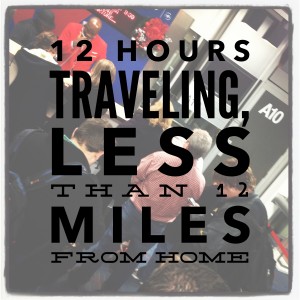 More than once on Friday people pointed out that is was the 13th. There was some idea this number held some power for me, but it seems the number 12 has some significance for me.
This morning I got up earlier than normal. I got out of bed with a bit of a spring in my step. I showered, put the last thing or two in my suitcase and headed to the St. Louis airport by 7:30 a.m. I knew I would be there early, but I was excited to be going to Charleston, SC where I'd get to see a lot of my friends who work in the cotton business. I don't see them nearly enough.
I'd be talking to a group about social media, trying to get more farmers to be more active in sharing their farm stories online. I was at the Delta desk early to check my bag — I almost always go carry-on for short trips, but I have some extra things I was taking this time. My sister was going to drive down to visit me, go to the Charleston market and do some other sightseeing too.
But that was before the whole day shifted.
Flight Delays Start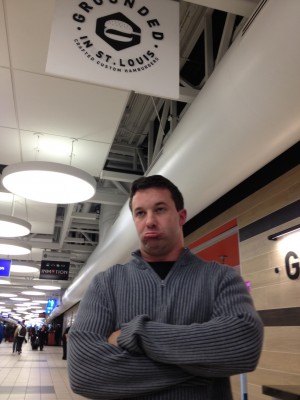 The flight was delayed a bit coming in but not bad. A friend from the office was also on the flight and we had chatted the whole time we were waiting. No big deal. When boarding started, I went ahead and got on. Just a few minutes later, we were told we needed to deplane. More information would be available in the terminal. As we deplaned, you could hear the dogs in the cargo h
old… they weren't happy. I joked to my colleague a few minutes later that maybe they were dog sniffing dogs who had found something. I wish I had been so lucky!
Since I travel so much and have "sky priority" status on Delta, I called the airline and got them to do some checking. They went ahead and got us seats on the next connection from Atlanta and we settled in for brunch at a restaurant. There was someone sitting close by who kept joining our convo, commenting on my upbeat attitude, etc. I got a quesadilla & it smelled & tasted great!
There were no other flights with seats for John and I. They checked other airlines and everything. The flight had a problem with some sort of loop which is important for the fire extinguisher on one of the engines. It was rescheduled for 5:30 p.m. but we would be placed on standby lists too in case we could get out earlier. Flight delays were going to add up.
Lots of Airport Time
We spent time at Starbucks in comfy chairs, time in a restaurant eating a late lunch. Working on laptops. Playing online. using my phone's ability to turn into a hot spot and more. Sang along to Christmas music on the PA system. And we checked the flight schedule. Frequently. For six hours, the departure time remained 5:30 pm. I finally checked with a gate agent who said the parts had arrived from Atlanta & mechanics were working non-stop.
We did the one-hour stretch thinking positively and decided to head to the gate as the time to board approached. We looked at the plane & couldn't see anything happening. No updates came on timing and we thought we'd board soon. We didn't. In fact, just a bit later, the departure time was shifted to 9:30 p.m. which would be 12 hours delay!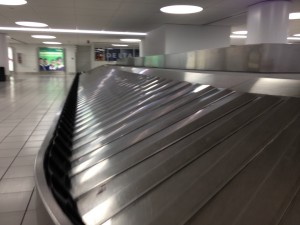 And even though I didn't have to wait for that or try to catch the 7:05 flight to Atlanta to know I wouldn't make the last flight Delta had into Charleston, I did have to wait for the gate agents to work through the crowd, to call down for my luggage and then ultimately, to wait for my bag that never came to the carousel. It was almost 12 hours to the minute from the time I left my house, til the time I returned and with the airport so close by, I don't think I made it 12 miles from home!
Lots of Time to Think
With a more than 8-hour delay and ultimately a flight being cancelled, I had a lot of time to think. As I thought, I was thinking about various lists…. so yeah, I typed them up in twelves! 

12 Things to Do As You Waste 12 Hours "Traveling" but Going Nowhere
Talk to the airline operators and check into all your options.
Remind yourself your safety is more important than getting wherever you are headed.
Keep your sense of humor readily accessible and your temper in check.
Eat something healthy.
Notify people of the delay & say you will let them know later when you are certain of your schedule. This keeps you from having to update frequently.
Goof around with friends.
Walk around the airport.
Find comfy chairs.
Keep your phone well-charged.
Be nice to the folks working at the airport, some folks forget themselves and bitching doesn't help anyway.
Do some work, read, listen to some tunes, etc.
Remind yourself, bad luck strikes everyone for a day now and then. Forget about it.
12 Things That Could Get to You in 12 Hours
12 Places I Could Have Gotten in 12 hours
I could have flown United to Paris, France
Planes would have gotten me to London, England
I could have landed in Hawaii and likely made it to a beach!
Flown into Lima, Peru to head toward Machu Picchu
It seems like we are a similar number of miles from the North Pole but I guess I'd need a charter to make the flights.
Could have gotten to Stockholm, Sweden… but then again, that sounds really cold!
If I set out driving east, I could have driven east across Illinois, Indiana, Ohio and into Pittsburgh, PA AND had time for dinner breaks.
Easy could have made it to Destin, FL.
I could have driven to New Orleans and been having Friday night drinks on Bourbon Street.
Had I headed southwest by highways this morning, I could be visiting cousins in Abilene, TX right now.
I could have tested my survival skills by driving up to North Dakota in winter!
I would have been able to get most of the way to Charleston by car!
12 Silver Linings to Missing My Trip to Charleston
I had a chance to catch up with a friend from work I hadn't hung out with in a long time.
The weather driving home was fine despite our being in the midst of a winter storm warning.
I've been meaning to make some red beans & rice…. a cold snowy weekend seems the perfect time for it!
There some Christmas shopping I need to do, may as well do that locally.
I can catch up on some TV shows on my DVR.
There are Christmas movies to watch! I haven't seen Scrooged, Elf, The Bells of St Mary's, The Year without a Santa Claus or It's a Wonderful Life yet.
I get a weekend at home… haven't had many of those recently!
There are lots of things that need to be done at my house and suddenly I have some time on my hands.
I have a very thorough knowledge of the A concourse now — choices in food, prime seating, etc.
Some guy tipped me $5 for being entertaining. Granted, I refused to keep it but it resulted in the bartender getting an extra tip.
I may have a chance to catch up with my good friend Debbie on Sunday since I'll be home.
I got to see John sing his name into a Christmas song. (And you can see a few seconds too!)
A Few Final Words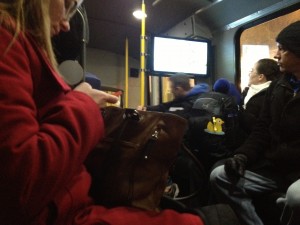 As I said above, my flight was delayed for mechanical reasons. The flight crew was there the entire time. Yep, same pilots that boarded with me at 9:45 or 10 were still there as I left the gate at 6:30 or so to try to find my bags. The pilot even came over to see if everyone was getting taken care of. It's a simple thing that leaves an impression.
I am reminded with this, that professionalism and empathy go a really long way. I saw people who kept talking about how frustrated they were. They stood at the counters talking on and on about how they had planned to do this and that but would miss it. To see gate agents handle it well, makes other passengers stay calm and want to tell the airline what a good job they did. To see a bartender handle an obnoxious customer gracefully, also rocks.
On the other hand, when another employee comes into something in the middle and starts asking a bunch of questions, they can even make the patient customer feel frustrated and annoyed. That's sort of where my day ended. As I thought one final Delta employee would help with the luggage situation and another passed through. I know they are pushed too. I know bad weather was headed in and everyone's schedule was getting messed up. But the employee dealing with my issue had done such a great job of empathy & understanding. To have it blown at the 11 hour plus…. well, I just shook my head and said "I'm fine." No reason for me to lose my cool and bring the other employees down too!
So that's my 12 hours Friday the 13th. Better luck next time!
Related articles