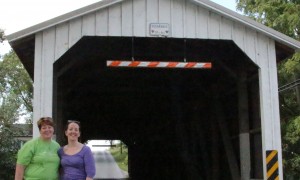 Recently, my big sis & I decided to hit the road without much of a plan. When you do that, sometimes the success of your trip hinges on some of the earliest decisions you make. That may have been the case with our first full day on the road, one where we needed to make a lot of progress but where we also decided to take in an area of the country my sister had never taken in.
As we drove up through West Virginia and Maryland, we through around ideas of where we could take a short break from the car and she asked where Pennsylvania Dutch country was. It was clear we needed to do a short visit to Lancaster County!
Without planning, how can you best take advantage of a short trip to Lancaster County?
We found the Lancaster County Visitor's Center was a great help! Seriously. I've been to lots of visitor's centers where I felt I was being fed a load but there were a few things that set this visitor's center apart.
First, I was really struck by the fact they have "show cases" where handicrafts from various shops are on display. It gives you a bit of a feel for what you may see. There are also a lot of brochures for various shops that specialize in different crafts.
Second, the staff at the visitor's center gave some great tips because they asked real questions! They asked about what we had an interest in, what we had time for, etc before they decided to tell us where to go and what to do.
How did we spend our few hours?
We got to Lancaster County right around lunch time (warning weekend traffic can be a bit of a bear, don't expect to drive in quickly) so we chose to go to lunch first.
In going through the map and talking through options, we thought through a variety of restaurants that specialized in Pennsylvania Dutch home cooking. We settled on the buffet at Bird-in-Hand so we could enjoy a hot meal relatively quickly. And the food didn't disappoint! My faves were the fried chicken and corn casserole.
We also liked that the restaurant was sort of in the middle of things so we could walk around a bit. We enjoyed the farmer's market, checking out all of the stalls and buying some fruit for the road.
We also wandered aimlessly through the back roads, taking time to stop at a few farms that were selling vegetables, baked goods and hand-sewn pieces, etc. We stopped to take photos (trying to do it very respectfully of the Amish traditions). We had a great time and enjoyed some of the foods for days to come since we bought breakfast breads and fruit.
What was my favorite part of our visit?
As we came around a curve on the back roads, we saw a farmer riding a piece of equipment that I hadn't seen before. He had members of his family riding on it with him and the sound the vehicle made and the way it looked was just so different than anything I had seen that I started begging my sister to turn around as we passed.
She relented and turned around. I put my camera and phone on the floor knowing I'd really like to take photos if I got out of the car with them and started walking over as the family loaded up to head to another field. They drove past as I watched and I asked to just take a look. The farmer was nice enough to agree and I looked at this custom rig (he said it was made just down the road) that had a very small engine on it and seemed to both cut and turn hay. I asked about it and he said he used to have another one but had found this was really great.
That's the lasting image of the day (not something you see here). An Amish farmer and his kids on a rig pulled by a horse and pulling a unique swather. Granted the picture is in my mind only, but hey, it is the favorite picture of the day anyway!
Have you Been to Lancaster County?
I'm sure we could have fit more into our visit or maybe enjoyed a different restaurant or shopping experience. If you have gone before, what stands out to you as something to consider?