International travel and planning for it is so exciting. Choosing countries and cities to go to. Thinking about the new cultures you'll get to know and new people to meet. The break from your day-to-day routine. And so much more. With all of that, passports are frequently an afterthought for those of us who have had them for a while. They shouldn't be though because passport expiration can derail your trip.
Checking Passport Expiration Date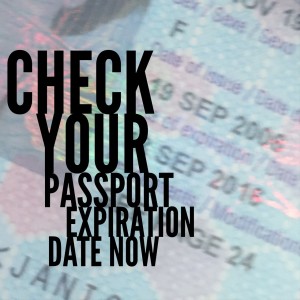 Since U.S. adult passports are valid for a decade, it is easy not to keep track of when you may need to renew.  Six months out is when you should really get to work because many countries refuse entry on passports expiring in the next few months. I actually have known people who had vacations all set, showed up to the airport and were denied access to the flights. I can't even begin to imagine how crushing that would be!
It is a good idea to check your passport's expiration date & set yourself digital reminders. Do it now.
[clickToTweet tweet="Reading this made me want to check my passport immediately. You should too. " quote="If you agree this would be a horrible day, share these tips with your friends. "]
A couple of months ago, the travel system at work reminded me my passport would expire in September. I didn't have plans for travel but decided to go ahead and renew it as soon a possible. There were a few things to consider.
To Rush or Not to Rush, That is the Question
The average wait time for a passport right now is six weeks. Depending on whether or not you think you could end up with a last-minute trip (not nearly common enough in my experience), you may be willing to pay the $60 fee to expedite processing. I live in a world of hope great travel will show up miraculously so I paid the fee. In fact, a few years ago, I decided to join friends on a trip to Israel with less than a month before we flew out. My sister planned her renewal early enough she could avoid it. I haven't needed it this time, but I loved knowing I could seize the day!
Deciding on the Passport Card
A new type of passport was introduced since the last time I renewed — the passport card. I took quite a bit of time reading up on whether this is something I should get or not. Of course, I need to keep the passport book for the bulk of abroad travel, but would the card be useful.
Reasons

not to get

a passport card — Biggest reasons I found not to get it was it costs $30 and you could use a passport book in all the same occasions. So it is redundant and has an extra fee attached.
Reasons

to get

a passport card — There are a few reasons to get a passport card with the biggest one for me being convenience of staying in my wallet. If you live or travel close to borders with Mexico & Canada, or if you like to take cruises to Bermuda, a passport card can suffice for land & sea entry points. And for those of us who like adventure, we never know when a trip to Seattle will include a short stint in Vancouver or a business trip to Texas & Arizona may offer a window for a trip further south. It also can serve as a government ID in a wide range of uses.
I bet the reasoning shows you my choice. What's interesting is I have also had people tell me they have used it for the forms of ID needed when filing various kinds of paperwork instead of using a social security card. Another friend said she uses hers to to clear airport security.
No Adding Pages Anymore
In the past, if you traveled a lot, you could simply have pages added to your passport so that entry stamps and visas could keep going in. That ended when 2015 did. Now you either get an extended passport on the front end or will need to replace your passport once filled. Since I have lots of travel in mind, I went for that too and was pumped that it didn't have an extra fee attached. It does have a bit of extra weight though so if you don't have big travel ambitions of loading up lots of stamps, I'd pass on it as unnecessary.
So what's next in your overseas travel plans?