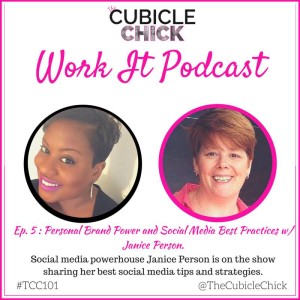 Some of you may remember me writing about the awesomeness of my girl Danyelle Little aka The Cubicle Chick. Well, recently I was lucky enough to spend a bit of time talking with her about personal branding and various practices on social media for this week's episode of the WORK IT podcast.
Listening to the podcast is definitely the best way to check out what we had to say — and hopefully the most enjoyable because I think you can hear how much we were enjoying ourselves!  You can listen to WORK IT on SoundCloud or for those of you who enjoy iTunes, check it out there.).
What did we talk about?
Who I am, what I am passionate and the "JPlovesCOTTON" brand

Personal branding
Be true to yourself — do you
Consistency of voice & sharing strategy

My favorite social media channels & why
How I use Instagram (JPlovesCOTTON on Instagram)
Making connections & people who rock
Social media trends I'm watching, participating in
Delineating and disclosure of business vs personal
I hope you enjoy listening to the show as much as I enjoyed visiting with Danyelle to record it! And don't hesitate to subscribe! You will likely enjoy future episodes too!
Another Awesome Podcast!
And before I go, I want to be sure you know another dear friend — Ryan Goodman who started the AgProud podcast (soundcloud and iTunes) at the first of the year with an interview we did while I was working in Montana in October. We talked about various topics that I was there to talk about with farmers. And since then he has done several other episodes with others who work in agriculture. Its a very different podcast than Danyelle's but I bet you'll enjoy the diversity.
[clickToTweet tweet="Enjoyed this episode of the WORK IT podcast with @TheCubicleChick & @JPlovesCOTTON " quote="If you enjoyed this episode of the WORK IT podcast, please share it with your friends! "]