I have to say, this is a question I have been pondering for a while. I finally made the decision that I think is right for me (I have applied for pre-check) but since a few people have asked me about it, I thought I'd write a post on the topic. There are a few pieces of background info as well as things individuals need to think through.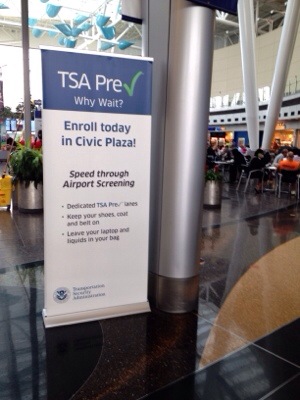 What is TSA pre-check?
The Transportation Security Administration has introduced a program where travelers can choose to enroll in a "pre-check" which means you have a background/security check before you get to the airport. There is a separate line in most airports that lets you go through wearing your shoes & jacket and leaving your laptop & toiletries in your bag. This line is usually a lot shorter and faster than the regular security check lines.
How do you get TSA pre-check status?
I have seen a few different gyrations of getting pre-check status:
Frequent Flyer Status — For frequent travelers, a specific airline may be able to provide pre-check status. This is great but is specific to the carrier. So if all your miles are on Delta and you fly Southwest, your Delta boarding passes will say pre-check but Southwest boarding passes wouldn't.
Flying internationally — If you are on an international flight and have provided your passport information, etc. then you can see it show up on your boarding pass too for a specific trip.
Enrolling in the program overall — This is the one that takes thought and action.
How do you enroll in TSA pre-check?
The Transportation Security Administration has a system through which you can apply for pre-check status. You can go online and make an appointment (I tried that for months without success) or you can go to a center as a walk up (there used to be very few of these but they seem to be increasing in number).
The application process can be started online — there are a series of questions about citizenship much like done for a passport and then a series of questions about your background (where you live, previous address, whether you have been arrested, etc). You pay a fee of $85 for five years pre-check status.
My Experience & Thought Processes on Pre-Check
I've had pre-check on several flights and it really makes a day in the airport go a bit smoother so I was interested from the time I first heard about it. Early on in the process, it was a bit complicated to get information on how to enroll. The system was started small and grew deliberately.
I could have had an appointment through all my miles but that would have meant having to get to a specific place and although I have friends who took trips specifically to get it, I decided that wasn't for me. But periodically I would look at the site and consider enrolling. Then I scheduled a work trip to Indianapolis. They have a pre-check enrollment center there so I decided to fly in a little early and bit the bullet.
The process was so easy. I went in, found out it would probably take me 30 minutes or so. I waited as people with appointments went ahead and finally my name was called. I went through the questions and paid my fee. Now I will wait to hear from the TSA on whether or not I will be cleared. If I don't hear back in 3-4 weeks, I also have a tracking number I can use to see what's up.
For lots of people, spending $85 to make your trips through the airport easier sounds extravagant and I am willing to bet for large numbers of Americans, it really is. But for me and people who travel a lot, think about the impact of being able to routinely get through the security line at the airport faster. That means I can better use the time I have before I head to the airport instead of wasting so much time at airports.
If you just look at the first two months of 2014, I had a dozen or so days where I had to go through airport security. Let's say that takes 15-30 minutes most of the time. To know I am going to get where I need to be, I better plan at least 30 minutes at the airport for security alone. In my experience, pre-check is much more like a 5 minute process. With only two months into a 60 month clearance, I have wasted probably six hours! Assuming I receive pre-check, I could reclaim 36 hours this year alone. Seriously. I find that amazing and I am personally willing to invest $85 to let me have more of that time to spend doing other things.
And on a day like today, when I was going through the security line with a whole bunch of people who don't travel often enough to know the routine (take off your shoes & jacket, pull laptop & liquids out of your bag, empty your pockets, take off your belt with that massive buckle on it, etc) it may just let me keep a happier disposition cause I have to admit to sometimes getting a little annoyed though I try not to let it be seen.
Seriously, Saturday's security check was the slowest I have had in a long time…. and I can't help but wonder if it was because everyone else who flies out of Indy very often has long had pre-check and the option to avoid the not so frequent travelers who are content to spend 30 minutes in line