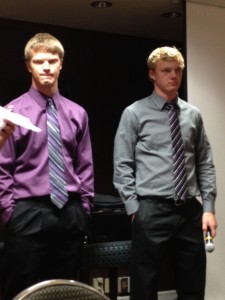 Not sure why it has taken me so long to get this posted — its been in my drafts folder! It was a surprise for most of the #agnerds at the AgChat training conference, but I had the inside track on a surprise guest. 🙂 And some friends were surprised to run into the surprise early morning hours before they were supposed to know what was up as a group headed out to get some ice cream!
I had a seat right up front and my iPhone ready to video (even if it is a little jerky). Yes, last week, I finally met Greg and Nathan Peterson — two of the three farm brothers that took the country by storm this summer with the LMFAO parody "I'm Farming and I Grow It." The Petersons also stayed and shared some of the story about how they produced the video.
You can sense the excitement of the #agnerds there!
Related articles