My part of agriculture is crops even if I've been learning more about livestock in the past few years. And crops tend to start with the seed (I say tend because there are a few like olives that work off cuttings). Seed is probably the most critical decision a farmer or gardener makes in a season because the potential for a plant starts with its genetics.
How Seed Works Video
I love this video showing how seed germinates in the soil and the various parts of the seed and young plant as they grow. Yes, I'm pretty sure this makes it clear I'm a total agnerd.
Things to Consider in Buying Seed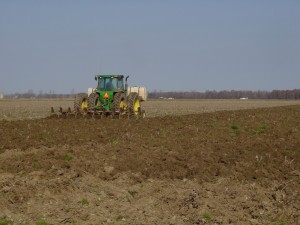 When I've picked out seeds, it has been for containers or the raised bed I have. My decisions are usually based on the kind of plants I want — sweet basil, globe basil, etc. And even when I was working in agriculture, I wasn't fully aware of how many choices farmers have for seed. I have written a blog post about some of the things cotton farmers have to think through when planting but looking across crops, what would be some things farmers think about before they make a purchase?
What crops do they want to plant on various fields? Then they will look more specifically at each field. 

How close to a market is the farm? If you need to deliver at a specific time for the market you want to be sure it is timed well. 

What was planted in that field last year? That may impact various characteristics when it comes to pest resistance.
What does the field go into next year too? That rotation makes a difference on both ends.
What types of soils does that field have? Frequently soils can change across big areas, especially if you are near rivers. That makes a difference on water holding capacity, the soils ability to warm up or stay cool, etc.
Does that field tend to have specific pest pressure like nematodes? Rootworms? Bollworms? Grasses? Broadleafs? Farmers will consider those characteristics both in conventional traits and biotech.
When can you expect to be able to plant? Some varieties may be more cold tolerant than others.
When do you want to harvest? With a lot of crops there is variation in length of time to maturity. Lots of farmers want to vary harvest dates so they can get to various fields as they peak.

T is for?
See the other posts in this series by clicking on the logo at right and reviewing the letters, or by browsing the A to Z ag tag archives. I've gotten some great suggestions for other letters including offers of winery tours for me to talk wine or viticulture! These folks are talking my language! 🙂 Other ideas? 
Related articles