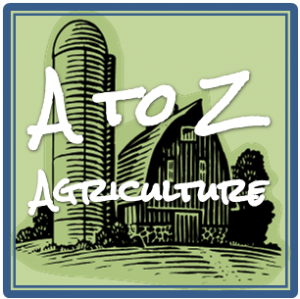 A month or so ago, I saw something about the A to Z Challenge and decide to learn more. It is a challenge where you sign up to write 26 posts in the month of April. You get Sunday's off but otherwise everyday is a letter of the alphabet starting today Monday, April 1 with the letter A.
I decided to focus my A to Z on agriculture by making up my ABCs of agriculture. To start with that topic I decided I should consider what agriculture encompasses. I work in agriculture and when I tell people that, I often get either a look of great interest or blank stares. I know how I think of agriculture but I am not always so sure of others! So as I sat down to write this, I googled "what is agriculture?" have to admit I am surprised there are multiple sites with that as a primary URL.
Agriculture brings together so many parts of the effort through which we grow our crops, raise livestock & aquaculture, producing the basic building blocks of so much of our planet's needs. There are crops and jobs and efforts in place I couldn't begin to tell you about because agriculture is such a richly diverse effort. Food is the biggest output for agriculture but fiber for clothes, feed for livestock and renewable fuels are also part of the result.
I have started thinking about the various words that will be a part of my A to Z effort but already I am finding other words to use! For instance, for A I could have just as easily used almonds which my friend Jake grows in California, a continent that desperately needs to improve its food production capability – Africa or the little known #agnerd crowd that is actively talking about agriculture through social media.
What do you think should be included in my ABCs of agriculture?
Tomorrow will be the letter B. you have to wonder whether I will go for a word that makes people salivate at the very mention of it, or the pollinators we all need or some of the people who have been so important to the West or any of a number of words that come to mind!
I will use this post as a central point for the letters and the series logo will link back here as the hub for all of the letters.
A is for Agriculture
B is for Borlaug
C is for Cotton
D is for Debt (Farm Debt)
E is for Elevator
F is for Farmer
G is for GMO
H is for Hay
I is for Irrigation
J is for Juggling
K is for Kale
L is for Loam
M is for Moo
N is for Nutrients
O is for Olives
P is for Prairie
Q is for Quality
R is for Reading
S is for Seed
T is for Tillage
U is for Urban Agriculture
V is for Viticulture
W is for Wheat
X is for Xylem
Y is for Yams / Sweet Potatoes?
Z is for Zoonoses