As my friend Julie and I ate at Pastaria on Thursday night, out of the corner of my eye, I saw Chef Gerard Craft. I had to say hello to him as I had hoped to meet him last fall when a group of friends went to his other restaurant Niche one night. It is amazing how quickly the conversation caught our enthusiasm! And as I looked at the alphabet I realized that the W post of my A to Z of Agriculture Challenge, had to be about wheat because Gerard got me thinking about it.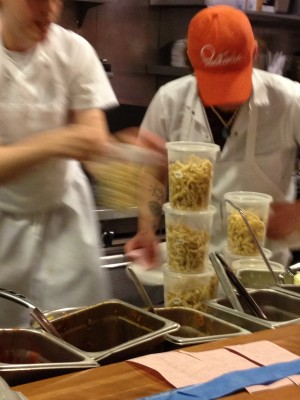 Conversation at Pastaria
Julie and I sat at the counter giving us a bird's-eye view of the kitchen and all the activity in there. We were loving watching the various team members getting the pasta, sauces, etc ready, putting just the right amount of this and that into the pan and a precise amount of cheese or garnishment on the dish as it is plated.
We discussed the smells and what we may want to have — I said we had to have the risotto balls to start with and of course both of us wanted a glass of wine. And then out of the corner of my eye, I saw someone talking to people at a table nearby and I thought it had to be the chef. And as I suggest above, I had to say hello and let him know that I'm @JPlovesCOTTON from Twitter, the person who had talked with him in the fall as Ellen Malloy and Grant Kessler of OneHundredMeals came to town. And I asked if I could get my photo taken with him. He said sure and said to be sure I shared it with Ellen. 🙂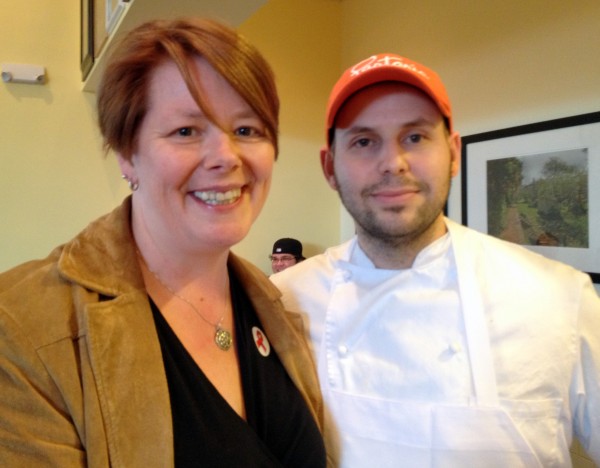 Where does wheat come into the convo?
Okay, that may have been a gratuitous section, but I really like that picture of me with him. And really we did talk about wheat! When I introduced Julie, I said  I wasn't sure what, if anything, he used from Arizona, but if he did, she may know the farmers who grow it. No pause needed, he immediately said Arizona was where the finest semolina comes from. An Arizona Chef — Chris Bianco of Italian Restaurant and Pizzeria Bianco in Phoenix — and Gerard had talked about it. Of course Julie agreed and mentioned she was familiar with him and she should do a celebrity chef Q&A with him for the Fill Your Plate blog.
Types of Wheat
There are several types of wheat grown in the U.S. According to smallgrains.org there are six classes of wheat. Their list and my comments come together here:
Hard red winter wheatis the biggest piece of U.S wheat exports and the type that is grown on the most acres. It's mainly from the plains so I've seen a lot of it. In fact my fall video post of young wheat was most likely hard red winter wheat and will be used for 

bread, rolls and, to a lesser extent, sweet goods and all-purpose flour. 

Hard red spring wheat

is the highest in protein so it makes great bread and is said to have

 superior milling and baking characteristics. Majority of crop is grown in Montana, North Dakota, South Dakota and Minnesota. 

Soft red winter wheat

is usually grown east of the Mississippi. It is high yielding but lower in protein so it gets used for 

flat breads, cakes, pastries, and crackers. I remember a farmer in North Carolina explaining the wheat he grows is the kind that gets made into cakes & cookies. 🙂 

Durum

is the wheat that is hardest which I find funny that the others have hard in the name but I guess when you've got it you don't have to have the label. It's g

rown in the same northern states as hard red spring, although 70 to 80 percent of the U.S. annual production comes from North Dakota. Used to make semolina flour for pasta production. 

Hard white wheat

is a newer type of wheat for the U.S.  Although it is 

related to red wheats (except for color genes), it has a milder, sweeter flavor, equal fiber and similar milling and baking properties. Used mainly in yeast breads, hard rolls, bulgur, tortillas and oriental noodles. I can tell I'm a fan of this one…. yeast breads? YUM! Tortillas? Yum! And there is tabouli, ramen, and more! 

Soft white wheat

is used like soft red for the most part — bakery products. Its grown in the Pacific Northwest and a few places in the northern Midwest, even in New York. 

Produces flour for baking cakes, crackers, cookies, pastries, quick breads, muffins and snack foods. Exported to Far East Asian region.
What's up with Arizona semolina?
So based on that list, it wasn't clear to me that Arizonans grew durum, but by focusing my search there I found a good bit of information about desert durum, a trademarked specialty of the desert areas of Arizona and extreme southern California. The part of the description that hits the mark follows:
… our grain is as good as the producers that grow it.  Superb milling qualities, test weight, and color along with low moisture and high semolina yield provide wheat millers a quality product.  High gluten strength and excellent protein levels needed to produce quality flour …

Arizona's warm, arid, climate provide a perfect environment for quality durum wheat production . The hot days and cool nights in the last 60 days of our growing period provide a wheat that is very dry, with a dark golden, vitreous color. Rain is highly unusual during our harvest period, therefore our durum has very high falling numbers due to lack of sprout damage in the wheat. via Arizona Grain, Inc.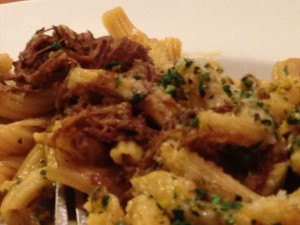 All of that can impact the taste according to an expert in durum wheat. "The quality of semolina greatly affects the quality of pasta – making the difference in how well the pasta looks, tastes, and holds together under various cooking conditions," according to North Dakota State University durum quality specialist Frank Mathey.
The Arizona Grain site also has some videos on the product but they were made before attention spans shrunk thanks to social media. But since pasta is the name of the game at Pastaria, its obvious that Gerard Craft has spent time to figure out what sources of semolina are best able to deliver the taste he wants to deliver his customers. And believe me I appreciate it!

X, Y and Z are for?
I'd love to know what I missed in the world of wheat. See the other posts in this series by clicking on the logo at right and reviewing the letters, or by browsing the A to Z ag tag archives. There are just three more posts to come! And we are in the final days of April so we'll see if I can finish this up on time despite falling into a few delays along the way!   

 Other ideas?
Related articles