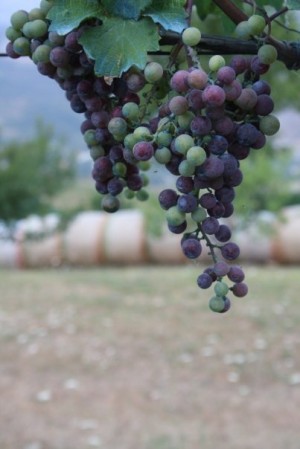 Viticulture is another one of the words that I think may not be familiar to everyone but if you drink wine, you should be really happy that viticulture exists because in a nutshell viticulture is "the cultivation or culture of grapes especially for wine making."
I have to say when I think of viticulture, my mind wanders off to the places I have done winery tours or regularly drank wine from. The grapes at the right are from the foothills of the Appennine Mountains in northern Italy, just down the gravel road from my friends' White Dog microbrewery. It was probably one of the first vineyards I ever wandered through and I was captivated.
Sure a lot of people romanticize agriculture because so many of us don't have a direct connection to it. But with the connection to wine, with the regions of the world famous for growing grapes being so picturesque,  traditions that date back to 1100 AD with monks cultivating grapes and fermenting them into wine, an more, viticulture has an even greater mystique and romance to it.
Leading Wine Growing Areas
The website WineFolly.com points to the 10 countries as growing 80 percent of the world's wine. The site lists those top ten wine-producing countries & the principle grapes as:
France (

Merlot, 

Grenache

)

Italy (

Sangiovese, Trebbiano)

Spain (

Tempranillo

, Airén)

United States (

Cabernet Sauvignon, Chardonnay)

Argentina (

Malbec, Chardonnay)

Australia (

Shiraz

, Chardonnay)

Germany (

Riesling, Müller-Thurgau)

South Africa (

Chenin Blanc, Colombard)

Chile (

Cabernet

, Chardonnay)

Portugal (

Port grapes, Alvarinho)
But the site also points out that there are new areas popping up all the time, even the Gobi Desert is producing wine! I see that in my world too. Granted, I'm seeing more vineyards and wineries in my part of the world too. Since moving to Missouri I have been surprised by how many wineries I have seen in the area and the number I have heard of in neighboring states too.  And I have a few friends who have started their own wine-making efforts as well.
Studying Viticulture
Like any other area of agriculture, viticulture takes some study in order to get ti right. Universities like the University of California at Davis have long had programs in grape production, but the horticulture programs at lots of schools across the U.S. have been expanded to include viticulture. In fact, it was one of my tweeps Thomas Marten who nudged me in the direction of viticulture for this post. He's studying agriculture including horticulture at Southern Illinois University.
Among the viticulture classes you can take at SIU are:
From the Vine to its Wine.

 Introduction to grape growing and the making, using and appreciation of wine for pleasure, health and profit. Discover the science and art of growing, making and using wine. Participatory approach to instruction with emphasis on beginning the novice on a successful journey through the wonderful world of grapes and wine. Includes a Midwest perspective. A three-day tour of the regional industry and a Saturday tour of local establishments required. 

Horticultural Crop Diseases. (Same as Plant, Soil and Agricultural Systems 403b) A survey of major diseases of important horticultural crops in the United States. Disease identification, cycles, and management strategies will be addressed.
Vine and Small Fruit Culture. (Same as Plant, Soil and Agricultural Systems 466) Study of the developmental patterns and environmental responses of important vine and small fruit crops; strawberries, brambles, blueberries, grapes and exotic crops. Learn to adapt these crops to profitable culture for the amateur or professional with a Midwest focus. Practical hands-on experience in the classroom and the field.
More than the classes are the experiences you get from being in the program. I have to admit how jealous I was when he sent me this pruning photo which includes SIU professor Dr. Brad Taylor.
Winery Tours Rock!
If you like wine and have gone on a winery tour, you know what I mean I say winery tours rock. If not, I have to explain which means I get to wander through the vineyards again (at least in my mind). I'm going to pull from my favorite winery tour ever, one in which friends and I spent a day in the Columbia Gorge area of Oregon.
Tours can help you:
Try a variety of wines 😀 

Hear from experts who help you understand the difference in grapes you may not notice just casually drinking them.

Find out how the dynamics of different growing seasons impact wines — a dry season makes for different flavors than a wet one.
See the way other flavors are brought into wines with the environment, the fermenting process, etc
I've toured wineries in Oregon, California, South Carolina, Texas, Michigan, and more. I also find it is a great way to learn about the area you are visiting. Here are a few resources to consider if you are interested in doing a tour (oh, please note, you really need a driver who doesn't drink, it is well worth the fee for a driver).
Wine & Viticulture Photos I've Taken
[slideshow post_ID=18674]

 W, X, Y and Z are for?
See the other posts in this series by clicking on the logo at right and reviewing the letters, or by browsing the A to Z ag tag archives. The post for W was inspired by a dinnertime conversation on Thursday. I think it will be one folks enjoy!  

 Other ideas?
Related articles