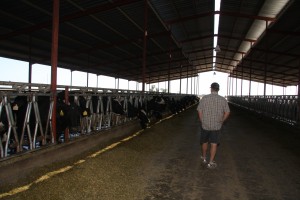 I've had lots of cow-related suggestions for the A to Z series — so many that I think some friends may do a whole cattle series next year! Just think, there is alfalfa, beef, cheese, dairy, etc. but I decided to go for a simple word on cows and its probably the first thing I ever learned about cows. The sound they make (at least for Americans) is moo!
My first trip to a dairy farm was a year and a half ago. And even though I'd seen cows along the levees now and then, and had been to a livestock show, I hadn't been to many farms where cattle were the major thrust of the operation or the conversation for me.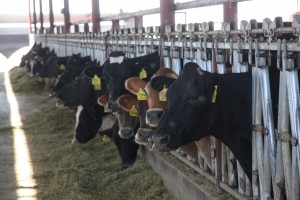 The visit included several different conversations that were so basic. We of course talked through what do cows eat as we watch them much their rations. But something that I didn't expect was how quiet the barns were. I found myself to be the only one mooing! Ray was nice enough to tell me cows only moo when they are scared or something is wrong, so I guess they are happy cows!
You can see a bit of video I shot and you can hear Ray and I although you won't hear much from the cows!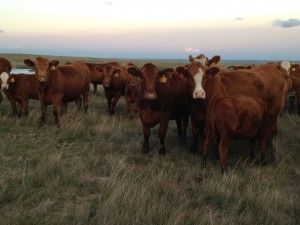 Then this fall as I was on beef cattle ranches I saw the saw things as cows on the pasture were relaxed and curious. And they were silent. And believe me, seeing that many redheads that quiet…. well, it was staggering!
Then, when I worked cows in the Dakotas with the Wagners and watched as the Hadricks wean cows (golly gee that makes me sound like I actually know something about cattle doesn't it?!) I saw the louder mooing end of the spectrum.
How to Learn More About Cows
There are a lot of farm bloggers out here who write about their experiences and the cattle on their farms & ranches. All the ones mentioned above write about it occasionally.
Val Wagner (who has all those redheaded cows and four sons) writes her Wag'n Tales several times a week! 
Ray Prock needs a nudge now and then to get writing. 🙂
Stacy Hadrick finds time to post now and then about their ranch and her cowboy.
Some of the other ones I know well include:

Ideas?
N, O, P, Q and R are for ____
I'd love to know what your thoughts are on loams and other soils. This week I will be writing M, N, O, P, Q and R posts. Yes, we are on the downward slope will be brought to you by the group of letters I mentioned, so what do you think the word of the day should be each day this week?
See the other posts in this series by clicking on the logo at right and reviewing the letters, or by browsing the A to Z ag tag archives.
Related articles